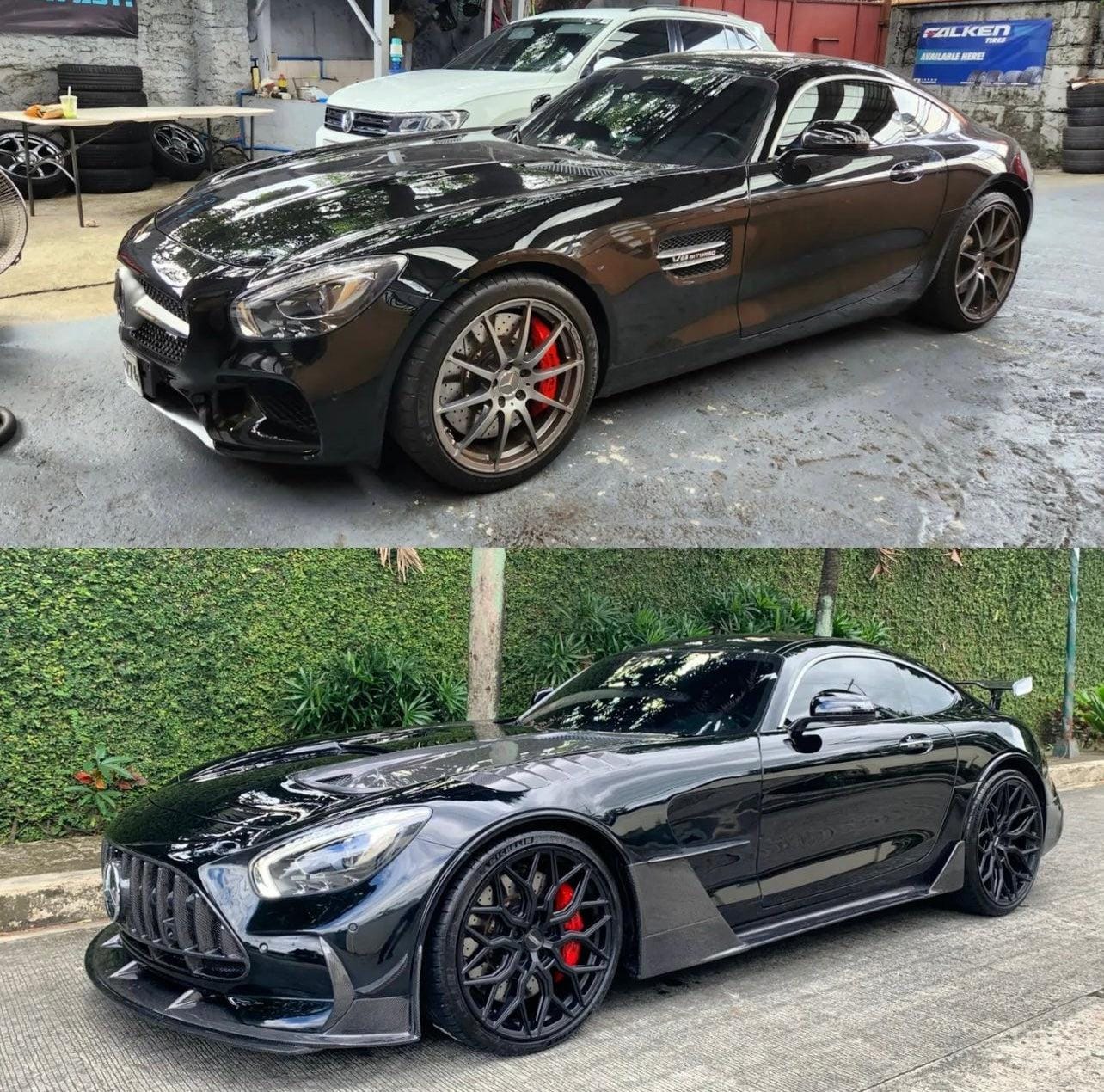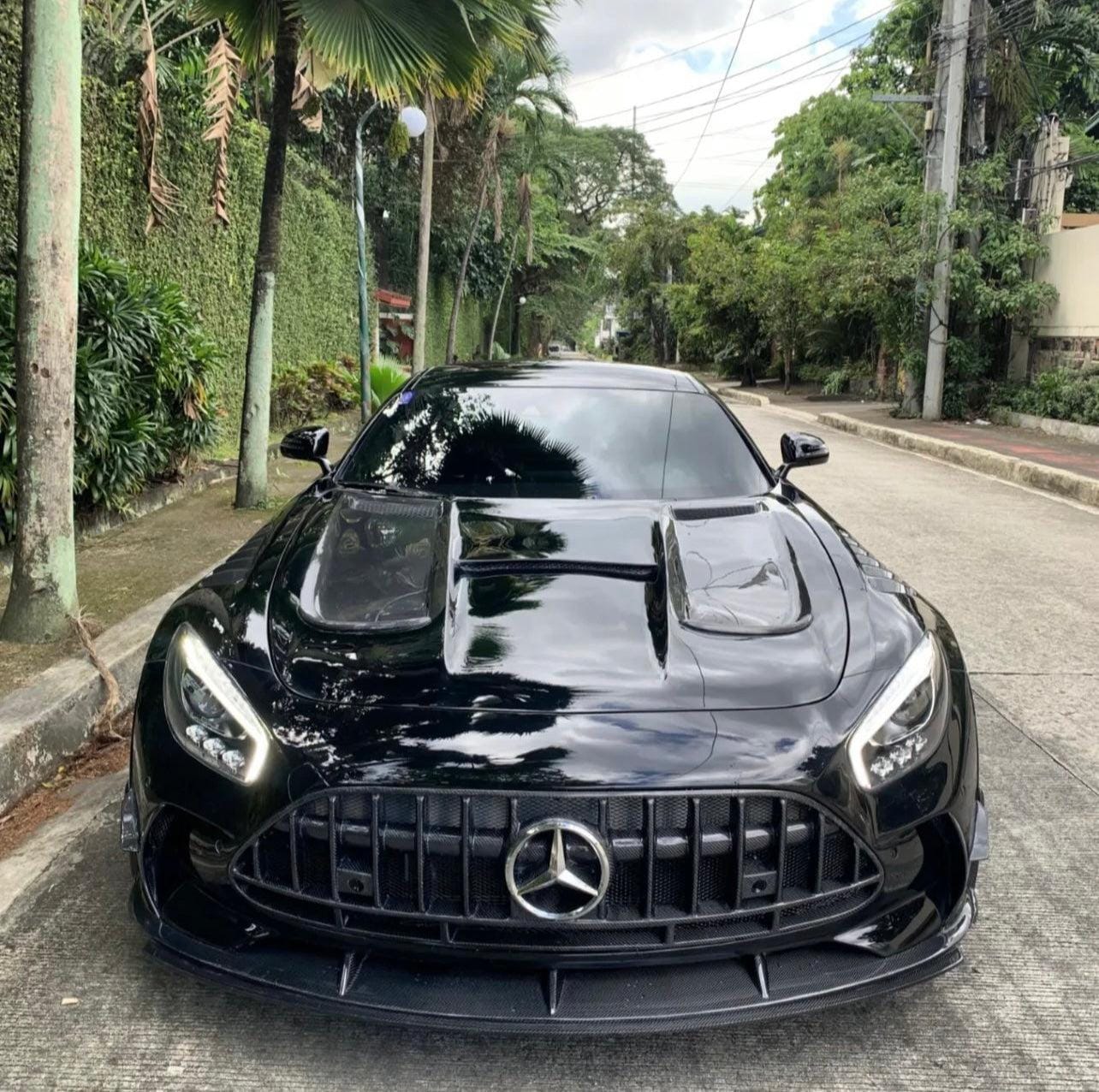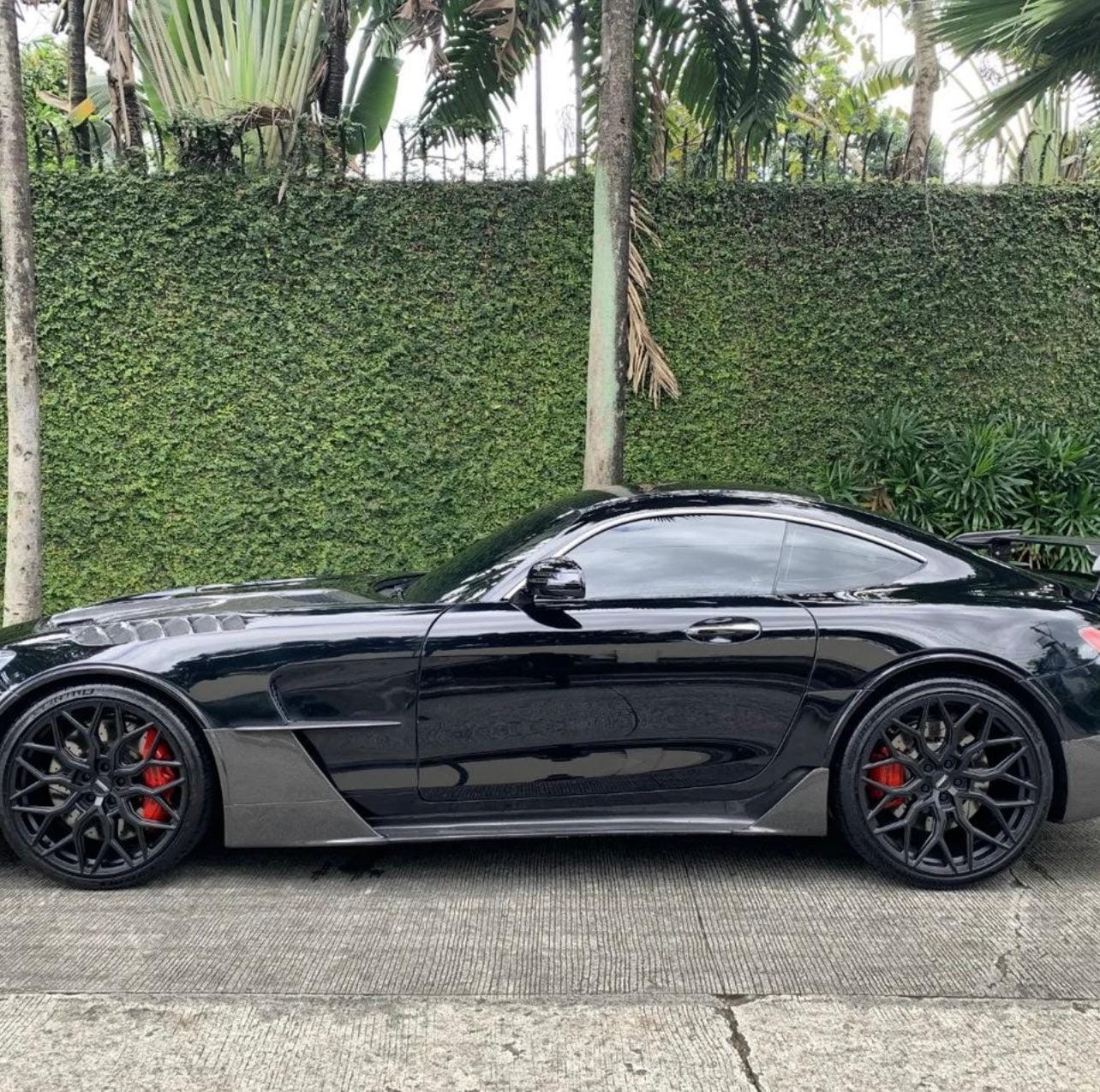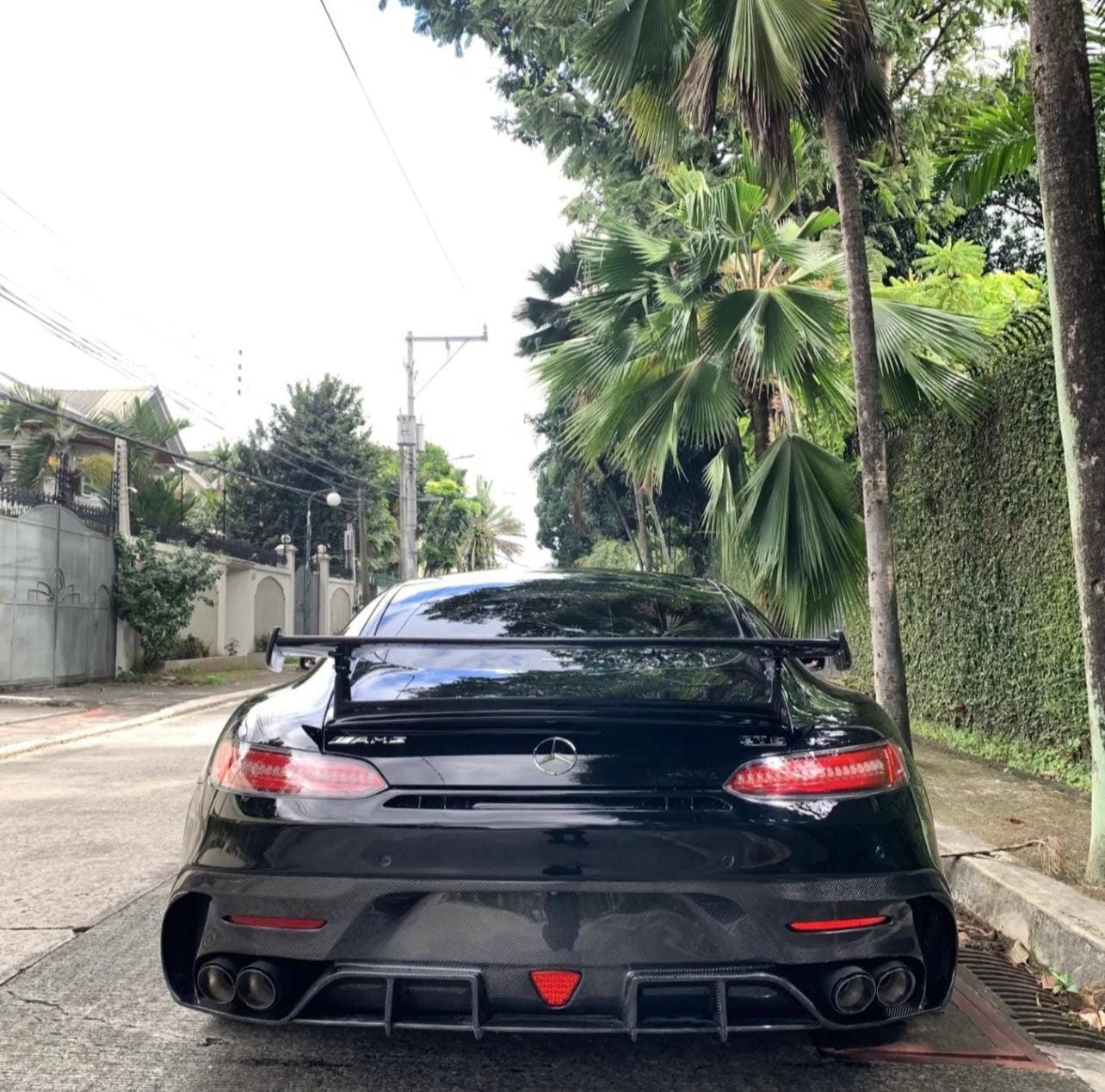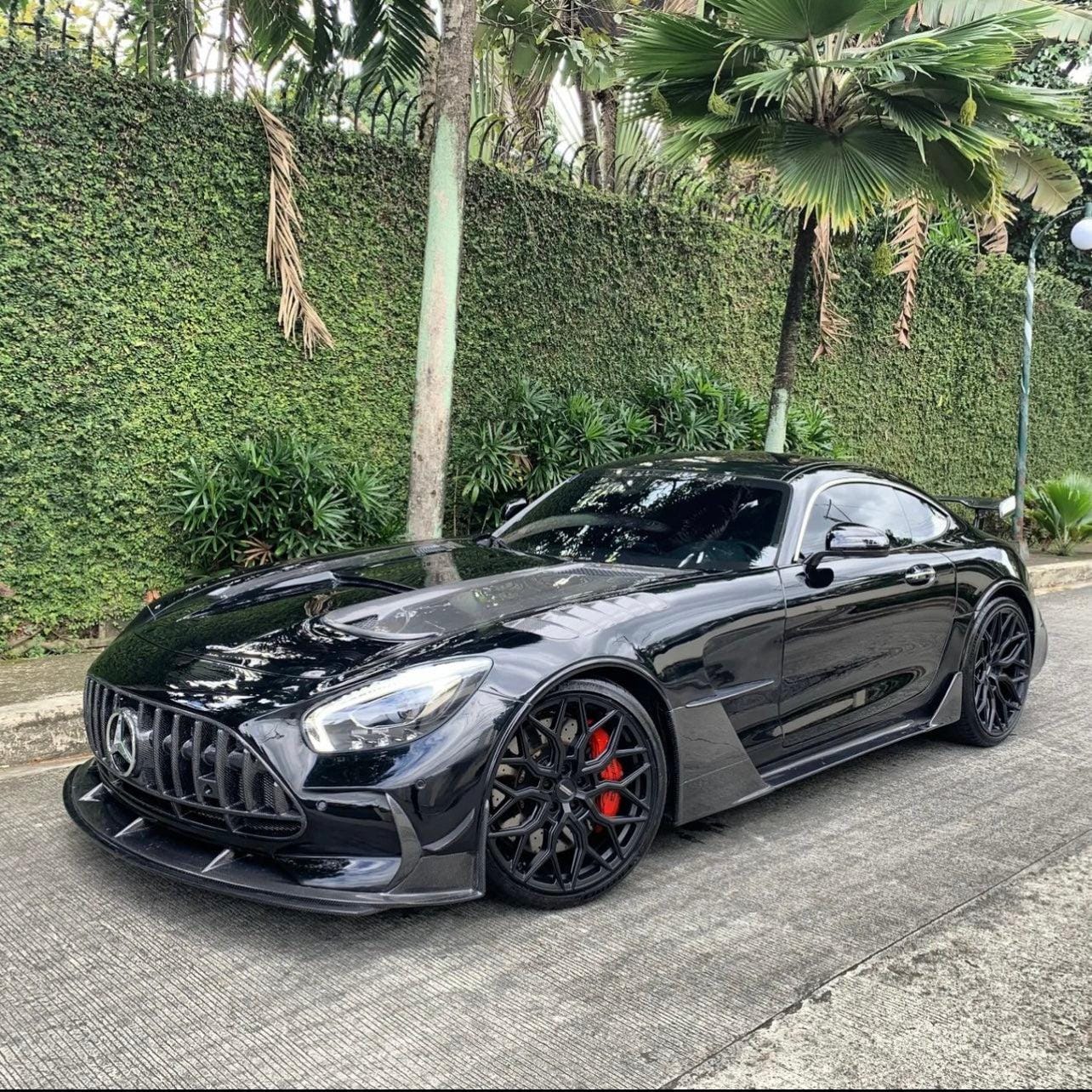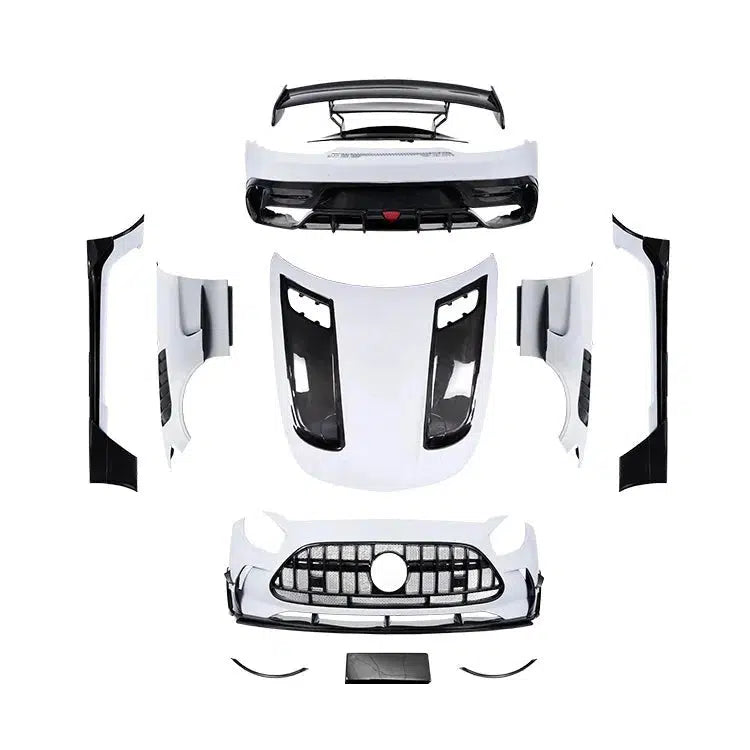 Mercedes AMG GT/GTS/GTC Black Series Body Kit
---
Fitment Guaranteed
Dry Carbon Fiber with 2x2 weave
UV Protectant Clear Coat
3M Tape & Screws Included

Designed by eurobahndynamics in california
Free Shipping Worldwide
Financing Available
14 day Return
This Mercedes AMG GT Black Series Body Kit is an aftermarket upgrade designed to enhance the sporty and aggressive look of the Mercedes AMG GT. The kit is made of high-quality, lightweight carbon fiber and features a sleek and aerodynamic design, making it the perfect choice for performance-oriented drivers who want to take their vehicle to the next level.

The body kit includes a front bumper, rear bumper, side skirts, fenders, hood and a large rear wing, all of which have been carefully crafted to improve the aerodynamics of the vehicle and increase downforce, resulting in improved handling and stability at high speeds. The front splitter, in particular, helps to reduce lift, while the rear wing and diffuser generate additional downforce, making the car more planted and responsive when pushing it to the limit.

In addition to its performance benefits, the Mercedes AMG GT Black Series Body Kit is also designed to give the vehicle a more aggressive and distinctive look. The carbon fiber material used in the kit is highly resistant to wear and tear, ensuring that it will maintain its sleek appearance for many years to come. The body kit is available in a FRP and carbon fiber, and full carbon fiber giving you the freedom to choose a look that matches your personal style.

The installation process of the body kit is straightforward and can be completed by professional technicians. The kit is designed to be a direct bolt-on upgrade, to the vehicle's original body. The kit is fully compatible with the OEM parts, so you can rest assured that it will not affect the overall performance or reliability of your Mercedes AMG GT.

In conclusion, the Mercedes AMG GT Black Series Body Kit is an excellent choice for anyone looking to upgrade the look and performance of their vehicle. Its high-quality construction, aerodynamic design, and easy installation make it the perfect aftermarket upgrade for anyone looking to take their vehicle to the next level. Please allow 6-8 weeks for delivery as this kit is made to order.

A high-quality aftermarket addition, the Mercedes AMG GT Black Series Body Kit is crafted from lightweight carbon fiber to complement the car's athletic and aggressive appearance. To enhance aerodynamics and increase downforce for superior handling and stability at high speeds, it features a front bumper, rear bumper, side skirts, fenders, hood, and a big rear wing. 

The package is intended to give the car a meaner look and comes in a variety of materials like side skirts or fenders which have their own unique purposes to elevate your driving machine. Without compromising the vehicle's functionality or dependability, installation is simple and may be done by trained mechanics.

Fitment 2015-2022 Mercedes AMG GT/GTS/GTC/GTR

The kit includes the following parts:

Front Bumper

A bold and aggressive front bumper is designed to catch attention and enhance your vehicle's appearance while providing added protection to your front end against minor collisions and debris.

Rear Bumper

A sleek and stylish rear bumper that adds a touch of elegance to your ride, while safeguarding your vehicle from rear impacts and providing a polished finish to the rear profile.

Side Skirts

Sporty side skirts not only enhance your car's aerodynamics but also add a touch of athleticism to your vehicle's side profile, giving it a sleek and dynamic look.

Hood

A striking hood design that adds a distinctive touch to your car's front end, while protecting your engine and other components from dirt, debris, and weather elements.

Fenders

Stylish fenders that provide a rugged yet refined look to your car, while shielding it from road debris and giving it a more aggressive stance.

Wing

A performance-oriented wing that not only improves your vehicle's aerodynamics but also adds a sporty and aggressive touch to the rear end, making a statement wherever you go.
When looking to improve the aesthetics and performance of your Mercedes AMG GT, these are fantastic options. As the AMG GT body kit is custom created to order, shipping could take up to 8 -10 weeks.

This product is custom-made to order. Please allow 1-3 weeks for production and 1-2 weeks for delivery by air. 

Please note that custom-made products cannot be exchanged or returned.