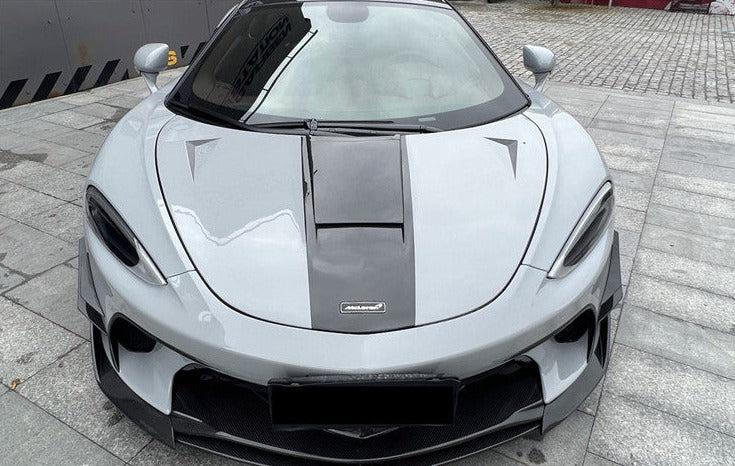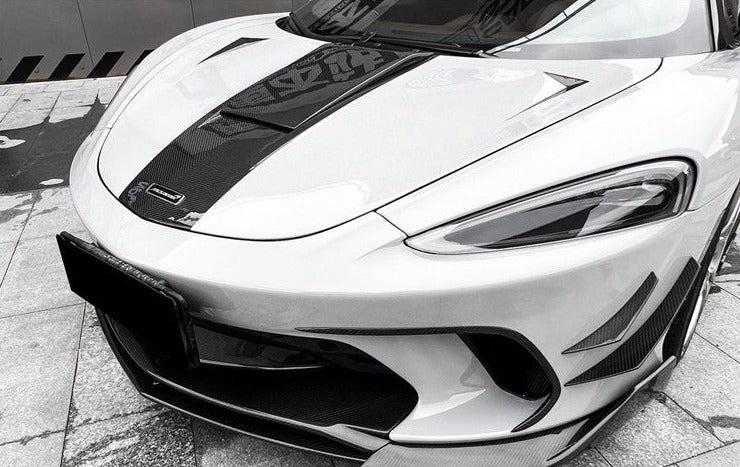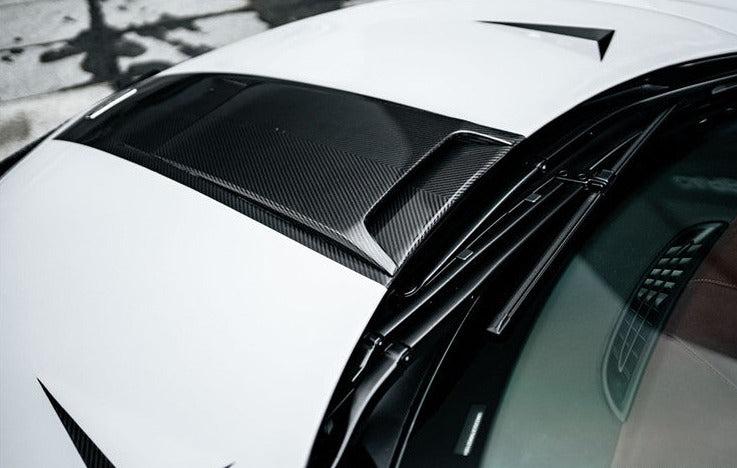 McLaren GT Carbon Fiber Hood Bonnet
---
Fitment Guaranteed
Dry Carbon Fiber with 2x2 weave
UV Protectant Clear Coat
3M Tape & Screws Included

Designed by eurobahndynamics in california
Free Shipping Worldwide
Financing Available
14 day Return
Introducing the pinnacle of automotive excellence, the McLaren GT Carbon Fiber Hood Bonnet. Elevate your McLaren GT's performance, style, and aerodynamics with this meticulously crafted accessory that exemplifies the perfect blend of form and function.

Key Features:

Craftsmanship Beyond Compare: The McLaren GT Carbon Fiber Hood Bonnet is a masterpiece of precision engineering and craftsmanship. Handcrafted with unwavering attention to detail, it's designed to perfectly complement your McLaren GT's aesthetics and aerodynamics.

Aerodynamic Superiority: Beyond its breathtaking visual appeal, this bonnet is engineered to optimize your McLaren GT's aerodynamics. It enhances airflow, reduces lift, and improves stability at high speeds, ensuring you can harness the full potential of your vehicle on the track and the open road.

Lightweight Elegance: Constructed from top-tier carbon fiber, this hood bonnet maintains the McLaren GT's lightweight ethos while adding an extra layer of durability and performance. The result is enhanced acceleration, agility, and overall driving experience.

Effortless Installation: Designed as a direct replacement for the stock hood, the installation process is straightforward and seamless. No extensive modifications or specialized tools are needed, ensuring minimum downtime.

Customizable Finish: Personalize your McLaren GT with a choice of finish options for the carbon fiber, allowing you to match or contrast it with your vehicle's color scheme.

Genuine McLaren Part: Choosing this hood bonnet means you're investing in a genuine McLaren accessory, renowned for its quality, performance, and lasting durability.

Exclusive Style: The Carbon Fiber Hood Bonnet is more than just an accessory; it's a statement of exclusivity and individuality. With limited availability and custom craftsmanship, it's your opportunity to make your McLaren GT truly unique.

The McLaren GT Carbon Fiber Hood Bonnet is the epitome of performance, style, and engineering excellence. It's a stunning upgrade that balances both form and function to perfection, ensuring you turn heads and enhance your driving experience with every mile.

Choose excellence, choose performance, choose style – choose the McLaren GT Carbon Fiber Hood Bonnet and make your McLaren GT an extraordinary expression of automotive prowess and style. Elevate your vehicle to new heights of distinction, performance, and sophistication.