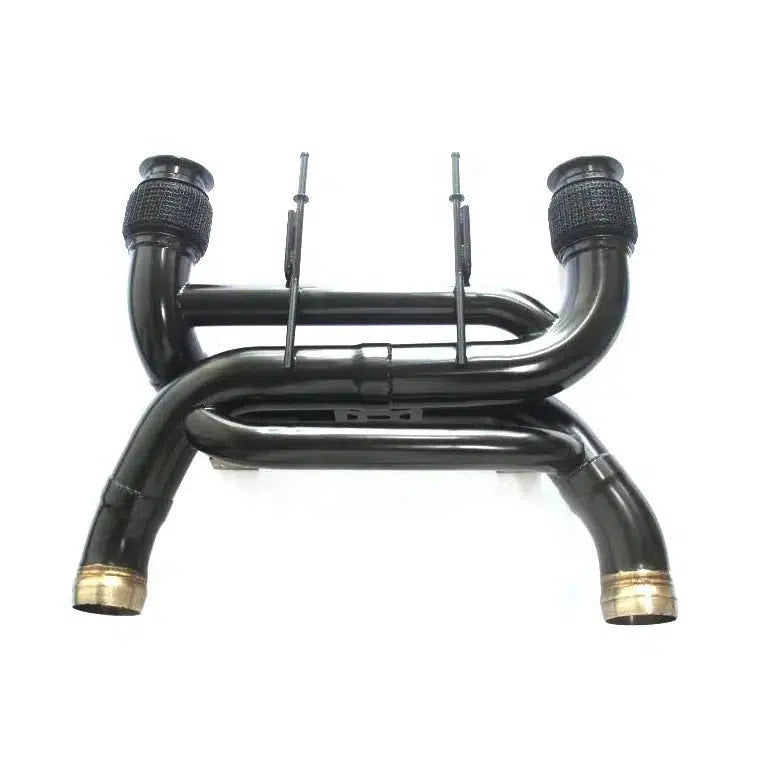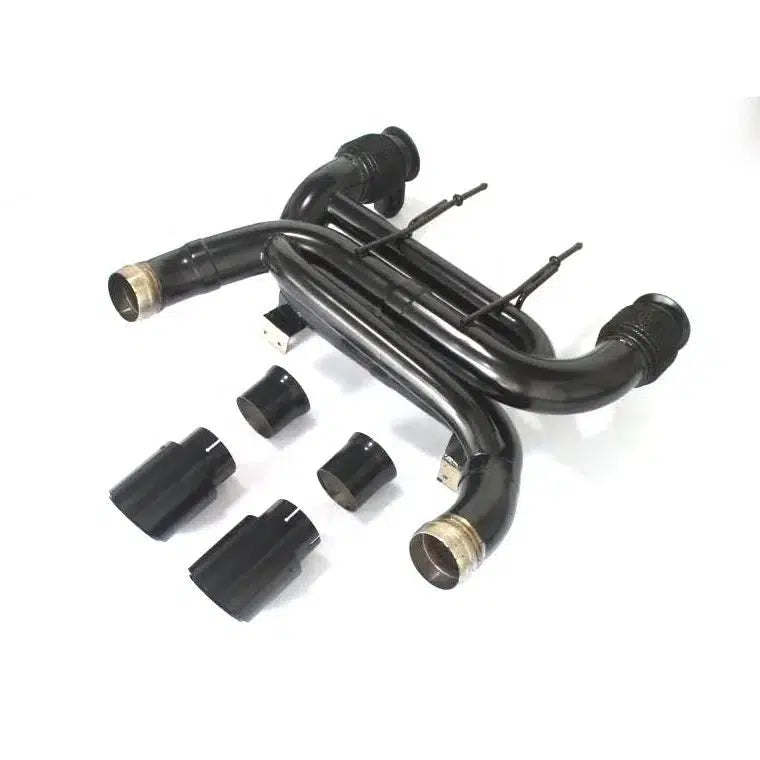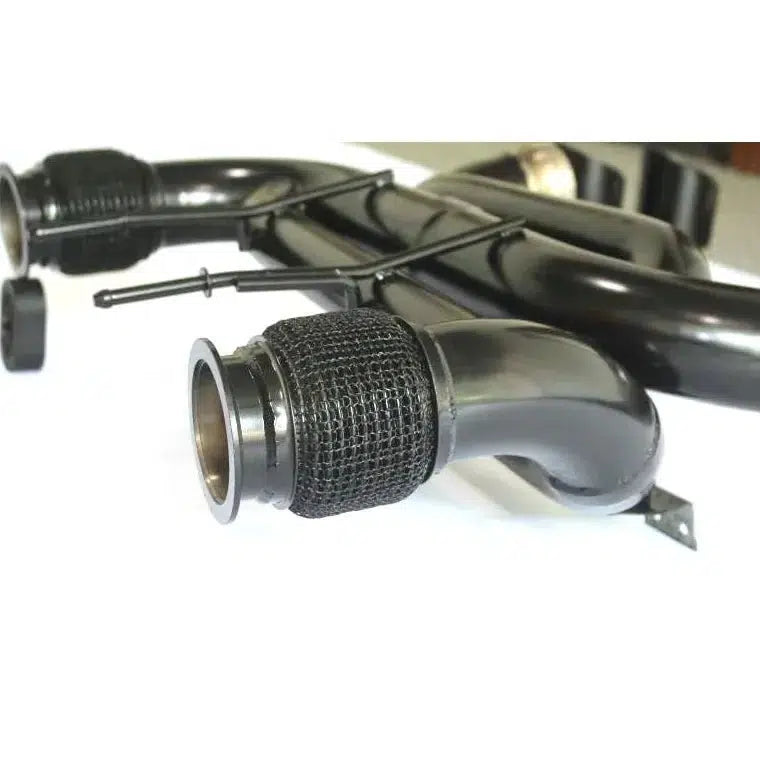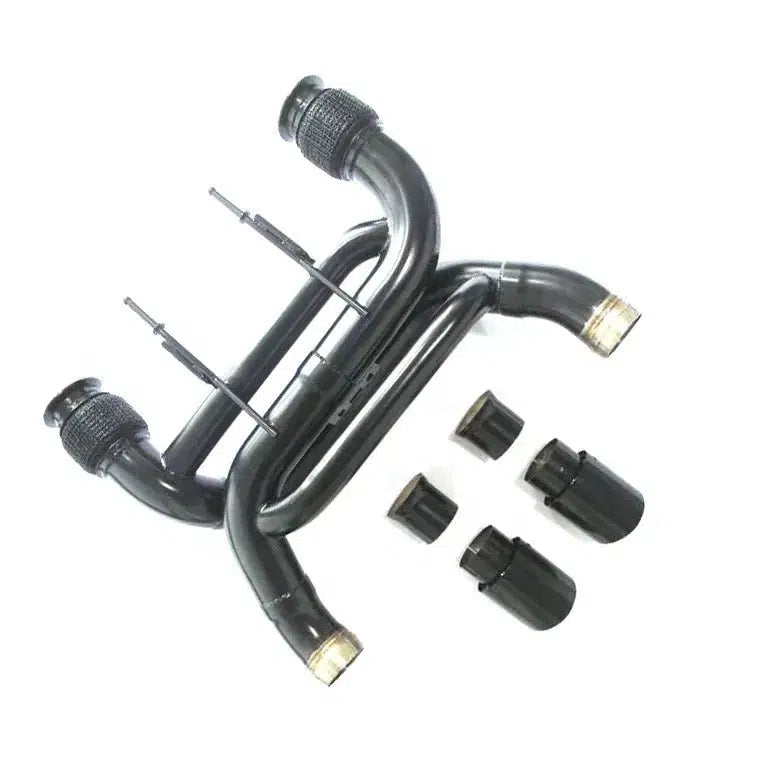 McLaren 720s Ceramic Coated Straight Pipe Exhaust
---
Fitment Guaranteed
Dry Carbon Fiber with 2x2 weave
UV Protectant Clear Coat
3M Tape & Screws Included

Designed by eurobahndynamics in california
Free Shipping Worldwide
Financing Available
14 day Return
This McLaren 720s Straight Pipe Exhaust is a performance exhaust system designed specifically for the McLaren 720s sports car. This exhaust system is designed to replace the stock exhaust system and features straight pipes, which are larger in diameter than the stock pipes and do not include mufflers or resonators. This design results in a more aggressive and loud exhaust note, which is favored by some performance enthusiasts.

The straight pipe design of the McLaren 720s Straight Pipe Exhaust helps to improve the flow of exhaust gases from the engine, which can increase horsepower and torque. This can result in improved acceleration and a more exciting driving experience.

The straight pipe design of the McLaren 720s Straight Pipe Exhaust can also reduce the weight of the car compared to the stock exhaust system, which can have a positive impact on the car's handling and performance.

It's important to note that the McLaren 720s Straight Pipe Exhaust is not suitable for all drivers and may not be legal in all jurisdictions. The straight pipe design can result in a loud exhaust note, which may not be suitable for some drivers and can be illegal in some areas where noise pollution laws are strictly enforced.

Overall, the McLaren 720s Straight Pipe Exhaust is a high-performance upgrade for McLaren 720s owners looking to improve the sound and performance of their sports car. However, it's important to consider the potential drawbacks, including increased noise levels and potential legal issues, before making this upgrade.

Fitment

Features of this Straight pipe Exhaust 

Constructed from T304 Stainless Steel
Comes standard with exhaust tips
5 lbs. Lighter than the factory exhaust
Fully Mandrel bend for maximum flow
Precision tig welds for high strength
100% REVERSIBLE, always able to go back to stock at any time

*THIS PRODUCT IS PART OF THE SPECIAL OPERATIONS EXHAUST DEVELOPMENT PROGRAM. IF THIS PRODUCT IS NOT IN STOCK AT THE TIME OF YOUR ORDERING PLEASE ALLOW FOR 4-5 WEEK DELIVERY

ALL CUSTOM EXHAUST WE DO NOT ACCEPT RETURNS OR REFUNDS UNLESS THEY DO NOT FIT OR THEIR DEFECTED WE WILL ACCEPT EXCHANGES 
304 stainless steel is a popular and widely used material in the construction of exhaust systems for various vehicles, particularly in the automotive and motorcycle industries. Its unique combination of properties makes it an excellent choice for exhaust components. Here are some key features and characteristics of 304 stainless steel exhaust systems:

Corrosion Resistance: One of the standout features of 304 stainless steel is its exceptional resistance to corrosion. This alloy contains a significant amount of chromium (18-20%), which forms a protective oxide layer on the surface, preventing rust and corrosion even in harsh environments.

High Temperature Resistance: 304 stainless steel can withstand high exhaust gas temperatures without deformation or degradation. This makes it suitable for use in exhaust systems where exhaust gases can reach elevated temperatures during operation.

Durability: 304 stainless steel is known for its durability and long-lasting performance. It is less prone to cracking, pitting, or warping compared to some other materials, ensuring a longer lifespan for the exhaust system.

Aesthetic Appeal: 304 stainless steel has a sleek, polished appearance that enhances the visual appeal of the exhaust system. This material retains its luster and finish even after prolonged exposure to the elements, contributing to the overall aesthetic of the vehicle.

Lightweight: While not the lightest option available, 304 stainless steel is relatively lightweight compared to some other materials used in exhaust systems. This can help reduce overall vehicle weight and improve fuel efficiency.

Ease of Fabrication: 304 stainless steel is relatively easy to work with, making it a preferred choice for custom and aftermarket exhaust systems. It can be bent, welded, and machined to create complex shapes and configurations to suit specific vehicle designs.

Sound Quality: The properties of 304 stainless steel can contribute to the sound quality of the exhaust system. Its smooth and polished surface can help reduce turbulence and minimize unwanted noise, allowing for a more refined exhaust note.