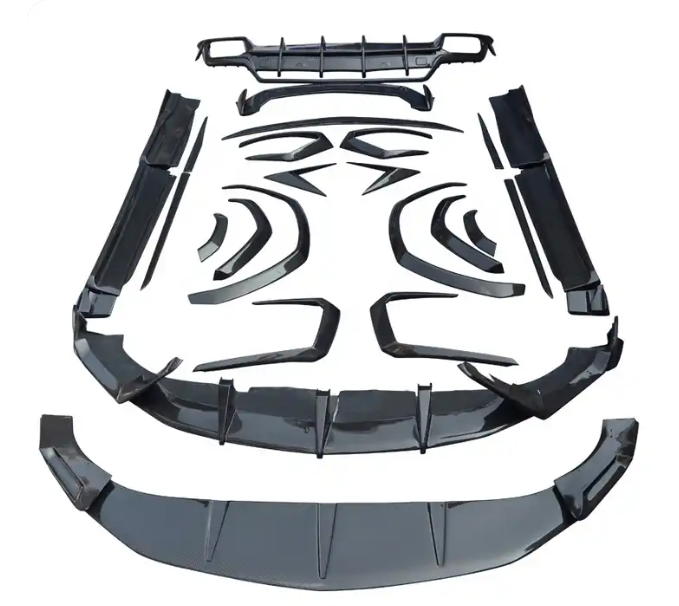 Lamborghini Urus Carbon Fiber Aero Kit
---
Fitment Guaranteed
Dry Carbon Fiber with 2x2 weave
UV Protectant Clear Coat
3M Tape & Screws Included

Designed by eurobahndynamics in california
Free Shipping Worldwide
Financing Available
14 day Return
Elevate your Lamborghini Urus to new heights of style and performance with the Lamborghini Urus Carbon Fiber Aero Kit. This meticulously crafted and thoughtfully designed kit represents the epitome of automotive customization, enhancing both the aesthetics and aerodynamics of your already extraordinary SUV.

Precision Craftsmanship: Each component of the Lamborghini Urus Carbon Fiber Aero Kit is a testament to precision craftsmanship. Painstakingly molded and engineered with meticulous attention to detail, this kit seamlessly integrates with your Urus's factory body, delivering a perfect fit and finish. Crafted from genuine carbon fiber, this kit offers the perfect blend of lightweight strength and exquisite visual appeal.

Aerodynamic Excellence: This kit isn't just about looks; it's designed with aerodynamics in mind. The precisely sculpted front splitter, side skirts, rear diffuser, and spoiler are engineered to enhance downforce, reduce drag, and improve overall aerodynamic efficiency. Whether you're cruising on the highway or pushing the limits on the track, you'll experience a noticeable improvement in stability, handling, and performance.

Distinctive Design: The Lamborghini Urus Carbon Fiber Aero Kit doesn't just enhance your SUV; it transforms it into a true automotive masterpiece. The kit's bold and aggressive lines, along with its meticulously crafted contours, add a distinctive, head-turning presence to your Urus. From the front splitter to the rear diffuser, each component showcases Lamborghini's iconic design language, enhancing your SUV's overall aesthetic appeal.

Easy Installation: Designed with ease of installation in mind, this body kit can be professionally installed or tackled by dedicated DIY enthusiasts. It aligns seamlessly with your Urus's existing mounting points, ensuring a straightforward and hassle-free upgrade process. The kit includes detailed instructions and all necessary hardware, making installation a breeze.

Comprehensive Package: The Lamborghini Urus Carbon Fiber Aero Kit is a complete package, comprising front splitters, side skirts, a rear diffuser, and a spoiler. Each piece is meticulously designed to work in harmony with the others, creating a cohesive and visually striking appearance that elevates your Urus's overall aesthetics.

Quality Assurance: Backed by Lamborghini's unwavering commitment to excellence and quality, you can trust that this Carbon Fiber Aero Kit meets the highest standards. It's built to withstand the demands of high-performance driving while retaining its impeccable finish and structural integrity.
Includes

1 Carbon Fiber Front Lip
1 Carbon Fiber Front Vent
1 Set of Carbon Fiber Side Skirts
1 Set of Carbon Fiber Fender Flares
1 Carbon Fiber Rear Spoiler
1 Carbon Fiber Rear Diffuser