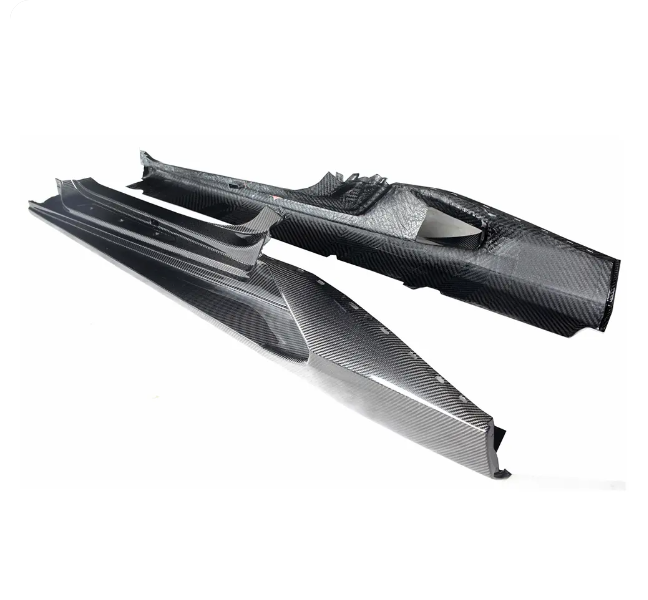 Lamborghini Huracan Evo Carbon Fiber Side Skirts
---
Fitment Guaranteed
Dry Carbon Fiber with 2x2 weave
UV Protectant Clear Coat
3M Tape & Screws Included

Designed by eurobahndynamics in california
Free Shipping Worldwide
Financing Available
14 day Return
Unleash the true potential of your Lamborghini Huracan Evo with the Lamborghini Huracan Evo Carbon Fiber Side Skirts. These meticulously crafted side skirts are the embodiment of precision engineering and style, meticulously designed to enhance both the visual allure and performance of your exceptional sports car. Crafted with the utmost care and utilizing top-tier carbon fiber materials, these side skirts seamlessly blend form and function to redefine your driving experience.

Key Features:

Carbon Fiber Craftsmanship: Designed with unwavering attention to detail, these side skirts are constructed using premium carbon fiber materials. Renowned for its remarkable strength-to-weight ratio, carbon fiber ensures a lightweight design without sacrificing durability.

Aerodynamic Excellence: Beyond their visual appeal, the Carbon Fiber Side Skirts are engineered to optimize the Huracan Evo's aerodynamics. Their sleek design reduces lift and enhances downforce, providing superior stability and improved handling at higher speeds.

Perfect Fitment: Tailored specifically for the Lamborghini Huracan Evo, these side skirts guarantee a seamless integration with the vehicle's body lines. The precise fitment streamlines the installation process, minimizing the need for extensive modifications.

Exquisite Aesthetics: The carbon fiber construction of these side skirts adds a touch of sophistication and sportiness to your Huracan Evo. The finely woven carbon fiber weave creates a captivating visual contrast, making your vehicle an instant head-turner.

Lightweight Durability: Carbon fiber's exceptional strength is coupled with its minimal weight, ensuring your car retains its agility and performance while reinforcing structural integrity.

OEM-Quality Standard: Crafted to meet or exceed original equipment manufacturer (OEM) standards, these side skirts uphold the Lamborghini legacy of excellence. They are more than mere accessories; they are an extension of your car's identity.

Effortless Installation: The Carbon Fiber Side Skirts come complete with all the necessary hardware and comprehensive instructions, ensuring a straightforward installation process for professionals with experience in handling high-performance accessories.

Complete the Look: Elevate your Lamborghini's appearance further by pairing the side skirts with other carbon fiber accessories, such as front splitters, rear diffusers, front vented fenders, and a rear wing. This comprehensive approach ensures a harmonious, cohesive, and breathtakingly striking appearance.

The Lamborghini Huracan Evo Carbon Fiber Side Skirts are not just enhancements; they are a statement of precision, performance, and undeniable style. Whether you're a discerning enthusiast or a dedicated racer, these side skirts encapsulate the essence of Lamborghini's storied heritage. Unleash the full potential of your Lamborghini Huracan Evo and make an indelible statement on the road or the track. The Carbon Fiber Side Skirts are more than accessories; they are an expression of artistry and engineering, a true embodiment of the Lamborghini experience.