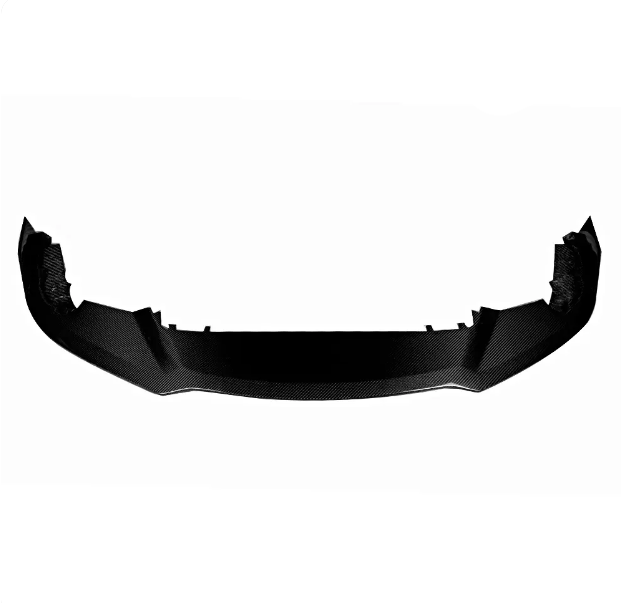 Lamborghini Huracan Evo Carbon Fiber Front Lip
---
Fitment Guaranteed
Dry Carbon Fiber with 2x2 weave
UV Protectant Clear Coat
3M Tape & Screws Included

Designed by eurobahndynamics in california
Free Shipping Worldwide
Financing Available
14 day Return
Elevate your Lamborghini Huracan Evo to unparalleled levels of performance, style, and aerodynamics with the Lamborghini Huracan Evo Carbon Fiber Front Lip. This meticulously crafted front lip is designed to be the ultimate enhancement for your prized exotic sports car. Precision-engineered and constructed from high-quality carbon fiber, it seamlessly blends form and function, setting new standards for what your Huracan Evo can achieve.

Key Features:

Premium Carbon Fiber Construction: Crafted with uncompromising attention to detail, the front lip is constructed using top-tier carbon fiber materials. Carbon fiber is renowned for its exceptional strength-to-weight ratio, ensuring that this component adds minimal weight while maximizing durability.

Improved Aerodynamics: The Huracan Evo Carbon Fiber Front Lip is not just a visual upgrade but a substantial performance enhancer. It's designed to optimize aerodynamics, effectively reducing lift and increasing downforce, resulting in enhanced stability and handling at high speeds.

Precise Fitment: This front lip is tailor-made for the Lamborghini Huracan Evo, ensuring a perfect fit that seamlessly integrates with the vehicle's existing body lines. The precise fitment simplifies the installation process, eliminating the need for extensive modifications.

Exquisite Aesthetics: Beyond its functional benefits, the carbon fiber weave adds a touch of exquisite luxury and sportiness to your Lamborghini Huracan Evo. The striking visual contrast creates an unmistakable, head-turning look that's sure to draw attention wherever you go.

Lightweight Durability: Carbon fiber's exceptional strength is combined with its feather-light weight. This means you can enjoy the benefits of increased performance and strength without compromising your vehicle's agility.

OEM-Level Quality: Crafted to meet or exceed original equipment manufacturer (OEM) standards, this front lip is a testament to precision engineering and quality craftsmanship. You can trust that it will seamlessly integrate with your Lamborghini, maintaining its integrity.

Effortless Installation: The included hardware and comprehensive instructions make the installation process straightforward for professionals. You can confidently entrust your vehicle to experts who are experienced with high-performance accessories.

Complete the Look: The Lamborghini Huracan Evo Carbon Fiber Front Lip can be perfectly complemented with other carbon fiber accessories, such as side skirts, rear diffusers, or a rear wing. This comprehensive approach ensures a harmonious, cohesive appearance.

Elevate your Lamborghini Huracan Evo to new heights with the Carbon Fiber Front Lip. This accessory is designed to deliver not only eye-catching aesthetics but also unrivaled performance and aerodynamic enhancements. Whether you're a discerning enthusiast or a dedicated racer, this front lip is the embodiment of precision engineering and the perfect embodiment of the Lamborghini spirit. Unleash the full potential of your vehicle and make a profound statement on the road or track. With the Lamborghini Huracan Evo Carbon Fiber Front Lip, you're not just driving; you're making a statement.