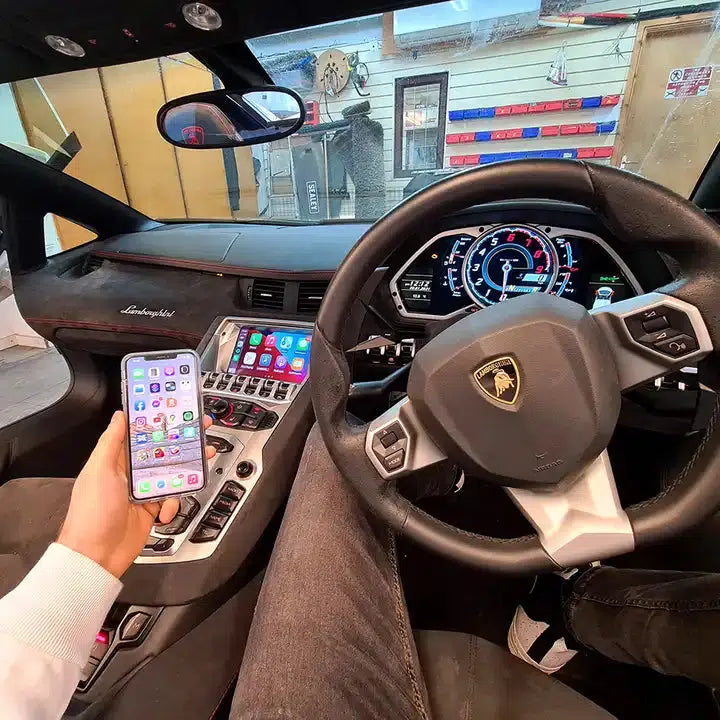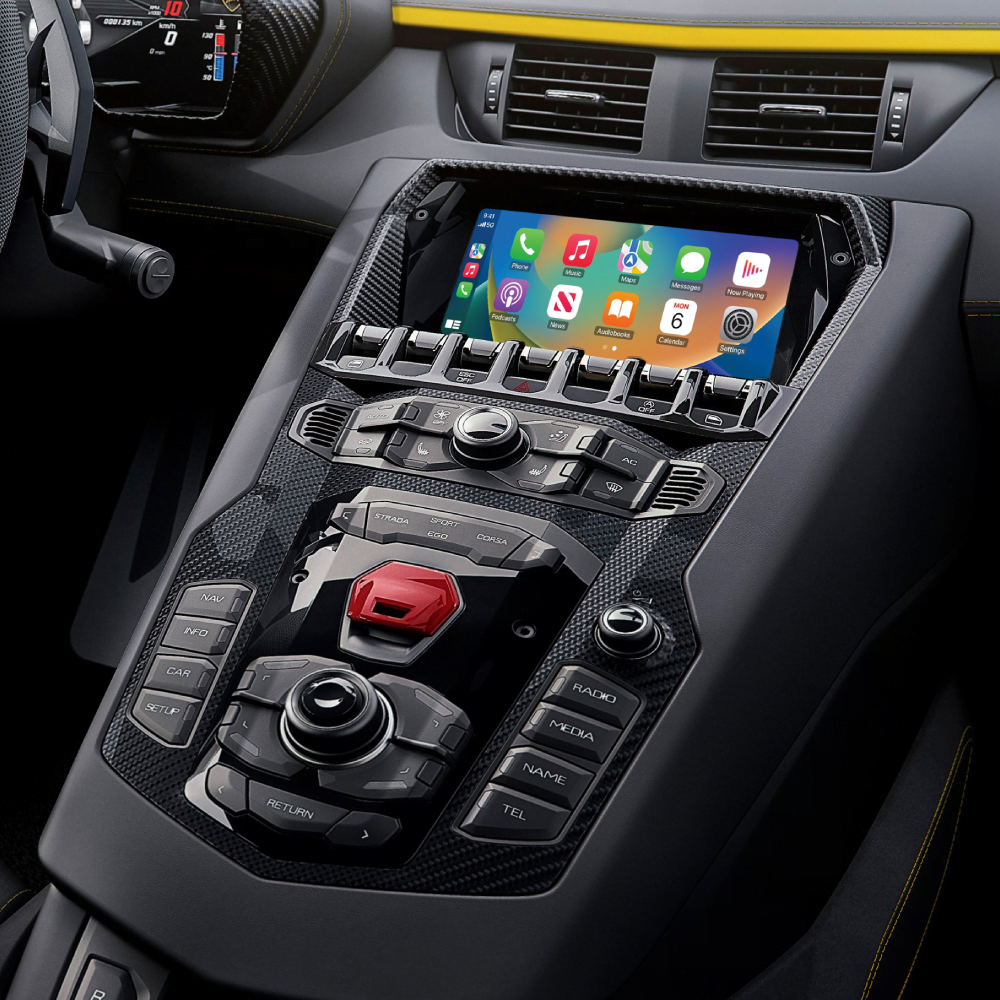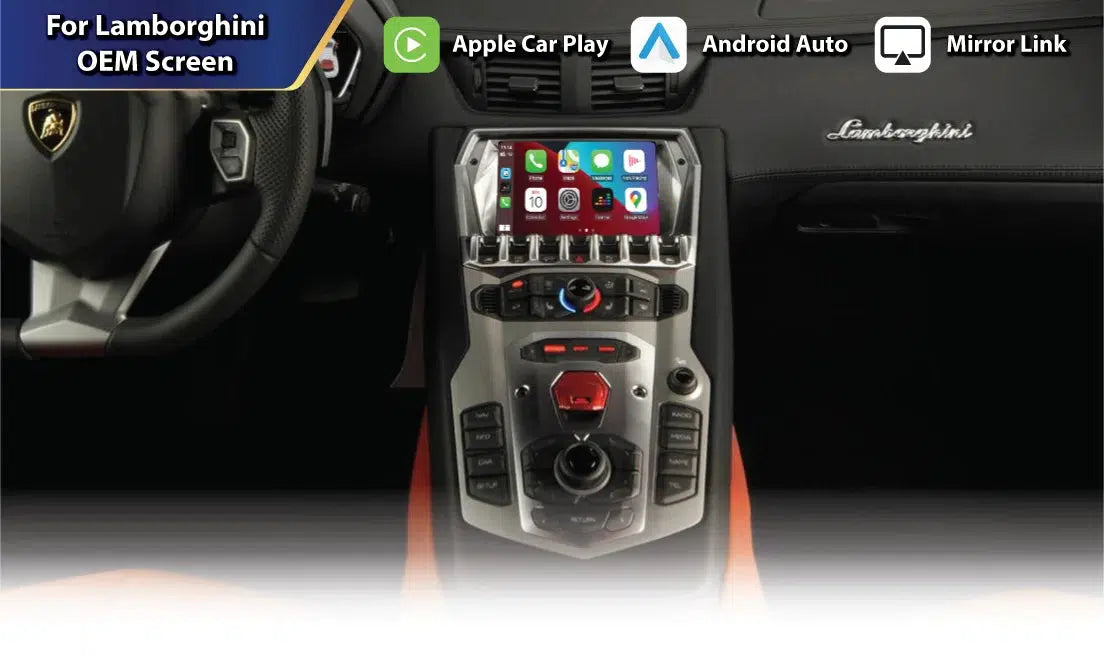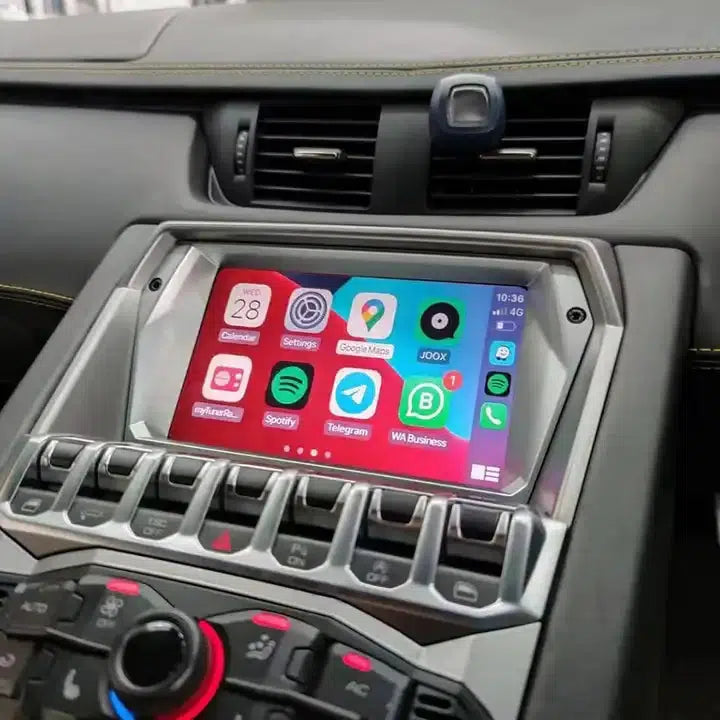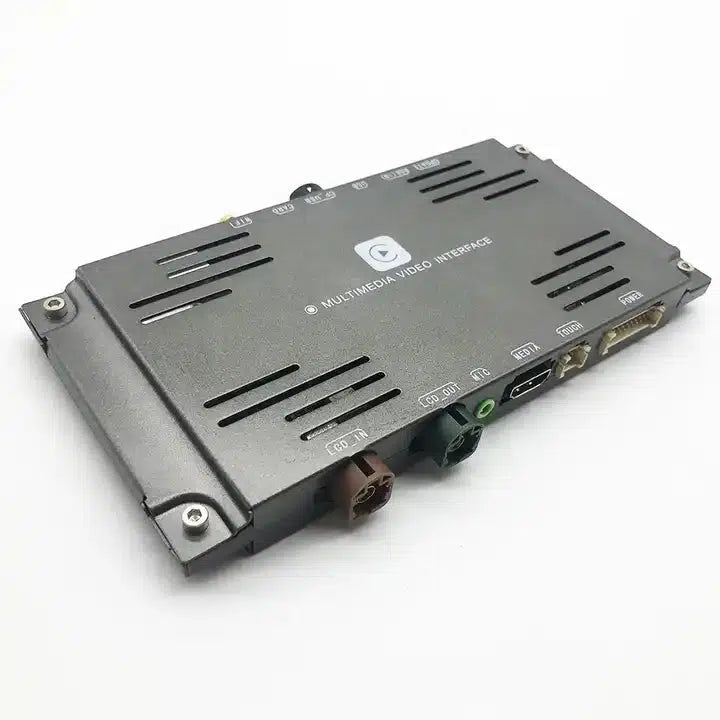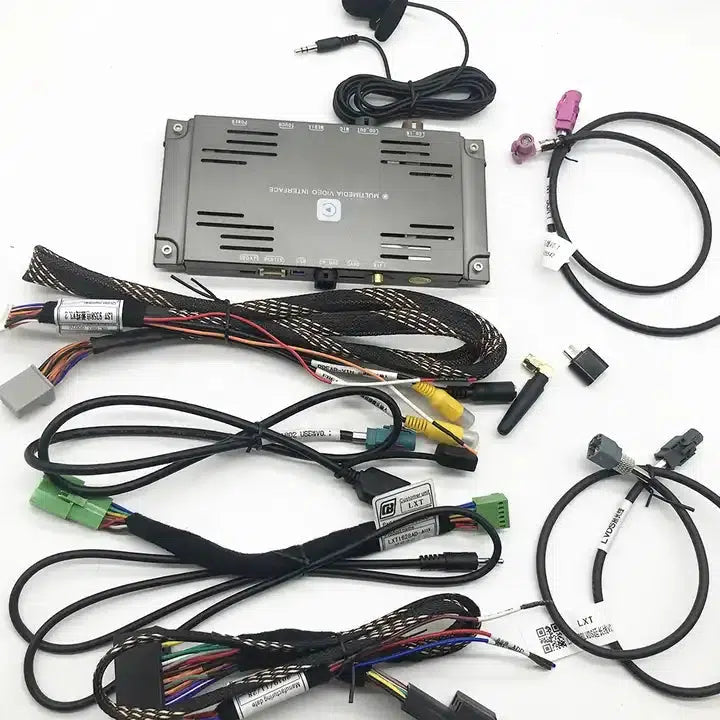 Lamborghini Aventador Apple Car Play Module Upgrade Plug And Play Kit
---
Fitment Guaranteed
Dry Carbon Fiber with 2x2 weave
UV Protectant Clear Coat
3M Tape & Screws Included

Designed by eurobahndynamics in california
Free Shipping Worldwide
Financing Available
14 day Return
Introducing the Lamborghini Apple CarPlay Module Upgrade Plug and Play Kit

Enhance your Lamborghini driving experience with the cutting-edge Lamborghini Apple CarPlay Module Upgrade Plug and Play Kit. This premium upgrade is designed to seamlessly integrate Apple CarPlay functionality into your Lamborghini's infotainment system, bringing the power of your iPhone to your fingertips while on the road. Whether you're navigating through the city, enjoying a long highway drive, or simply running errands, this upgrade will revolutionize your in-car entertainment and connectivity.

Key Features:

Seamless Integration: The Lamborghini Apple CarPlay Module Upgrade is engineered to seamlessly integrate with your existing infotainment system. It fits perfectly with your vehicle's interior, maintaining the luxurious aesthetics of your Lamborghini.

Plug and Play Installation: Installing this upgrade is a breeze. Thanks to the plug-and-play design, you won't need any special tools or technical expertise. Simply connect the module to your existing system, and you're ready to go.

Apple CarPlay Compatibility: Enjoy the convenience of Apple CarPlay, which mirrors your iPhone's screen on your car's infotainment display. Access your favorite apps, make calls, send messages, use navigation apps, and stream music seamlessly—all with Siri voice control for safe, hands-free operation.

Enhanced Safety: With Apple CarPlay, you can keep your eyes on the road while staying connected. Access maps for turn-by-turn directions, receive real-time traffic updates, and make calls without taking your hands off the wheel.

Entertainment on the Go: Stream your favorite music and podcasts directly from your iPhone using Apple CarPlay. You can also enjoy audiobooks and other audio content, creating a personalized in-car entertainment experience.

Upgradeable and Future-Proof: The Lamborghini Apple CarPlay Module Upgrade is designed to be upgradeable, ensuring compatibility with future iPhone models and iOS updates. You can enjoy the latest features and improvements without worrying about compatibility issues.

User-Friendly Interface: The intuitive interface ensures that you can access your iPhone's features with ease, even while driving. The touchscreen display and physical controls in your Lamborghini remain functional for a seamless transition between CarPlay and your car's native system.

High-Quality Construction: Crafted with precision and durability in mind, this module is built to last. It can withstand the rigors of daily driving and maintain optimal performance in all conditions.

Lamborghini Performance, Apple Innovation: This upgrade combines the world-class performance of Lamborghini with the innovative technology of Apple, offering a driving experience like no other.

Compatibility:

The Lamborghini Apple CarPlay Module Upgrade is compatible with a wide range of Lamborghini models, ensuring that more Lamborghini enthusiasts can enjoy the benefits of enhanced connectivity and entertainment.

Package Contents:

Lamborghini Apple CarPlay Module
Necessary cables and connectors
Installation instructions

Transform Your Driving Experience:

Elevate your Lamborghini to the next level with the Lamborghini Apple CarPlay Module Upgrade Plug and Play Kit. Stay connected, entertained, and informed like never before while enjoying the iconic Lamborghini driving experience. Upgrade your infotainment system today and revolutionize your journeys on the open road.

Experience the future of in-car connectivity and entertainment—order your Lamborghini Apple CarPlay Module Upgrade now and take your driving experience to a whole new level!
Key Advantage of Carplay kit

Superior sound quality due to good quality components – no difference in quality with playing music from AUX
Full wireless/wired CarPlay functionality for iPhone 5 or later.
Full wireless/wired Android Auto functionality for compatible Android phone models.
Screen mirroring function for iPhone and Android phones.
Use your favourite phone apps for GPS navigation Apple Maps, Google Maps and Waze and be notified of the live traffic Information
Allows handsfree calling and messaging
Voice control via Siri
Inbuilt interface for front, rear cameras and 360 cameras.
Play music from your favourite phone apps, Spotify, Apple Music, Amazon, etc. All sound comes from factory stereo system.
Can be connected via both Bluetooth or USB port (included in the kit) to keep your iPhone charged at the same time
The USB port included can also accept USB flash drive to play music and videos.
Factory central Knob controls used to control CarPlay/Android Auto
We provide detailed installation instructions in the box and Video Call Online Worldwide Support.
A UAD approved flash drive for software updates will be included.
One year warranty and lifetime email