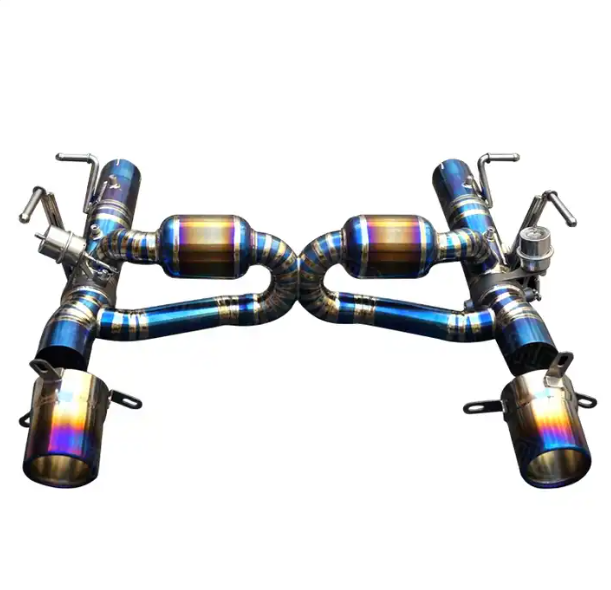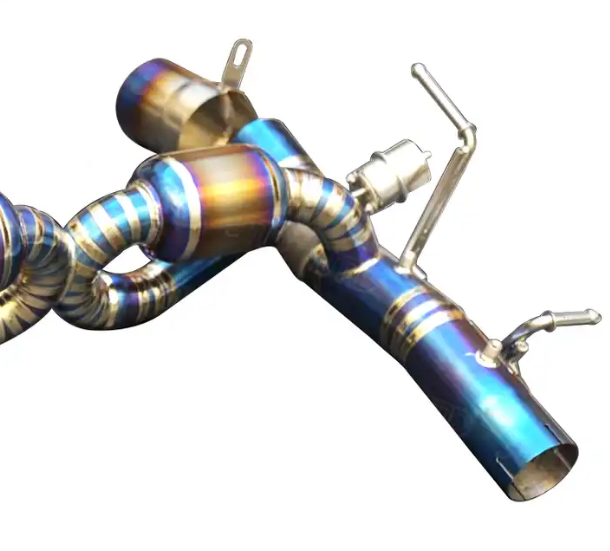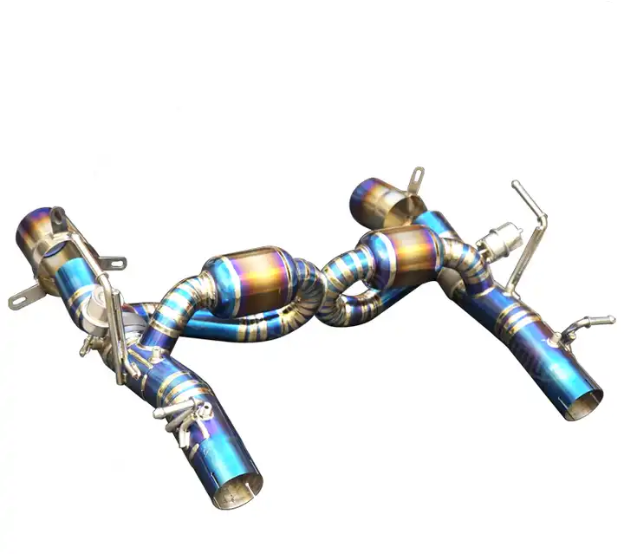 Ferrari F8 Tributo Titanium Valved Exhaust System With Muffler
---
Fitment Guaranteed
Dry Carbon Fiber with 2x2 weave
UV Protectant Clear Coat
3M Tape & Screws Included

Designed by eurobahndynamics in california
Free Shipping Worldwide
Financing Available
14 day Return
Elevate Your Ferrari F8 Tributo to Unprecedented Heights with our Titanium Valved Exhaust System with Muffler

Experience the perfect harmony of power, precision, and performance with our Titanium Valved Exhaust System, specially designed for the Ferrari F8 Tributo. This masterpiece of automotive engineering is the embodiment of Italian excellence, enhancing every facet of your driving experience.

Key Features:

Titanium Excellence: Crafted from aerospace-grade titanium, our exhaust system is a testament to the pursuit of perfection. Its lightweight construction not only enhances durability but also reduces overall vehicle weight, improving handling, and acceleration. Elevate your Ferrari's performance to an entirely new level.

Valved Technology: Our exhaust system features an advanced valved design that allows you to customize your driving experience. Choose between a stealthy, refined mode for cruising and an aggressive, thunderous mode for unleashing the full power of your F8 Tributo. Flexibility at your fingertips.

Meticulous Sound Engineering: We've meticulously tuned the exhaust note to create a symphony of sound that will captivate your senses. Whether you're cruising through the city or tearing down the track, you'll enjoy a rich, melodic exhaust note that's guaranteed to turn heads.

Enhanced Performance: The precision-engineered design of our exhaust system optimizes exhaust flow, resulting in a substantial increase in horsepower and torque. Feel the exhilaration as your Ferrari F8 Tributo accelerates with newfound intensity and responsiveness.

Perfect Fitment: Designed to seamlessly integrate with your Ferrari F8 Tributo, our exhaust system offers a hassle-free installation process, preserving the aesthetics and aerodynamics of your vehicle. Enjoy peace of mind knowing your upgrade is expertly crafted for your specific model.

Aesthetic Brilliance: The titanium construction not only enhances performance but also adds a touch of elegance to your Ferrari's rear end. Its sleek, polished appearance complements the iconic Ferrari design, making a visual statement that's as impressive as its performance.

Uncompromising Quality: Built to meet and exceed the high standards of Ferrari enthusiasts, our Titanium Valved Exhaust System with Muffler undergoes rigorous testing to ensure unparalleled quality and reliability.

Transform your Ferrari F8 Tributo into a high-performance masterpiece with our Titanium Valved Exhaust System. It's the ultimate choice for those who demand the best in both performance and aesthetics.

Elevate your driving experience and make every moment behind the wheel unforgettable. Order your Titanium Valved Exhaust System with Muffler today and immerse yourself in the world of Ferrari excellence. Upgrade, personalize, and experience the exhilaration of a Ferrari F8 Tributo like never before.
Constructed from Titanium
System reuses factory exhaust outlets
30 lbs. Lighter than the factory exhaust
Fully Mandrel bend for maximum flow
Precision tig welds for high strength
100% REVERSABLE, always able to go back to stock at any time you want