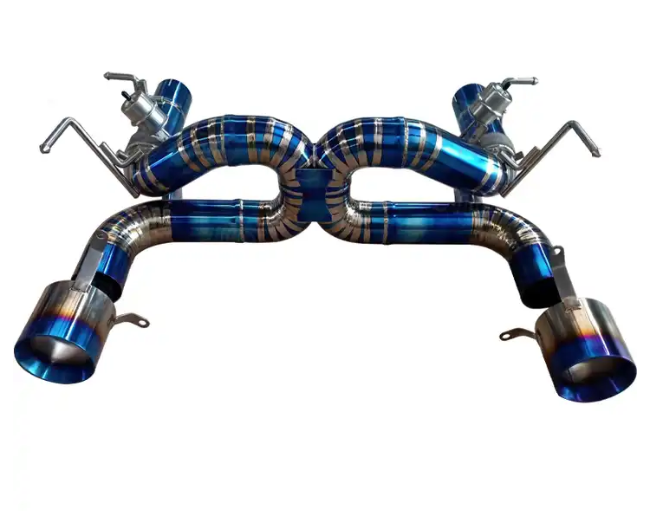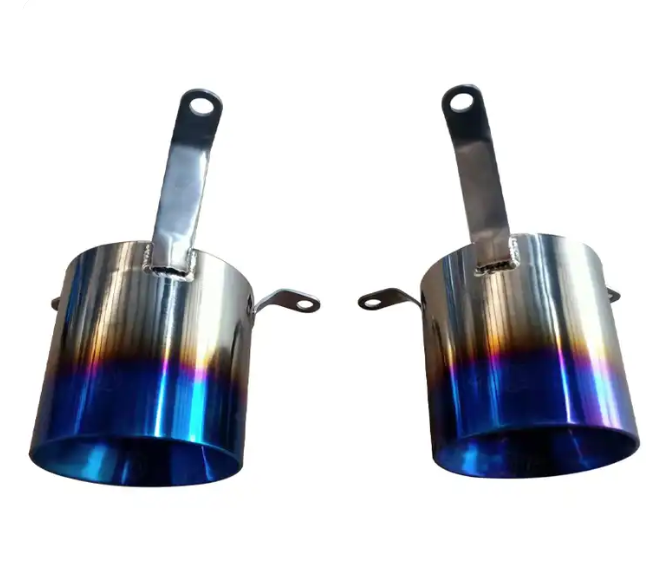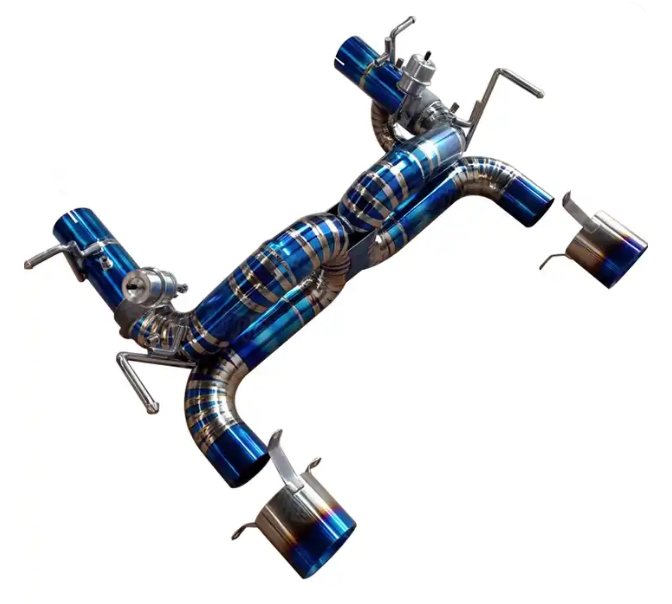 Ferrari F8 Tributo Titanium Exhaust System
---
Fitment Guaranteed
Dry Carbon Fiber with 2x2 weave
UV Protectant Clear Coat
3M Tape & Screws Included

Designed by eurobahndynamics in california
Free Shipping Worldwide
Financing Available
14 day Return
Introducing the Ultimate Performance Upgrade: Ferrari F8 Tributo Titanium Exhaust System

Unleash the full potential of your Ferrari F8 Tributo with our Titanium Exhaust System, a masterpiece of engineering and craftsmanship that takes your driving experience to exhilarating new heights. Crafted with precision and designed for the discerning Ferrari enthusiast, this exhaust system is the ultimate statement of power, style, and performance.

Key Features:

Titanium Construction: Our exhaust system is meticulously crafted from aerospace-grade titanium, a material known for its exceptional strength-to-weight ratio. This not only enhances the durability of the system but also reduces overall vehicle weight for improved handling and acceleration.

Enhanced Soundtrack: Experience the spine-tingling symphony of your Ferrari F8 Tributo like never before. Our exhaust system has been tuned to produce a sonorous and aggressive exhaust note that will turn heads wherever you go. It's the perfect blend of elegance and excitement.

Increased Horsepower: Unlock the hidden power within your F8 Tributo. Our exhaust system is expertly engineered to optimize exhaust flow, resulting in a noticeable increase in horsepower and torque. Feel the rush of acceleration like never before.

Precision Fitment: Designed to seamlessly integrate with your Ferrari F8 Tributo, our Titanium Exhaust System offers a plug-and-play installation process, ensuring a perfect fit that preserves the aesthetics and aerodynamics of your vehicle.

Stunning Aesthetics: The titanium construction not only enhances performance but also adds a touch of sophistication to your Ferrari's rear end. Its sleek and polished appearance is sure to impress, making your vehicle stand out in any crowd.

Enhanced Resonance: Our exhaust system isn't just about performance; it's about the driving experience. Experience the increased resonance and responsiveness as you push your F8 Tributo to its limits, making each drive a memorable one.

Quality Assurance: Crafted with the highest standards of quality and precision, our Titanium Exhaust System is built to last. It undergoes rigorous testing to ensure it meets and exceeds the expectations of Ferrari enthusiasts.

Elevate your Ferrari F8 Tributo to new heights of performance, sound, and style with our Titanium Exhaust System. It's the ultimate upgrade for those who demand the best. Make a statement, set new standards, and experience the thrill of driving like never before.

Transform your Ferrari F8 Tributo into a true masterpiece of automotive excellence. Order your Titanium Exhaust System today and experience the exhilaration of the Ferrari legacy at its finest. Upgrade, dominate, and make every drive an unforgettable journey.
Constructed from Titanium
System reuses factory exhaust outlets
30 lbs. Lighter than the factory exhaust
Fully Mandrel bend for maximum flow
Precision tig welds for high strength
100% REVERSABLE, always able to go back to stock at any time you want