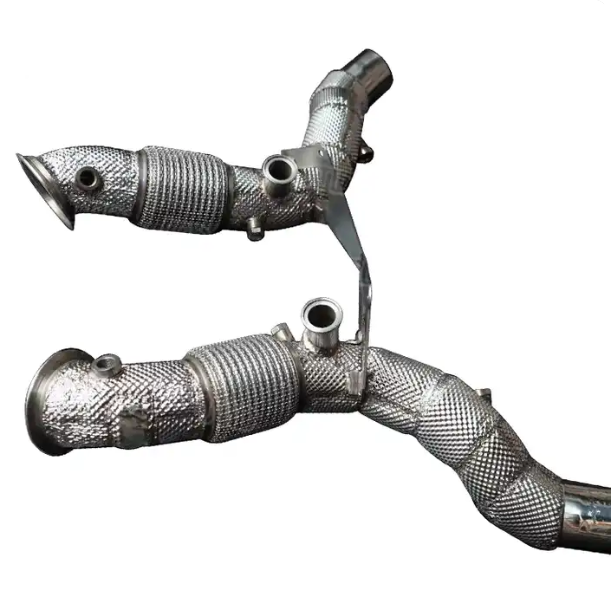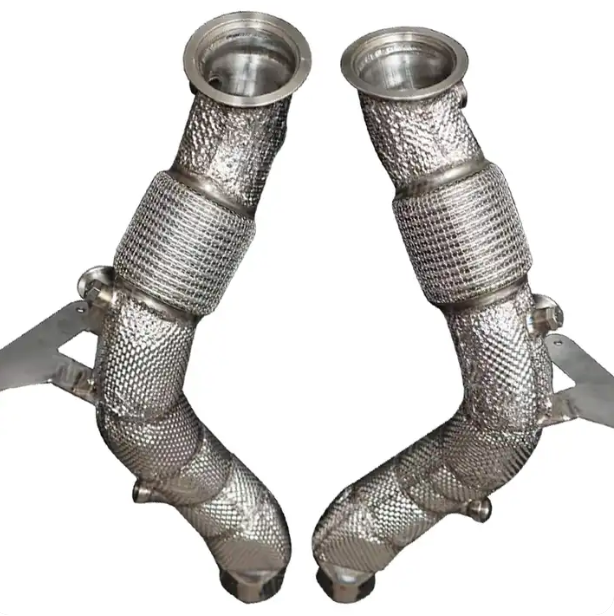 Ferrari F8 Tributo Cat Less Downpipes
---
Fitment Guaranteed
Dry Carbon Fiber with 2x2 weave
UV Protectant Clear Coat
3M Tape & Screws Included

Designed by eurobahndynamics in california
Free Shipping Worldwide
Financing Available
14 day Return
Unleash the True Power of Your Ferrari F8 Tributo with Cat-Less Downpipes

When it comes to elevating the performance and exhilaration of your Ferrari F8 Tributo, our Cat-Less Downpipes are the ultimate solution. Crafted with precision engineering and designed for true enthusiasts, these downpipes unlock the full potential of your Ferrari, delivering an unparalleled driving experience that's both thrilling and uncompromising.

Key Features:

Enhanced Exhaust Flow: Our Cat-Less Downpipes are designed to optimize exhaust flow, eliminating the restrictive catalytic converters found in stock exhaust systems. This results in improved engine efficiency, reduced turbo lag, and a noticeable increase in horsepower and torque. Feel the raw power and responsiveness like never before.

Race-Ready Sound: Experience the symphony of your Ferrari F8 Tributo in its purest form. Removing the catalytic converters allows your exhaust system to produce an aggressive and exhilarating exhaust note that's sure to turn heads and send shivers down your spine. It's the unmistakable soundtrack of performance.

Precision Craftsmanship: Our Cat-Less Downpipes are meticulously crafted from high-quality materials to ensure durability and reliability. Designed to seamlessly integrate with your Ferrari F8 Tributo, they provide a perfect fit, preserving the aesthetics and aerodynamics of your vehicle.

Performance Gains: With the removal of the catalytic converters, you'll experience a significant boost in power and torque across the RPM range. Whether you're on the track or the open road, these downpipes will enhance your Ferrari's performance, giving you the edge you need to dominate.

Easy Installation: Our downpipes are designed for a straightforward installation process, allowing you to enjoy the benefits of increased performance without the hassle. They are engineered to fit directly into your existing exhaust system, making it a hassle-free upgrade for your Ferrari F8 Tributo.

Quality Assurance: Crafted with the utmost attention to detail and quality, our Cat-Less Downpipes undergo rigorous testing to ensure they meet and exceed the standards of Ferrari enthusiasts. You can trust in their reliability and longevity.

Track-Ready Performance: These downpipes are the ideal choice for those seeking to take their Ferrari F8 Tributo to the track. Unleash the full potential of your vehicle and experience the exhilaration of high-speed driving without compromise.

Upgrade your Ferrari F8 Tributo with our Cat-Less Downpipes and tap into the true essence of Italian automotive engineering. Feel the raw power, hear the symphony of performance, and experience the thrill of a Ferrari like never before.

Make the decision to elevate your driving experience. Order your Cat-Less Downpipes today and transform your Ferrari F8 Tributo into a high-performance masterpiece. Embrace the exhilaration, dominate the road or track, and redefine your automotive journey with the unmatched power and sound of our Cat-Less Downpipes.
The Downpipes are constructed from high-quality T304 stainless steel, which provides durability, corrosion resistance, and an attractive appearance. The improved exhaust flow provided by the downpipes can increase power output and improve throttle response. The downpipe is designed to be a direct bolt-on replacement for the factory mid pipe, making installation quick and easy.