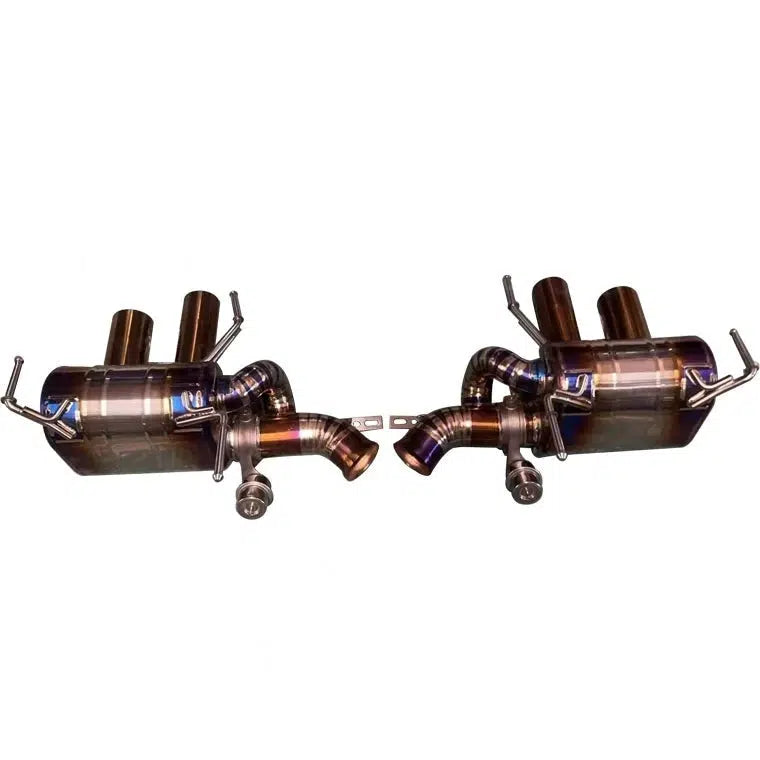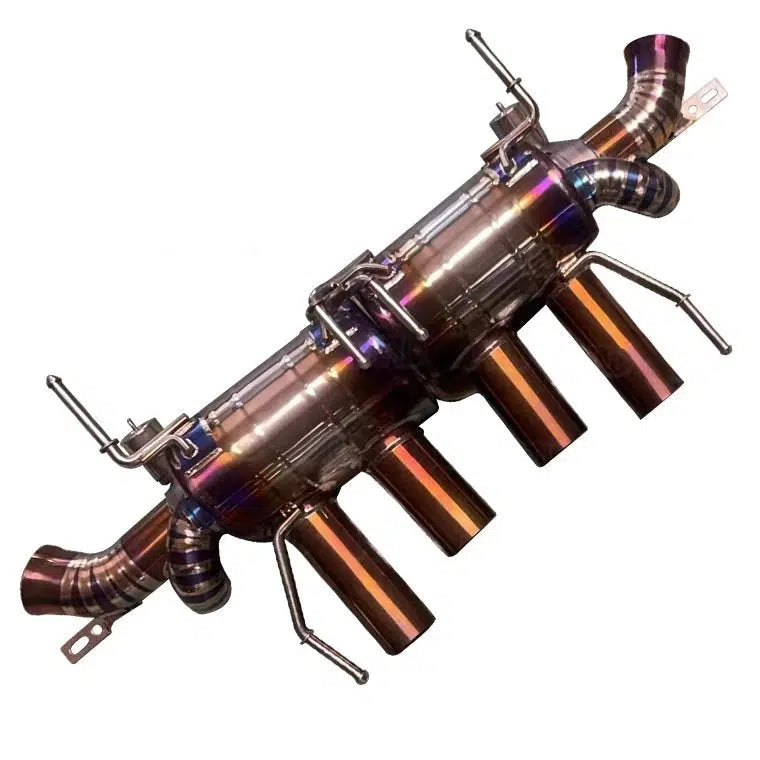 Ferrari 812 Titanium Valved Exhaust System With Muffler
---
Fitment Guaranteed
Dry Carbon Fiber with 2x2 weave
UV Protectant Clear Coat
3M Tape & Screws Included

Designed by eurobahndynamics in california
Free Shipping Worldwide
Financing Available
14 day Return
Introducing the Ferrari 812 Titanium Valved Exhaust System with Muffler – an audacious symphony of power, precision, and unmistakable Ferrari flair. Crafted with uncompromising dedication to excellence, this titanium exhaust system is more than an upgrade; it's a testament to the fusion of cutting-edge engineering and the soul-stirring performance that defines the Ferrari 812.

Constructed from aerospace-grade titanium, this exhaust system is a beacon of innovation, seamlessly marrying lightweight strength with resounding acoustics. The distinctively finished titanium not only enhances the 812's power-to-weight ratio but also adds a touch of sophistication to its dynamic profile. The precision engineering ensures a seamless fit, integrating effortlessly into the 812's design for an elevated aesthetic that complements its aggressive lines.

Featuring valved technology, this exhaust system provides a dual-mode experience at your fingertips. Cruise in refined comfort with the valves closed for a subdued and sophisticated tone, or command attention with the valves open, releasing the full symphony of the Ferrari V12 engine in its unbridled glory.

Installation is a breeze, allowing you to effortlessly integrate the titanium valved exhaust system into your Ferrari 812. Meticulously inspected to meet the highest standards of quality and craftsmanship, this exhaust system not only amplifies performance but also embodies the Ferrari legacy of precision, power, and the art of the drive.

Elevate your Ferrari 812 to new heights with the Ferrari 812 Titanium Valved Exhaust System with Muffler – a symbol of automotive innovation, performance, and luxury. Immerse yourself in the world of unparalleled driving pleasure, and experience the thrill of piloting a Ferrari enhanced with this extraordinary exhaust system. Make a distinctive mark on the road with the perfect blend of power and refinement, courtesy of the Ferrari 812 Titanium Valved Exhaust System with Muffler.