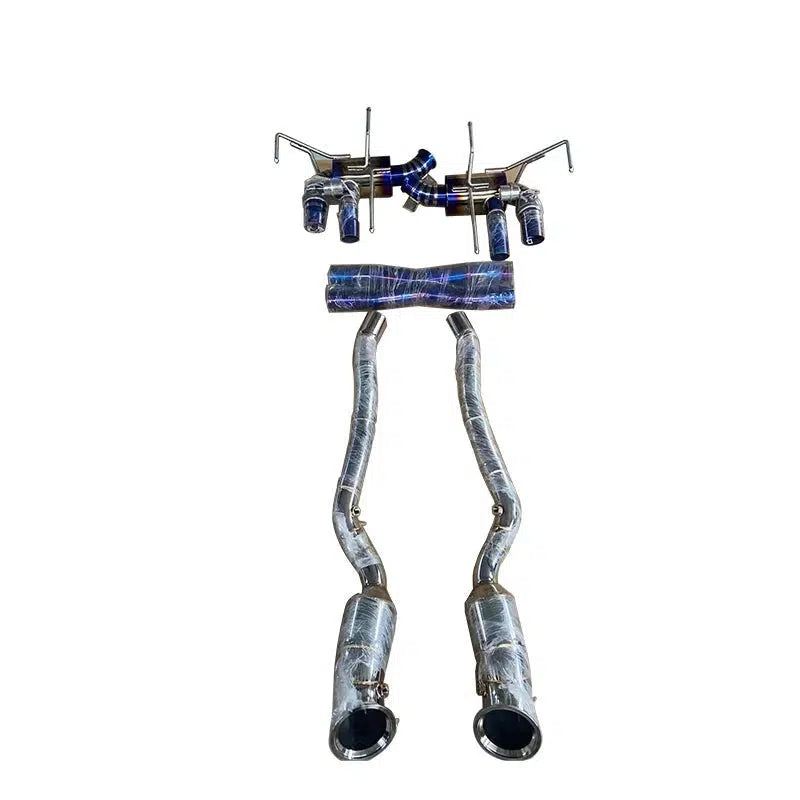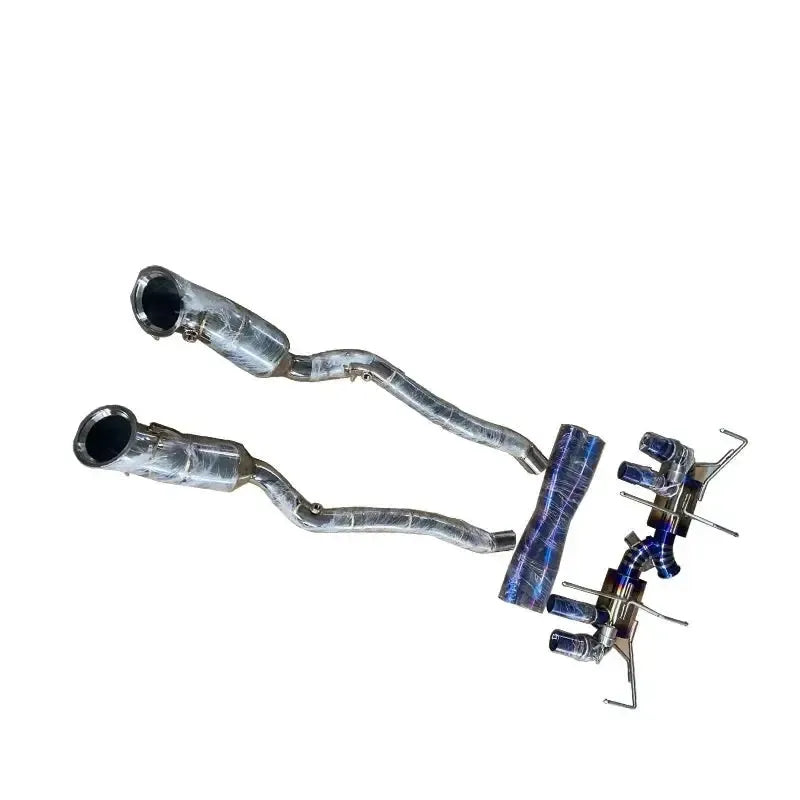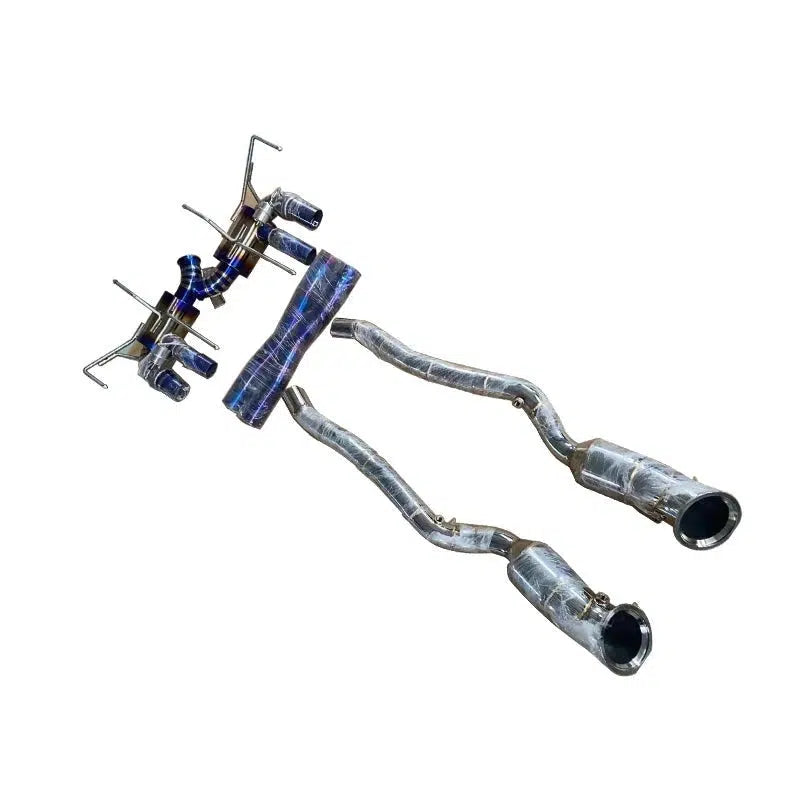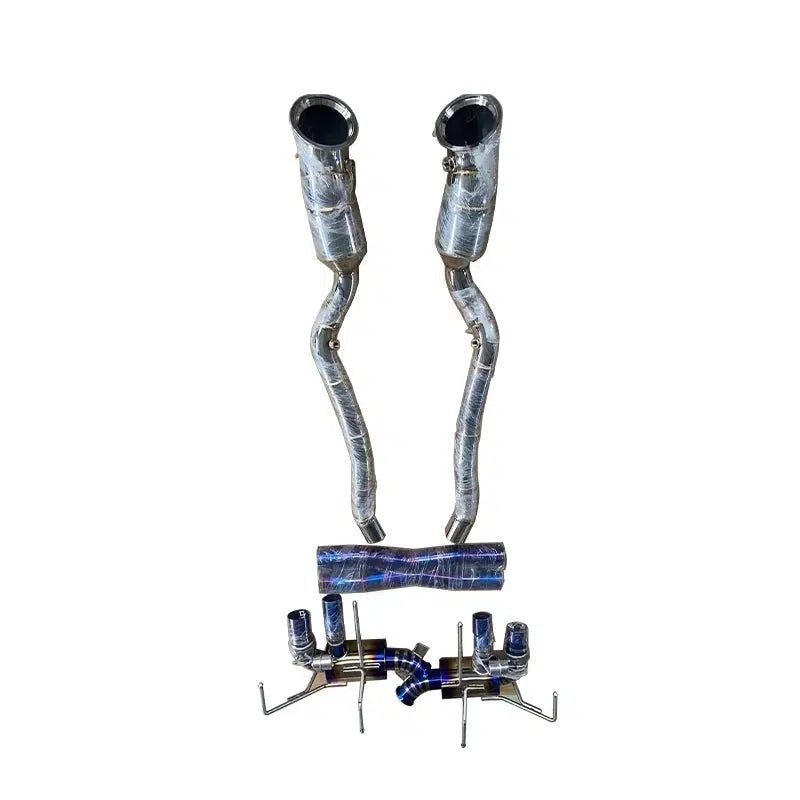 Ferrari 812 Titanium Full Exhaust System & X Pipe With Stain Less Steel Mid Pipes
Sale price

$5,999.00 USD
Regular price
(/)
Sold outSave $-5,999.00
---
Fitment Guaranteed
Dry Carbon Fiber with 2x2 weave
UV Protectant Clear Coat
3M Tape & Screws Included

Designed by eurobahndynamics in california
Free Shipping Worldwide
Financing Available
14 day Return
Introducing the pinnacle of performance upgrades for your Ferrari 812 – the Ferrari 812 Titanium Full Exhaust System & X Pipe with Stainless Steel Mid Pipes. This extraordinary system is meticulously crafted to redefine the driving experience, combining aerospace-grade titanium, precision engineering, and the unmistakable symphony of a Ferrari V12.

Crafted from lightweight yet robust titanium, this full exhaust system represents the epitome of automotive innovation. The unique X pipe design optimizes exhaust flow, unlocking additional horsepower and torque while emitting a distinctive and authoritative exhaust note. Complementing this, the stainless steel mid pipes enhance durability and contribute to the harmonious resonance that echoes the soul of a true Ferrari.

Seamless integration into the Ferrari 812's exhaust system is a hallmark of this upgrade, ensuring a perfect fit that not only complements the car's dynamic profile but elevates it to new heights. The sophisticated finish of the titanium components adds a touch of elegance, emphasizing the marriage of form and function.

The inclusion of a valved system gives you control over your driving experience. Cruise in comfort with the valves closed for a refined and subdued tone, or open them wide to unleash the full power and aural glory of your Ferrari 812 – an experience reserved for true enthusiasts.

Installation is a straightforward process, allowing you to effortlessly integrate the full exhaust system into your Ferrari 812. Meticulously inspected to meet the highest standards of quality and craftsmanship, this performance upgrade not only amplifies the 812's capabilities but also pays homage to the racing heritage and precision engineering synonymous with the Ferrari brand.

Elevate your Ferrari 812 to a realm of unparalleled performance with the Ferrari 812 Titanium Full Exhaust System & X Pipe with Stainless Steel Mid Pipes – a symphony of power, precision, and automotive artistry. Immerse yourself in the world of unmatched driving pleasure and experience the thrill of piloting a Ferrari enhanced with this extraordinary exhaust system. Make a distinctive mark on the road with the perfect blend of power and refinement, courtesy of the Ferrari 812 Titanium Full Exhaust System & X Pipe with Stainless Steel Mid Pipes.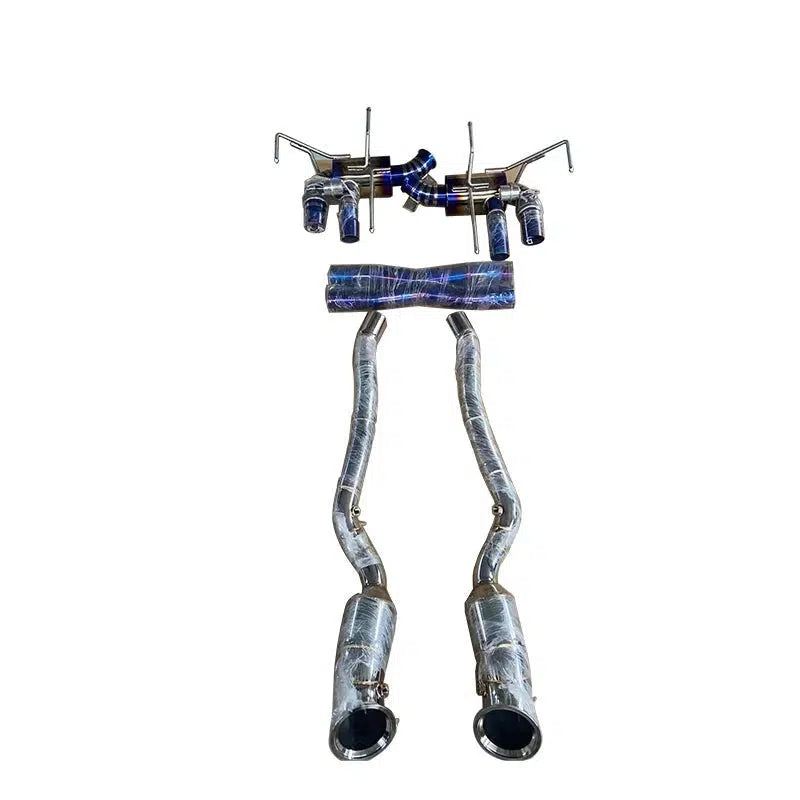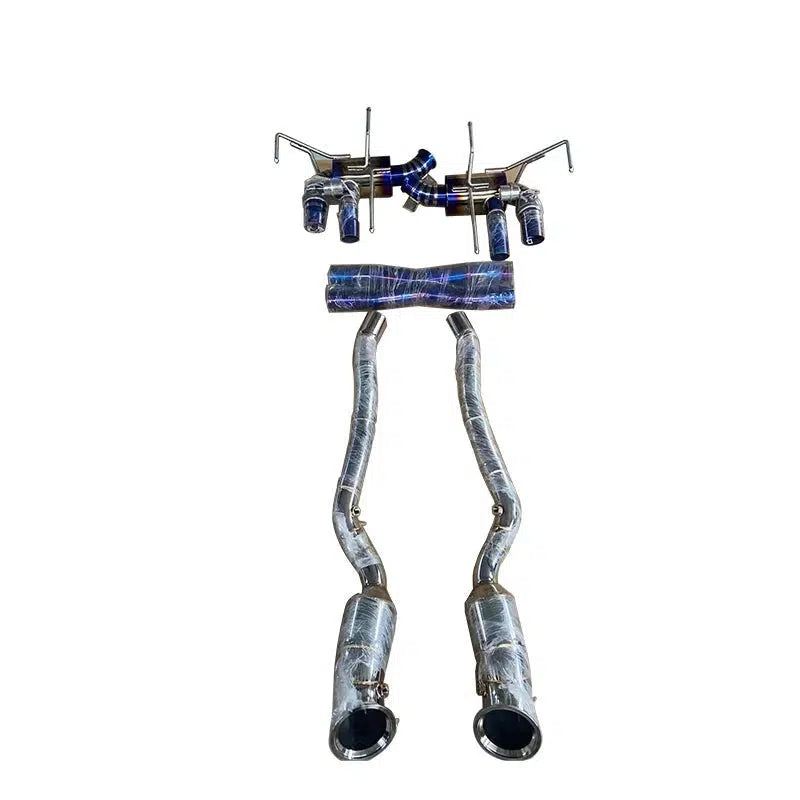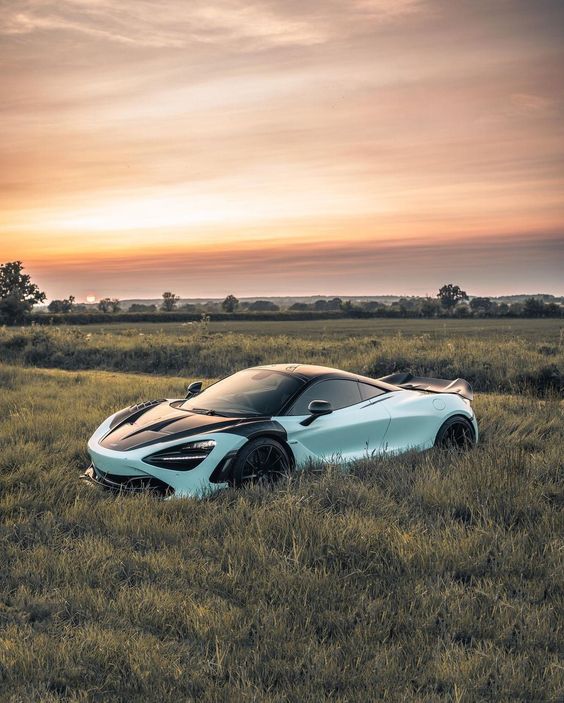 TAKE YOUR BUILD TO THE NEXT LEVEL
WHY BUILD WITH US ?
Carbon fiber parts are the perfect choice for adding looks and aggressiveness to your vehicle while enhancing then body lines of your vehicle. Carbon Fiber is the most popular mods that car enthusiast do as they are lightweight yet extremely strong and guarantee an unparalleled level of performance and durability. Plus, our carbon fiber parts are corrosion and rust resistance, meaning that they are sure to last through even the toughest of conditions. We make sure that our carbon fiber parts are always produced using the latest methods, which results in superior quality. They are also carefully tested to make sure that they meet the highest safety and quality standards. With their superior strength and resistance to rust and corrosion, and fading our carbon fiber parts provide reliable performance, even in the most extreme conditions. And with our high level of customer service and support, you can always count on us to help you with any questions or concerns.
Free Shipping Worldwide
At Eurobahndynamics, we believe in making your shopping experience truly hassle-free and enjoyable. That's why we are excited to offer you our exclusive Free Shipping Worldwide service. No matter where you are in the world, we've got you covered.
With Free Shipping Worldwide, you can explore our extensive collection of [Your Product Range] and have your favorite items delivered directly to your doorstep, without any additional shipping costs. It's a promise of convenience, savings, and global accessibility.
Global Reach: We understand that our customers come from all corners of the globe. With our Free Shipping service, we ensure that distance is never a barrier to getting the products you love.
Savings: Shipping fees can add up quickly. By eliminating those costs, you get more value for your money, making your shopping experience even more enjoyable.
No Minimum Purchase: Unlike some other retailers, we don't impose minimum purchase requirements to qualify for free shipping. Whether you're ordering one item or several, you'll always enjoy free shipping.
Speed and Reliability: Our worldwide shipping is fast and reliable, ensuring that your order arrives in excellent condition and in a timely manner.
Easy Tracking: Keep tabs on your order's progress with our easy-to-use tracking system. You'll always know where your package is and when it will arrive.
Customer Satisfaction: We take pride in providing excellent customer service. If you have any questions or concerns, our dedicated support team is here to assist you.
Shopping should be an enjoyable experience, and our Free Shipping Worldwide service is designed to enhance your satisfaction. So go ahead, explore our wide range of [Your Product Range] and let us take care of the shipping. Shop with freedom and convenience at Eurobahndynamics today!
Refer a friend
Exciting Promotional Offers Await You!
At Eurobahndynamics, we believe in bringing you not only exceptional products but also incredible value. That's why we're thrilled to introduce our latest lineup of irresistible promotional offers that are designed to enhance your shopping experience and help you save big. Whether you're looking for the latest tech gadgets, stylish fashion items, or home essentials, we've got something special just for you.