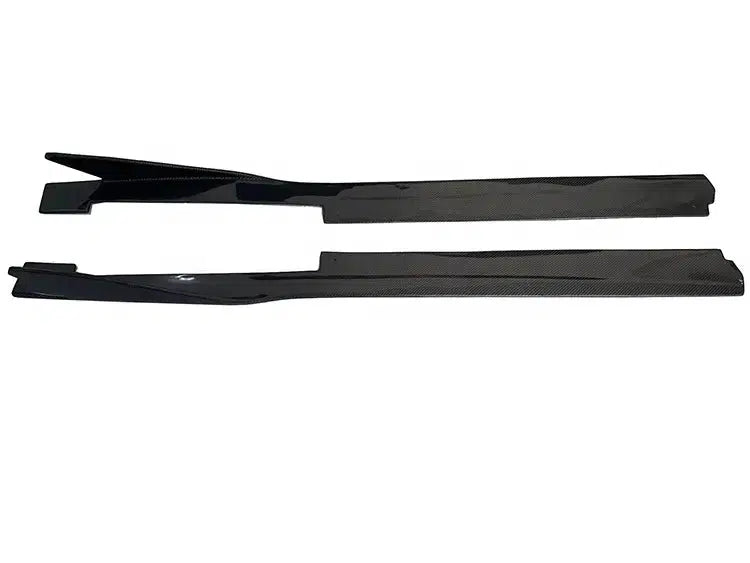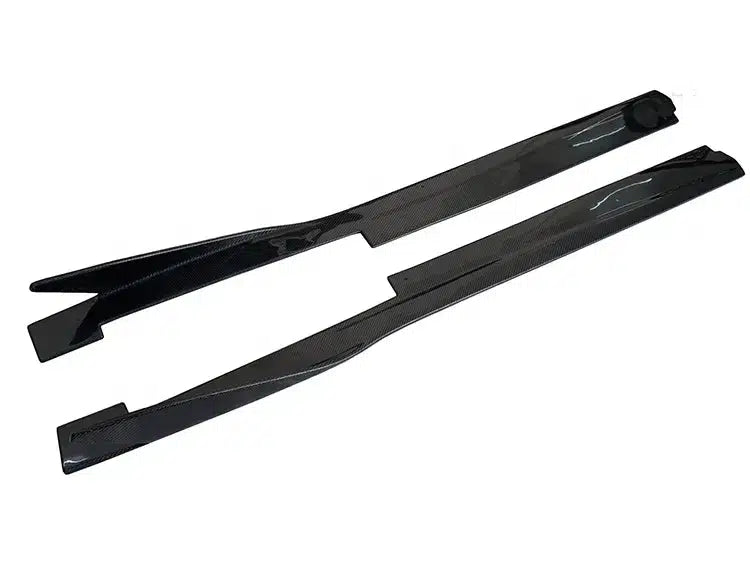 Ferrari 458 Carbon Fiber Artisan Side Skirt Extension
---
Fitment Guaranteed
Dry Carbon Fiber with 2x2 weave
UV Protectant Clear Coat
3M Tape & Screws Included

Designed by eurobahndynamics in california
Free Shipping Worldwide
Financing Available
14 day Return
For The Automotive Enthusiast Seeking An Artisan Aerodynamic Design With A More Sophisticated Appeal.

 


Elevate your vehicle's aesthetics and aerodynamics to a whole new level with Eurobahndynamics Carbon Fiber Side Skirt Extensions. These meticulously crafted automotive accessories are designed to deliver a striking visual impact while enhancing your vehicle's performance and handling.

Key Features:

Premium Carbon Fiber Construction: Crafted from high-quality carbon fiber, these side skirt extensions are a true embodiment of luxury and durability. The carbon fiber weave pattern not only adds a touch of sophistication but also offers remarkable strength and lightweight performance.

Enhanced Aerodynamics: The precise design of these extensions optimizes aerodynamic performance, effectively managing airflows along the vehicle's sides. This leads to increased downforce and stability, particularly at higher speeds, improving overall handling and control.

Visual Enhancement: Eurobahndynamics Carbon Fiber Side Skirt Extensions add a dynamic and aggressive appearance to your vehicle. They are designed to complement and accentuate your car's existing lines, providing a sporty and sleek look that commands attention wherever you go.

Easy Installation: Installing these extensions is a hassle-free process. They are engineered for straightforward installation, requiring no extensive modifications or specialized tools. Comprehensive installation instructions are included for your convenience.

Perfect Fit and Finish: Designed to seamlessly integrate with your vehicle's bodywork, these extensions offer a precise fit and finish that enhances the overall aesthetics of your car. They are meticulously engineered to meet the highest standards of quality and design.

Versatile Compatibility: Eurobahndynamics Carbon Fiber Side Skirt Extensions are compatible with a range of vehicle makes and models. Refer to the product specifications for a comprehensive list of compatible vehicles.

Quality Assurance: These extensions undergo rigorous quality control checks to ensure they meet the highest industry standards. You can trust in their durability, performance, and stunning aesthetics.

Exclusive Styling: Elevate your vehicle's styling with the exclusivity and refinement that only carbon fiber can provide. These extensions are a reflection of your passion for automotive excellence and an unmistakable statement of style.

Transform your vehicle into a visual masterpiece while improving its aerodynamic performance with Eurobahndynamics Carbon Fiber Side Skirt Extensions. Whether you're a performance enthusiast or simply appreciate the finer details of automotive design, these extensions will redefine your vehicle's presence on the road. Order your set today and experience the perfect fusion of style, performance, and luxury that Eurobahndynamics delivers.

This product is custom-made to order. Please allow 1-3 weeks for production and 1-2 weeks for delivery. 

Please note that custom-made products cannot be exchanged or returned.