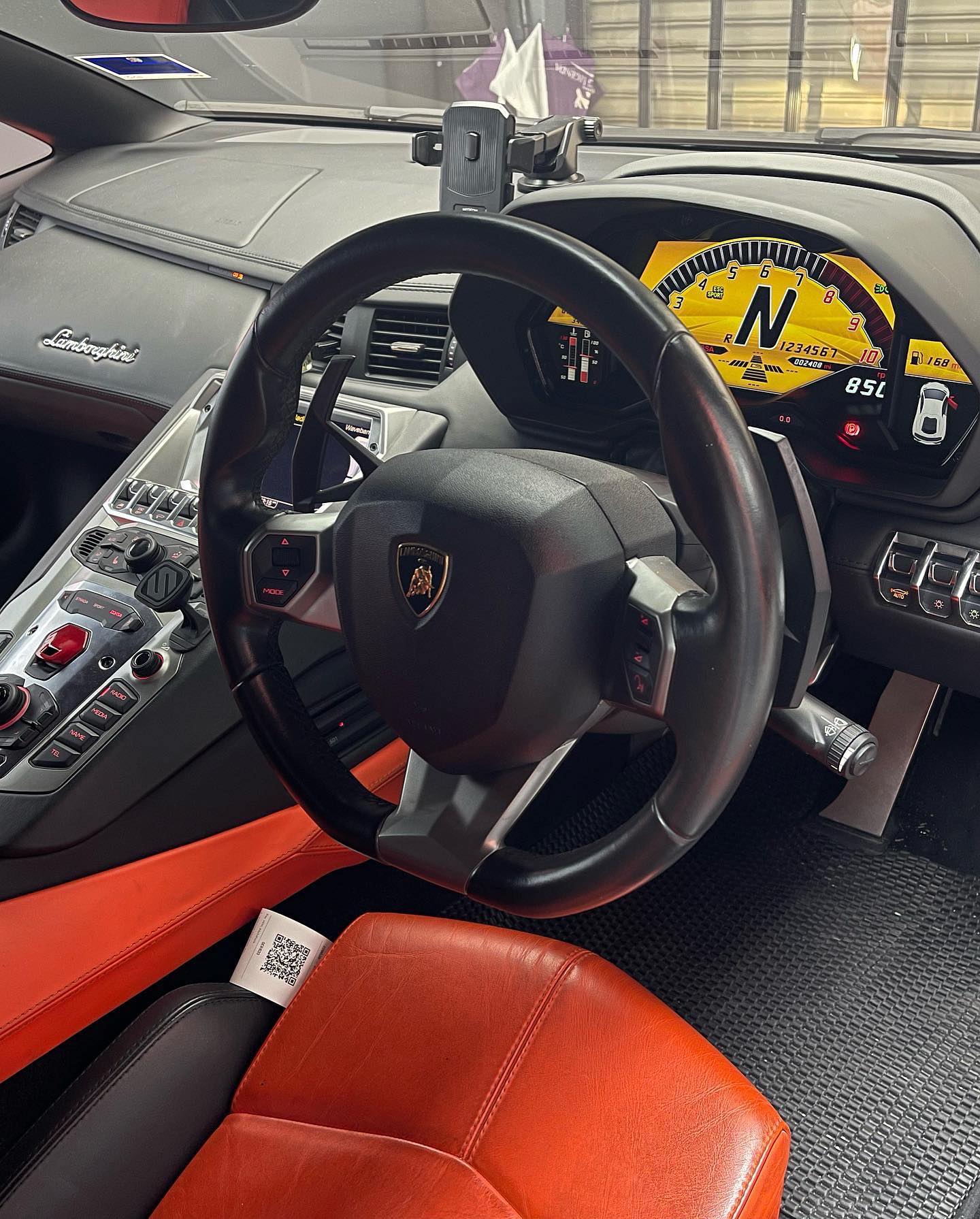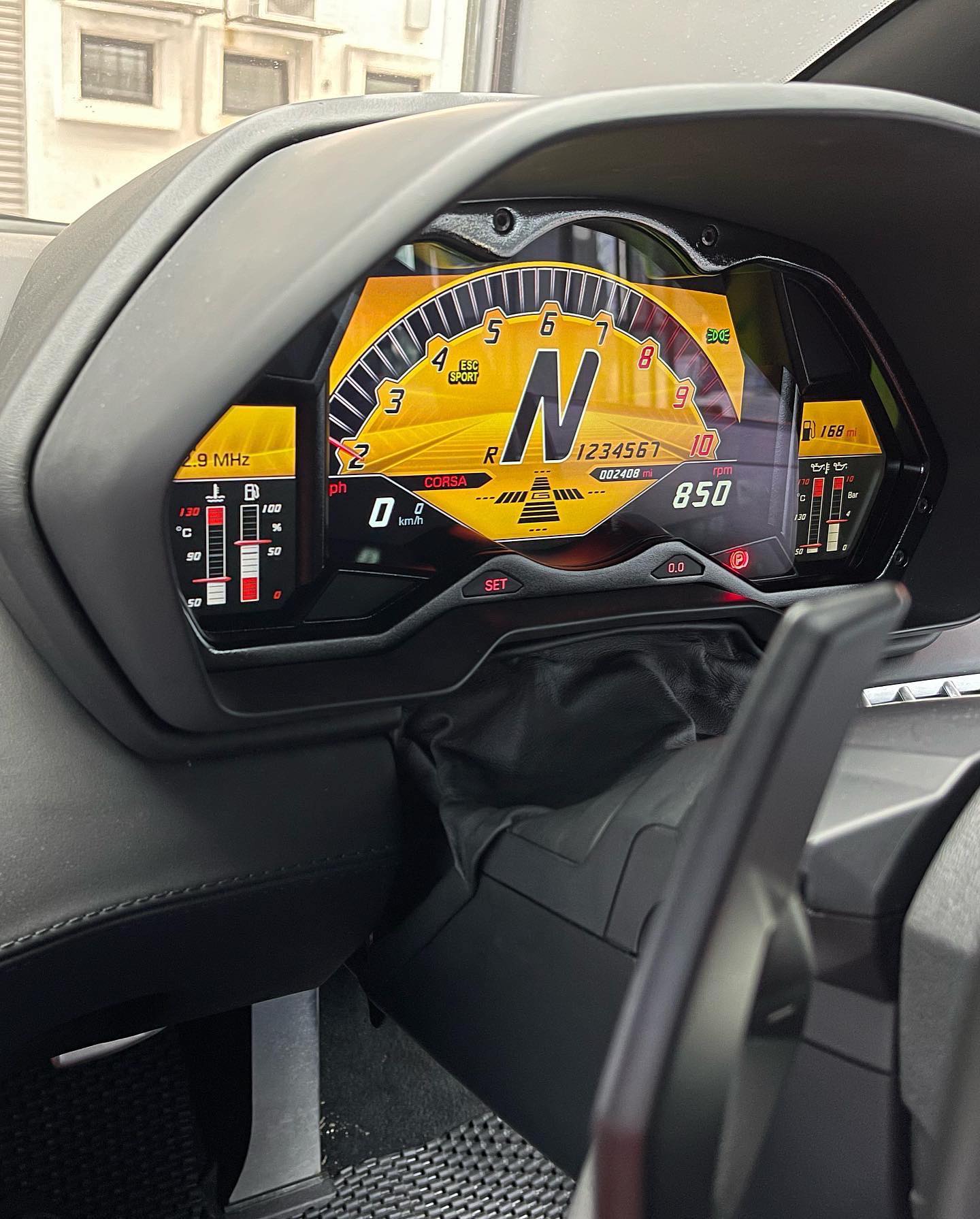 Digital Instrument Cluster Lamborghini Aventador Upgrade
---
Fitment Guaranteed
Dry Carbon Fiber with 2x2 weave
UV Protectant Clear Coat
3M Tape & Screws Included

Designed by eurobahndynamics in california
Free Shipping Worldwide
Financing Available
14 day Return
Introducing the Ultimate Digital Instrument Cluster Upgrade for your Lamborghini Aventador!

Elevate your driving experience to unprecedented levels with our state-of-the-art Digital Instrument Cluster Upgrade specially designed for the iconic Lamborghini Aventador. This cutting-edge enhancement seamlessly combines the timeless elegance of Lamborghini with the latest in automotive technology, giving you a cockpit experience like no other.

Key Features:

Stunning Visuals: Our Digital Instrument Cluster boasts a high-resolution display that brings your Aventador's dashboard to life with vivid colors, sharp graphics, and a sleek modern aesthetic. Enjoy eye-catching animations and visuals that perfectly complement your vehicle's dynamic personality.

Customizable Layout: Tailor your instrument cluster to suit your preferences. Choose from a range of layout options, allowing you to prioritize essential driving information or indulge in a full-screen, immersive experience when cruising on the open road.

Advanced Driver Assistance: Stay informed and safe with real-time data on your speed, navigation, tire pressure, fuel efficiency, and more. Our instrument cluster integrates seamlessly with Lamborghini's advanced driver assistance systems, providing you with essential information at a glance.

Connectivity: Stay connected on the go with seamless integration of smartphone compatibility. Access your favorite apps, messages, and media with ease, all while keeping your hands on the wheel and your eyes on the road.

Performance Metrics: Track your Aventador's performance metrics with precision. Receive real-time updates on engine temperature, RPM, and other vital stats, allowing you to unleash the full potential of your Lamborghini.

User-Friendly Interface: The intuitive touchscreen interface makes it easy to navigate through menus, personalize your settings, and switch between different driving modes, ensuring a seamless user experience.

Updates and Enhancements: Our upgrade is designed to evolve with you. Receive regular software updates and enhancements, ensuring your Aventador stays at the forefront of automotive technology.

Exclusive Design: Crafted with the Lamborghini ethos in mind, our Digital Instrument Cluster Upgrade seamlessly integrates into your Aventador's interior, enhancing its overall aesthetic appeal.

Experience the future of automotive innovation without sacrificing the essence of Lamborghini's legendary performance and style. Elevate every moment behind the wheel, from the racetrack to the open highway, with the Digital Instrument Cluster Upgrade for your Lamborghini Aventador. It's the perfect fusion of tradition and technology, exclusively designed to meet the demands of the modern supercar enthusiast.

Upgrade your driving experience today and witness the transformation of your Lamborghini Aventador's cockpit into a digital masterpiece. Elevate your journey with style, sophistication, and unparalleled performance. Get ready to take your driving experience to the next level with the ultimate Digital Instrument Cluster Upgrade for your Lamborghini Aventador!