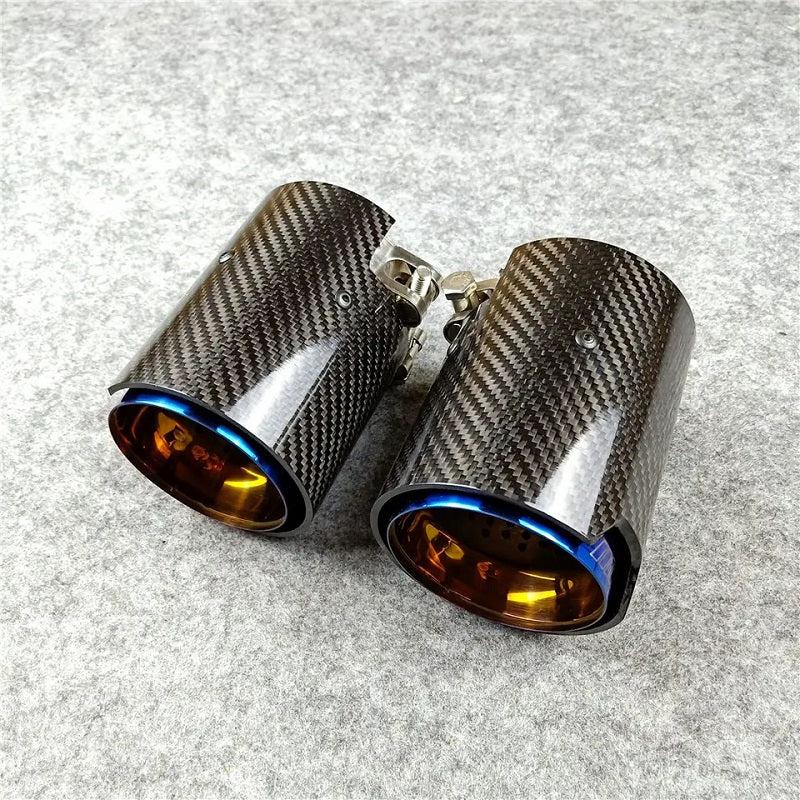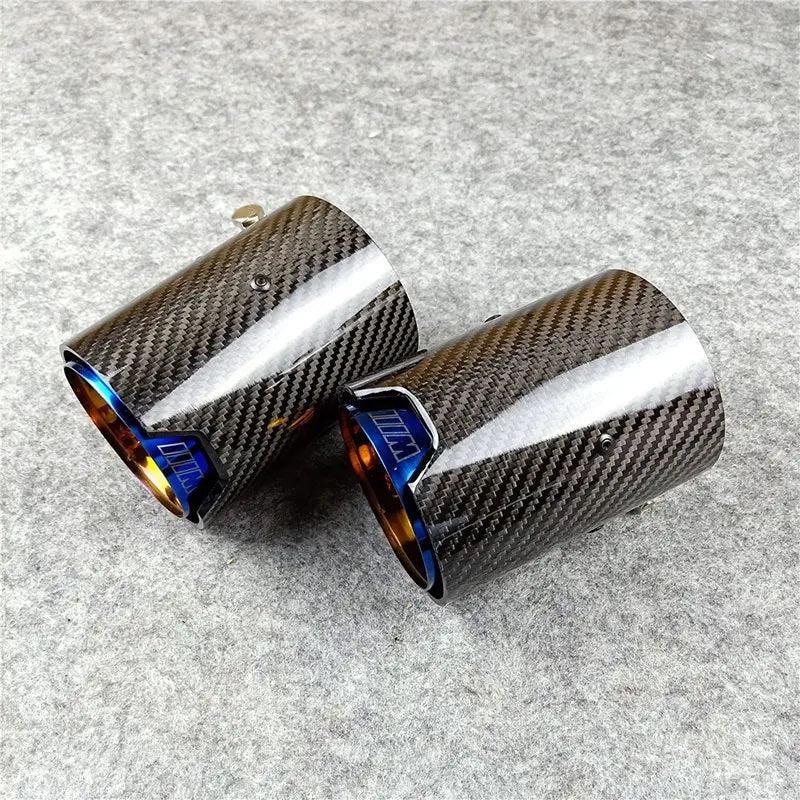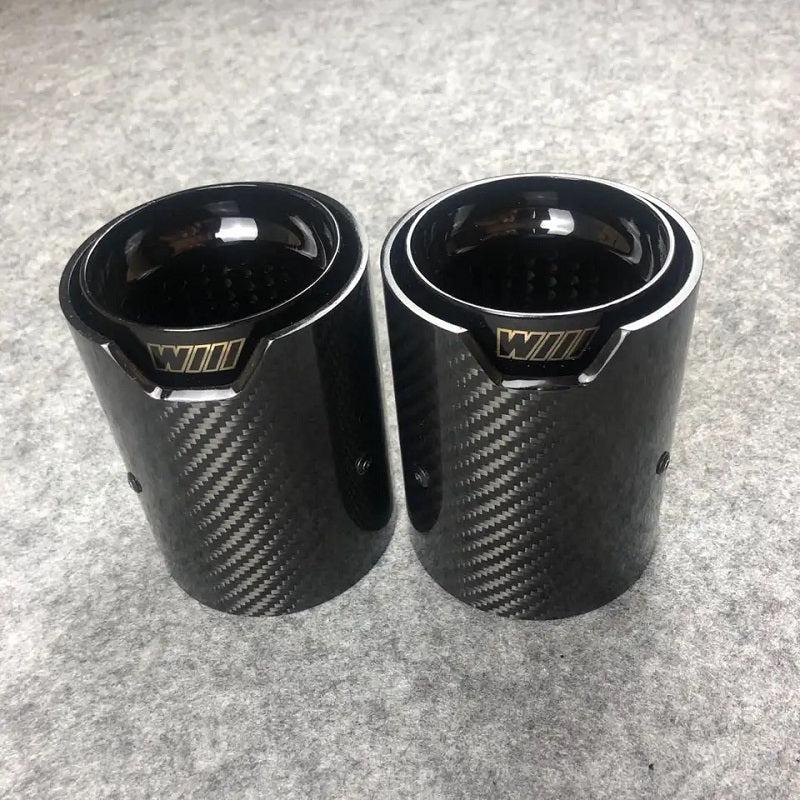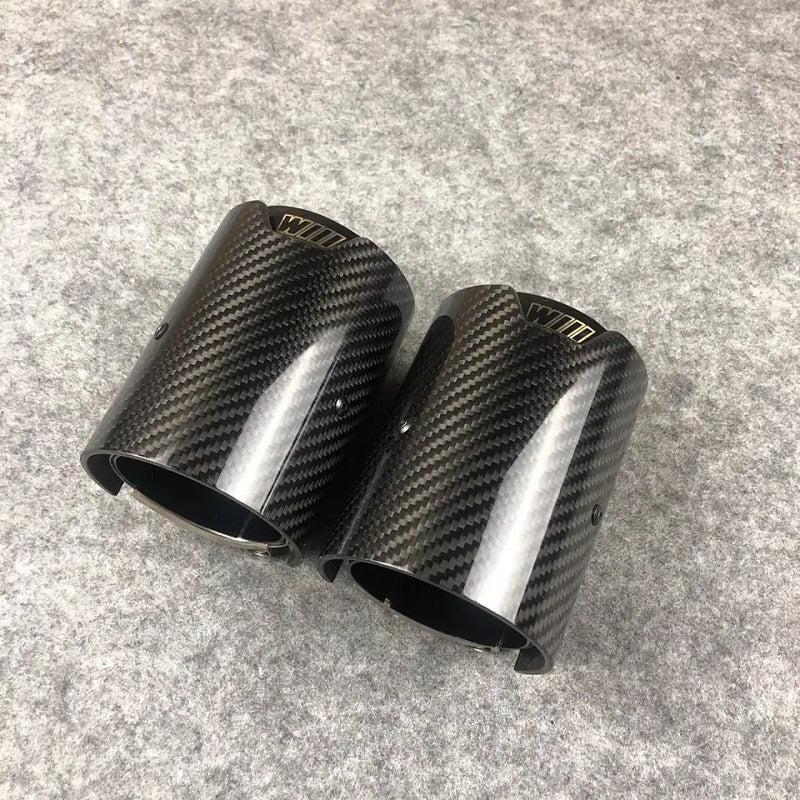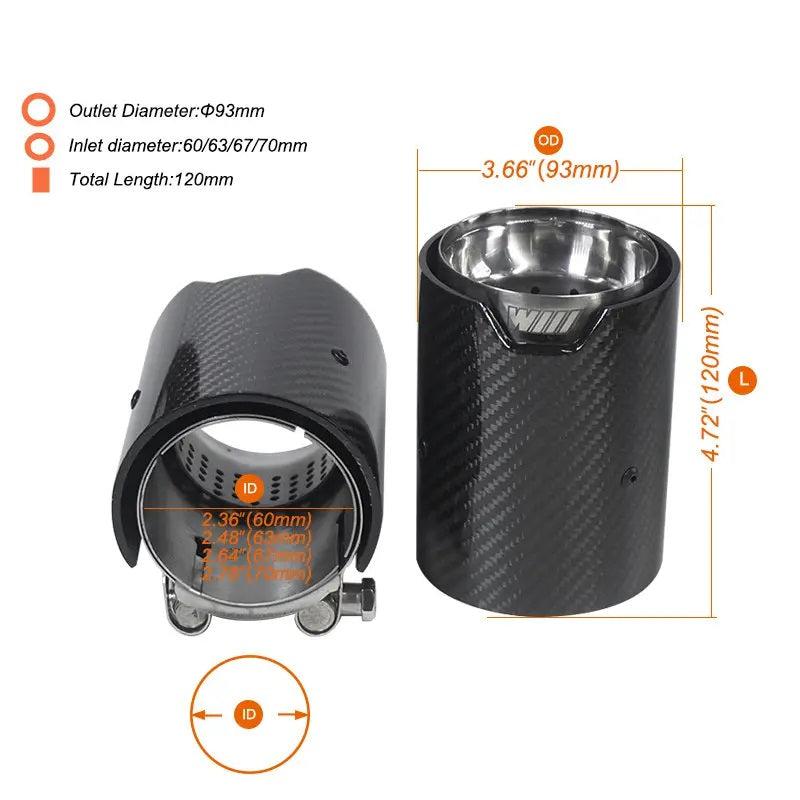 BMW F87 M2/F80 M3/ F82/F83 M4/F10 M5 Carbon Fiber Exhaust Tips
---
Fitment Guaranteed
Dry Carbon Fiber with 2x2 weave
UV Protectant Clear Coat
3M Tape & Screws Included

Designed by eurobahndynamics in california
Free Shipping Worldwide
Financing Available
14 day Return
The M2 F87 M3 F80 M4 F82 F83 F10 M5 Carbon Fiber Exhaust Tips are an aftermarket automotive accessory designed to enhance the appearance and performance of several BMW models, including the M2 F87, M3 F80, M4 F82/F83, and F10 M5. These muffler tips are made of high-quality carbon fiber material, which provides both lightweight and durability.

The carbon fiber material used in these muffler tips provides a unique and sporty appearance that is sure to turn heads. The tips are designed to fit perfectly onto the existing exhaust system, replacing the stock muffler tips. The installation is relatively easy and can be done with basic hand tools.

Once installed, the carbon fiber muffler tips will give the car a more aggressive and sporty look. They also provide functional benefits such as improved exhaust flow, which can improve the car's performance. The tips are resistant to corrosion and discoloration, ensuring that they will look great for years to come.

Overall, the BMW F87 M2/F80 M3/ F82/F83 M4/F10 M5 Carbon Fiber Exhaust Tips are a high-quality aftermarket accessory that can help improve the appearance and performance of several BMW models. They are a simple and easy upgrade that provides a great look and functional benefits.
Customizability: Carbon fiber can be engineered to have specific properties by altering its weave pattern, orientation, and resin matrix. This allows for tailoring the material to meet the exact requirements of a given application.

Aesthetically Pleasing: Carbon fiber's distinctive black weave pattern is often considered aesthetically pleasing, making it a popular choice for high-end and luxury products, including sports equipment, automotive parts, and consumer goods.

Resistant to UV Radiation: Carbon fiber is resistant to ultraviolet (UV) radiation, making it suitable for outdoor applications without significant degradation over time due to exposure to sunlight.

Sleek and Stylish Look: The Carbon Fiber enhances the look of your Vehicle, giving it a sleek and stylish appearance. It is designed to fit perfectly with the lines of your car, making it look like it should have came straight from the factory.

Easy to Install: The installation process is straightforward and hassle-free. It is designed to fit your car perfectly, ensuring the installation process is smooth and easy.