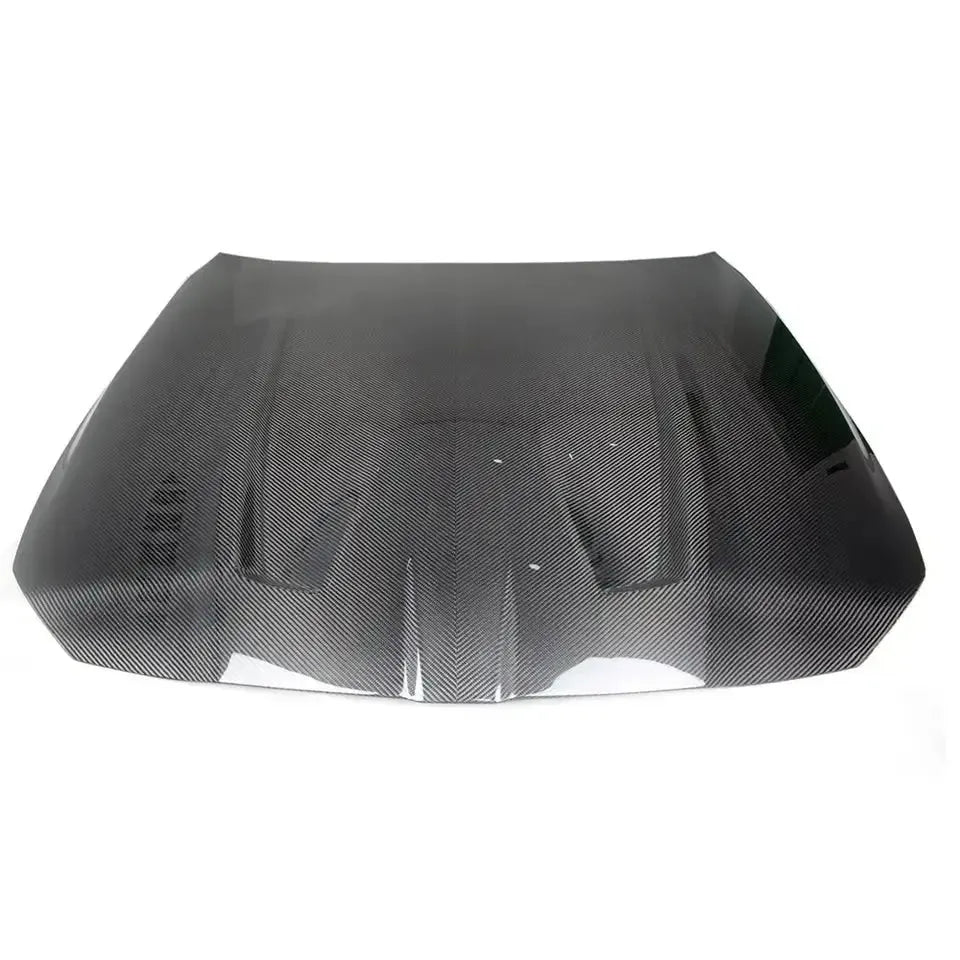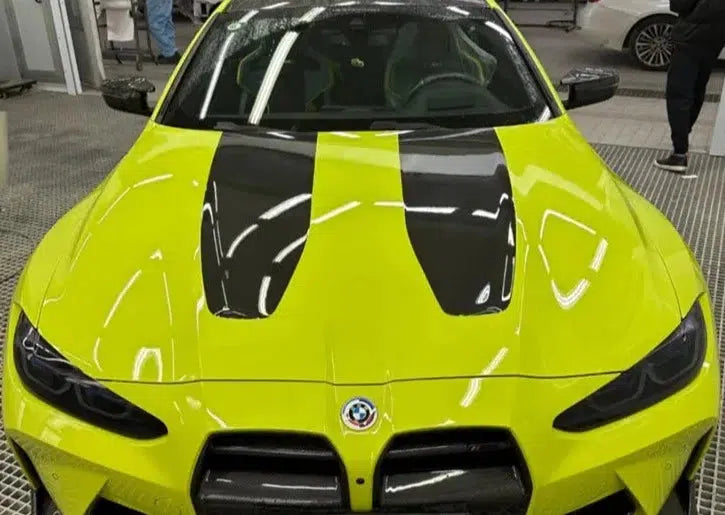 BMW CSL G80/G82 M3/M4 Carbon Fiber Hood
---
Fitment Guaranteed
Dry Carbon Fiber with 2x2 weave
UV Protectant Clear Coat
3M Tape & Screws Included

Designed by eurobahndynamics in california
Free Shipping Worldwide
Financing Available
14 day Return
Introducing the ultimate upgrade for your BMW with the Carbon Fiber CSL Hood. Crafted with precision and style. This Remarkable hood is designed to take your BMW to the next level.

Made from high-quality dry carbon fiber, this hood is durable and lightweight and enhances your vehicle's aerodynamics. Its sleek and aggressive design will turn heads wherever you go and giving it a race car look.

Installation is a straight forward thanks to the direct bolt-on design, and it's compatible with all factory mounting hardware. Plus, the UV-resistant clear coat finish ensures your hood will look as good as new for years.

Upgrade your BMW with the Carbon Fiber Hood from Eurobahndynamics, and experience the ultimate combination of form and function. Order now and take your ride to the next level!

LEAD TIME TO MAKE THE HOOD IF WE DO NOT HAVE IN STOCK WILL BE 1-2 WEEKS. 

SHIPPING DELIVERY TO YOUR DOOR WILL BE 7-10 BUSINESS DAYS.

Features

Dry Carbon Fiber: The Carbon Fiber Hood is made from high-quality dry carbon fiber, which is lightweight, extremely strong, and durable.


Aggressive Design: This hood's sleek and aggressive design is guaranteed to turn heads wherever you go. It's the perfect way to give your ride a custom look that sets it apart.


Improved Aerodynamics: The design of this hood is optimized for aerodynamics, which means you can expect improved performance and handling on the road.


Easy Installation: Installing this hood is a breeze thanks to the direct bolt-on design, which is compatible with all factory mounting hardware.


UV-Resistant: The clear coat finish on this hood is UV-resistant, which means it will look as good as new for years to come.

Fitment G80/G82/M3/M4
Dry Carbon Fiber: The Carbon Fiber Hood is made from high-quality dry carbon fiber, which is lightweight, extremely strong, and durable.

Aggressive Design: This hood's sleek and aggressive design is guaranteed to turn heads wherever you go. It's the perfect way to give your ride a custom look that sets it apart.

Improved Aerodynamics: The design of this hood is optimized for aerodynamics, which means you can expect improved performance and handling on the road.

Easy Installation: Installing this hood is a breeze thanks to the direct bolt-on design, which is compatible with all factory mounting hardware.

UV-Resistant: The clear coat finish on this hood is UV-resistant, which means it will look as good as new for years to come.