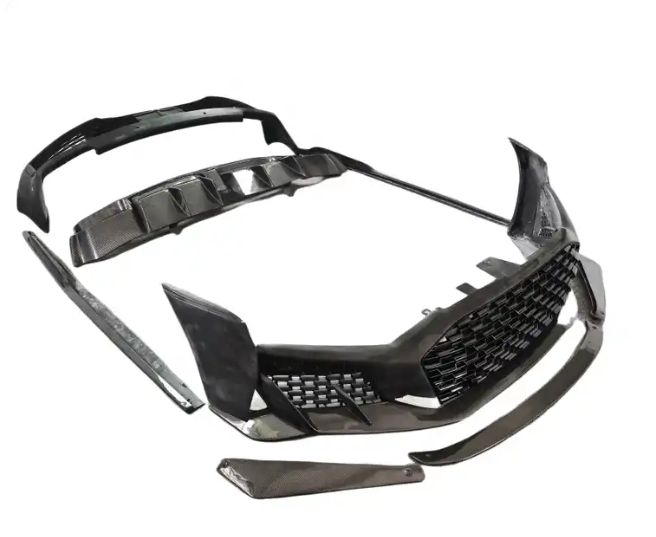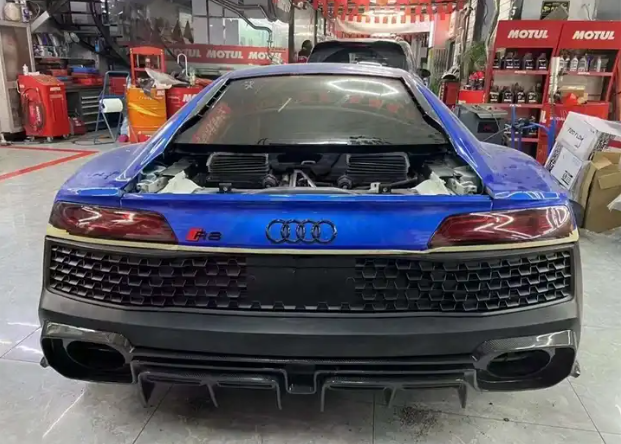 Audi R8 Gen 2 2017-2018 Face Lift Conversion Kit to 2019-2023
---
Fitment Guaranteed
Dry Carbon Fiber with 2x2 weave
UV Protectant Clear Coat
3M Tape & Screws Included

Designed by eurobahndynamics in california
Free Shipping Worldwide
Financing Available
14 day Return
Introducing the Audi R8 Gen 2 2017-2018 Face Lift Conversion Kit, the ultimate upgrade for your Audi R8, transforming it into a stunning 2019-2023 model year masterpiece. Elevate your driving experience and give your Audi R8 a fresh, contemporary look that turns heads and sets you apart from the rest.

Key Features:

Sleek and Modern Design: This conversion kit is designed with precision and attention to detail, capturing the essence of the 2019-2023 Audi R8's aesthetic upgrades. Its sleek lines, angular headlights, and aggressive front grille will instantly modernize your vehicle.

High-Quality Materials: Crafted from top-quality materials, the kit ensures durability, longevity, and an authentic OEM look. The components are built to withstand the elements, ensuring your Audi R8 looks fantastic for years to come.

Seamless Fitment: The kit is engineered for a perfect fit, ensuring a seamless transition from your 2017-2018 model to the updated 2019-2023 appearance. Professional installation is recommended for the best results.

Enhanced Aerodynamics: Not only does the conversion kit enhance the aesthetics of your Audi R8, but it also improves its aerodynamics. This results in better performance and stability on the road, whether you're cruising the highway or hitting the track.

Increased Resale Value: Upgrading your Audi R8 with this face lift conversion kit can significantly boost its resale value. Potential buyers will be captivated by the modern styling and may be willing to pay a premium for your enhanced vehicle.

Customization Options: Tailor the kit to your preferences with various finish options, including gloss black, carbon fiber, or a custom color of your choice. This allows you to create a truly unique look for your Audi R8.

Compatibility: The conversion kit is specifically designed for the 2017-2018 Audi R8 Gen 2 models, ensuring compatibility and an easy installation process.

Upgrade your Audi R8 to the next level with the Audi R8 Gen 2 2017-2018 Face Lift Conversion Kit to 2019-2023. Experience the thrill of driving a modern masterpiece, turning heads wherever you go. Elevate your style, performance, and resale value with this exceptional upgrade. Make a statement on the road with the perfect blend of timeless elegance and cutting-edge design.

Includes 

Front bumper with carbon fiber front lip

Rear bumper with carbon fiber rear diffuser

 

Side Skirts

This product is custom-made to order. Please allow 1-3 weeks for production and 1-2 weeks for delivery. 

Please note that custom-made products cannot be exchanged or returned.