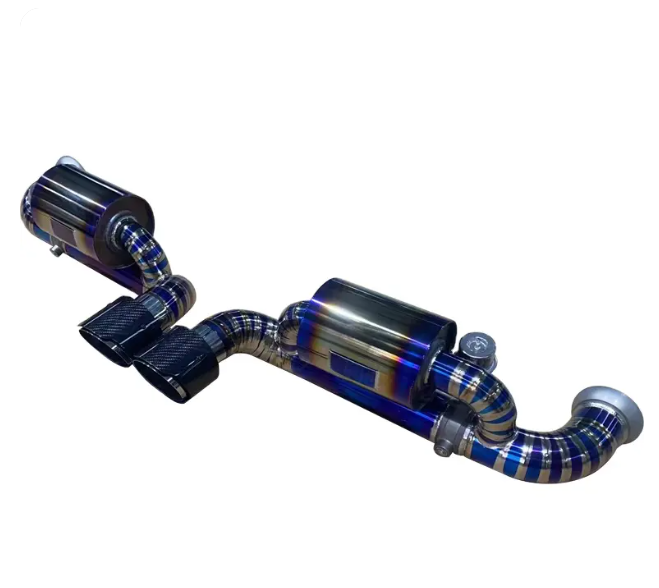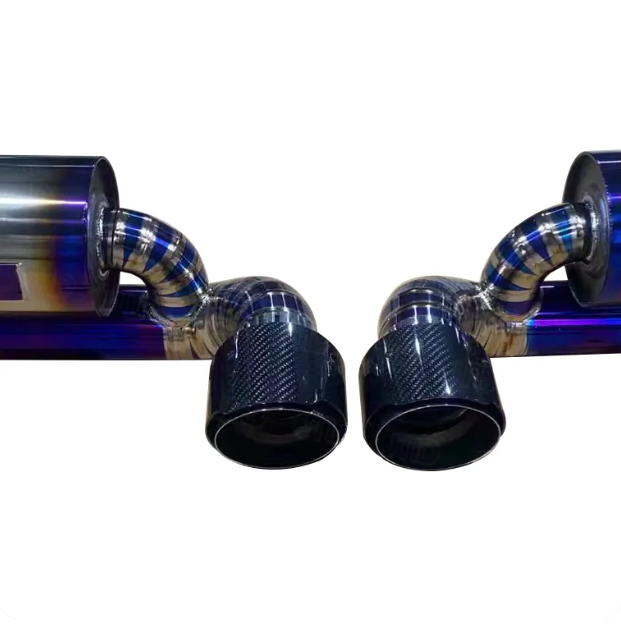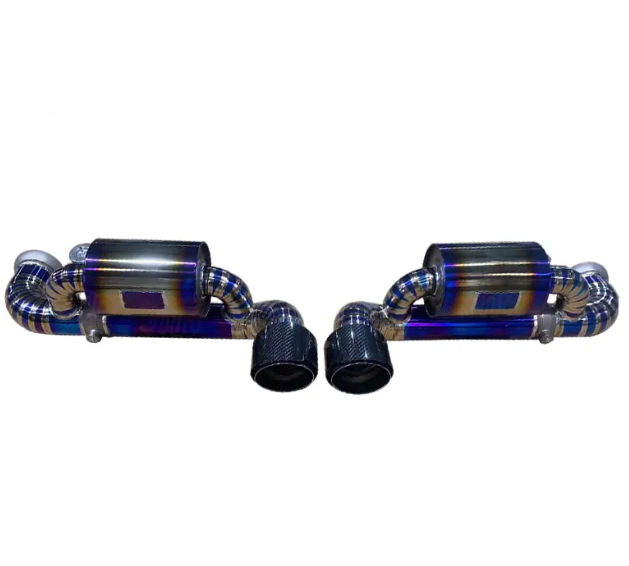 Porsche 911 GT3/GT3RS Titanium Valved Exhaust With Carbon Fiber Exhaust Tips
---
Fitment Guaranteed
Dry Carbon Fiber with 2x2 weave
UV Protectant Clear Coat
3M Tape & Screws Included

Designed by eurobahndynamics in california
Free Shipping Worldwide
Financing Available
14 day Return
Introducing the Ultimate Porsche 911 GT3/GT3RS Titanium Valved Exhaust with Carbon Fiber Exhaust Tips

Unleash the Power of Perfection!

Elevate your Porsche 911 GT3RS driving experience to a whole new level with the Porsche 911 GT3RS Titanium Valved Exhaust featuring Carbon Fiber Exhaust Tips. This is not just an upgrade; it's a symphony of performance, style, and innovation designed to amplify your automotive passion.

Key Features:

Titanium Perfection: Crafted from high-quality, lightweight titanium, this exhaust system is a masterpiece of engineering. Titanium is renowned for its exceptional strength-to-weight ratio, ensuring maximum durability and performance while minimizing additional weight on your GT3RS.

Valved Technology: Take control of your Porsche's roar with the valved technology incorporated into the exhaust system. Whether you're looking for a thrilling, aggressive sound or a more discreet purr, the valved system allows you to switch between modes effortlessly.

Enhanced Performance: The Porsche 911 GT3RS Titanium Valved Exhaust is more than just an auditory treat. It's a performance boost. Reduced backpressure and improved exhaust gas flow lead to noticeable power gains, ensuring you get the most out of your GT3RS every time you hit the road or the track.

Precision-Crafted Carbon Fiber Tips: The beauty is in the details. The carbon fiber exhaust tips don't just look stunning; they're also designed to withstand the high temperatures generated by your Porsche's engine. Their aerodynamic design complements the car's aesthetics and enhances its overall look.

Perfect Fit: This exhaust system is meticulously engineered to seamlessly replace your factory exhaust. It's a straightforward, bolt-on installation, ensuring a perfect fit and maintaining the original Porsche standards of quality.

Exquisite Sound: The Porsche 911 GT3RS Titanium Valved Exhaust delivers an exhilarating, sonorous note that enhances your driving experience. Whether you're cruising on the highway or attacking the racetrack, the exhaust sound is music to the ears of any automotive enthusiast.

Uncompromising Quality: Porsche is known for excellence, and this exhaust system is no exception. It undergoes rigorous quality control, adhering to the highest standards, and is designed to last the lifetime of your vehicle.

Experience the pinnacle of automotive engineering and sound with the Porsche 911 GT3RS Titanium Valved Exhaust with Carbon Fiber Exhaust Tips. It's the ultimate combination of style, performance, and craftsmanship, turning your GT3RS into a true masterpiece on wheels. Elevate your driving adventures and set a new standard of excellence today!