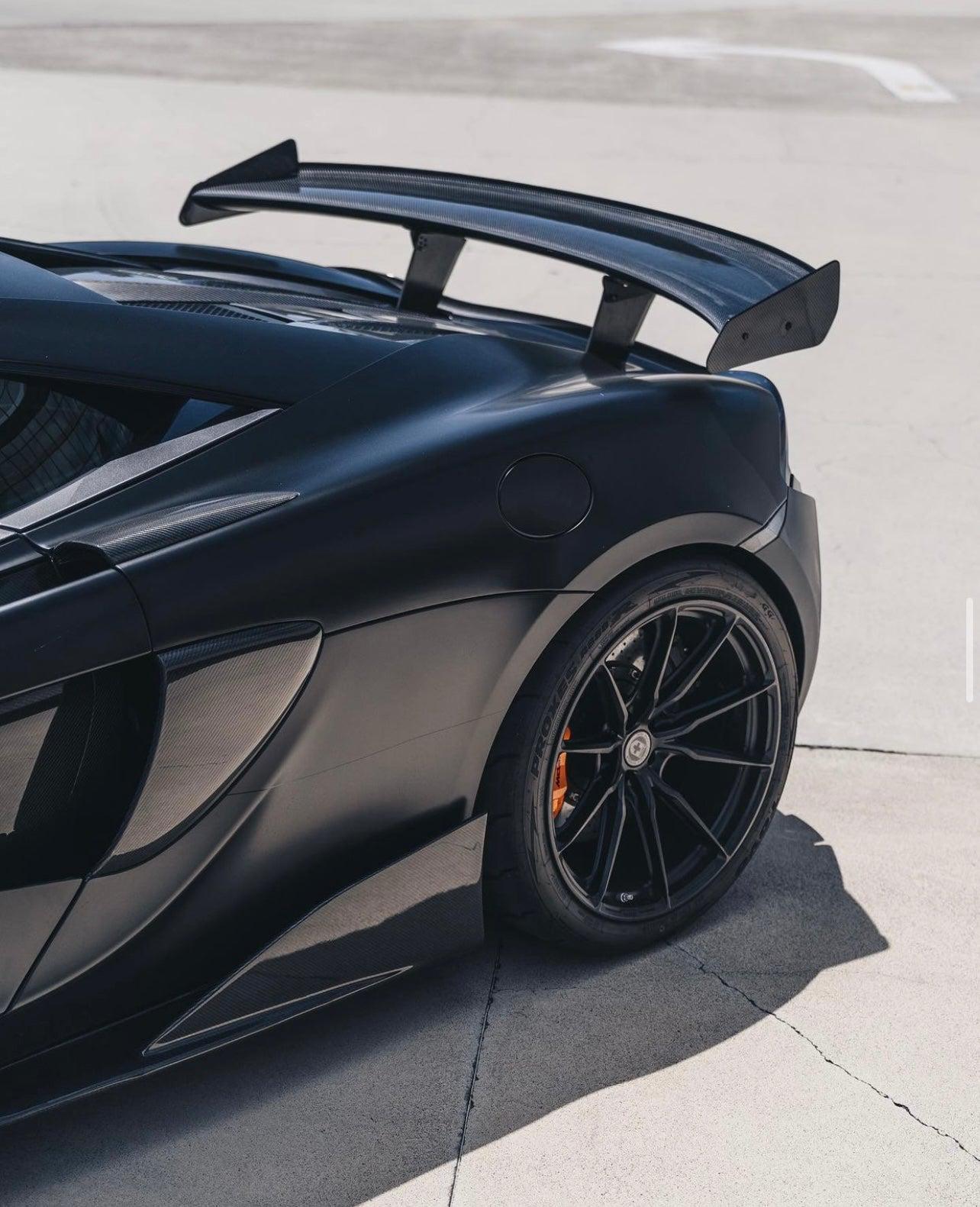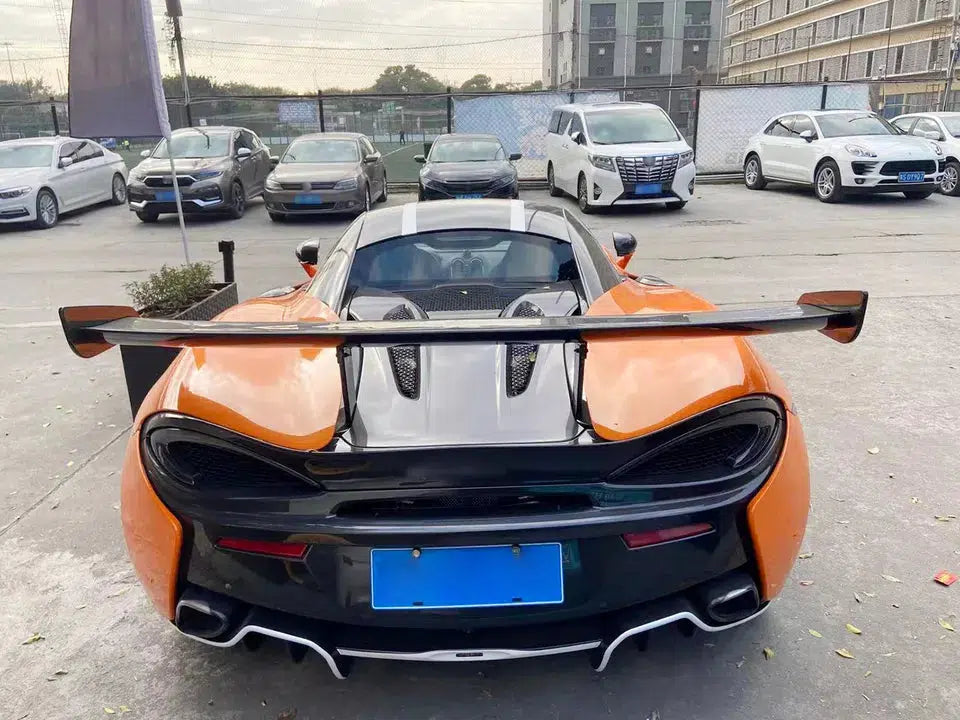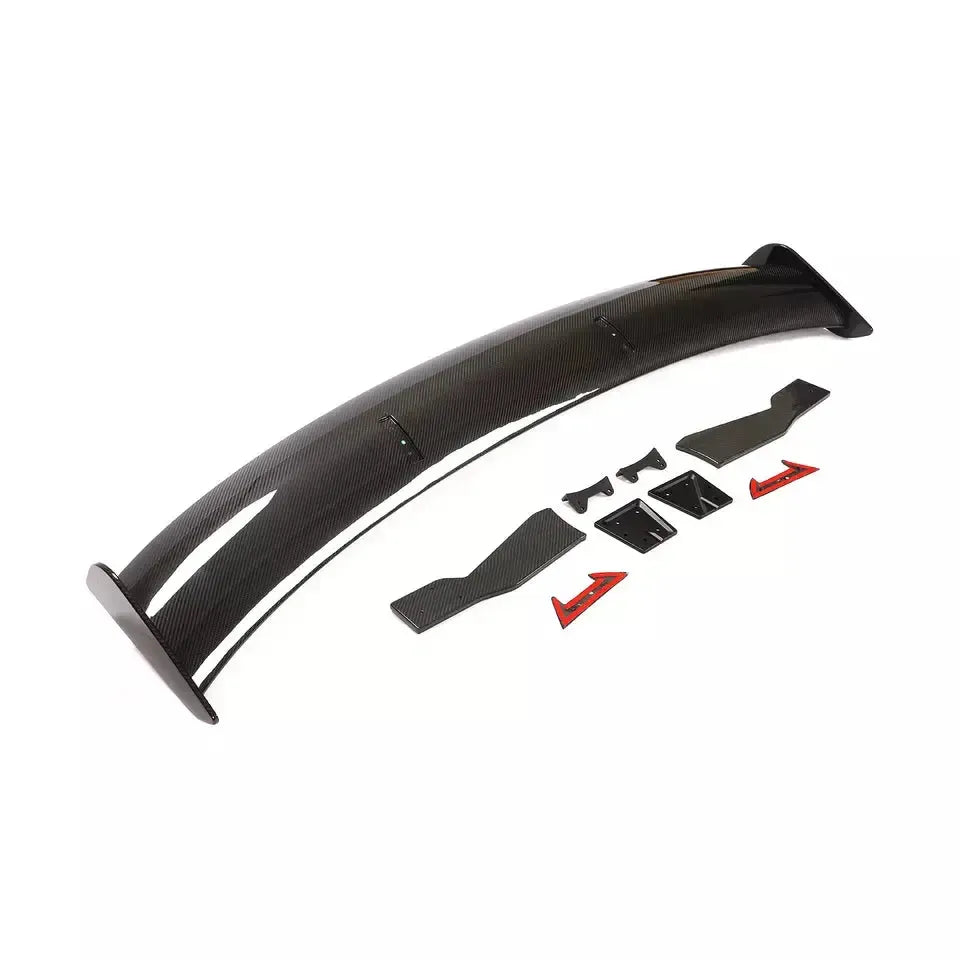 McLaren 570 Artisan Carbon Fiber GT4 Wing
---
Fitment Guaranteed
Dry Carbon Fiber with 2x2 weave
UV Protectant Clear Coat
3M Tape & Screws Included

Designed by eurobahndynamics in california
Free Shipping Worldwide
Financing Available
14 day Return
For The Automotive Enthusiast Seeking An Artisan Aerodynamic Design With A More Sophisticated Appeal.

Introducing the McLaren 570 GT Carbon Fiber Chassis Mount Wing - the ultimate fusion of form and function that takes your supercar's performance and aesthetics to the next level. Crafted with precision engineering and designed to enhance both the aerodynamics and visual appeal of your McLaren 570, this wing is a testament to McLaren's commitment to pushing the boundaries of automotive excellence.

Aerodynamic Mastery:

At the heart of the McLaren 570 GT4 Carbon Fiber Wing is its exceptional aerodynamic prowess. Designed using advanced computational fluid dynamics (CFD) simulations and wind tunnel testing, this wing generates optimal downforce and reduces drag, thereby enhancing the stability and control of your vehicle. Whether you're navigating a challenging racetrack or enjoying a spirited drive on winding roads, this wing ensures that your McLaren sticks to the tarmac like glue, providing you with confidence-inspiring grip in even the most demanding conditions.

Carbon Fiber Elegance:

Crafted from high-quality carbon fiber, this wing not only serves a functional purpose but also elevates the visual aesthetics of your McLaren 570 GT4. Carbon fiber is renowned for its lightweight and high-strength properties, which not only contribute to improved performance but also add a touch of elegance and sophistication to your vehicle's exterior. The meticulous carbon fiber weave pattern is not just a display of engineering expertise but a symbol of your commitment to quality and refinement.

Precision Engineering:

Installing the McLaren 570 GT4 Carbon Fiber Wing is a seamless process, thanks to its precise engineering and design. The chassis mount ensures a secure and stable attachment, minimizing any flex or movement during high-speed driving. The wing's adjustability allows you to fine-tune the downforce to suit your driving preferences, making it equally ideal for the racetrack and everyday road use.

Distinctive Design:

The wing's sleek, minimalistic design complements the McLaren 570 sculpted body, creating a harmonious and visually striking presence on the road. It's not just a functional addition; it's a statement that sets your McLaren apart from the rest. The bold, yet understated styling of the wing adds an element of aggression and sophistication to your supercar's rear, making it a head-turner wherever you go.

 

 Fitment McLaren 570S Spider, 570GT, 570S

This product is custom-made to order. Please allow 1-3 weeks for production and 7-10 for delivery.