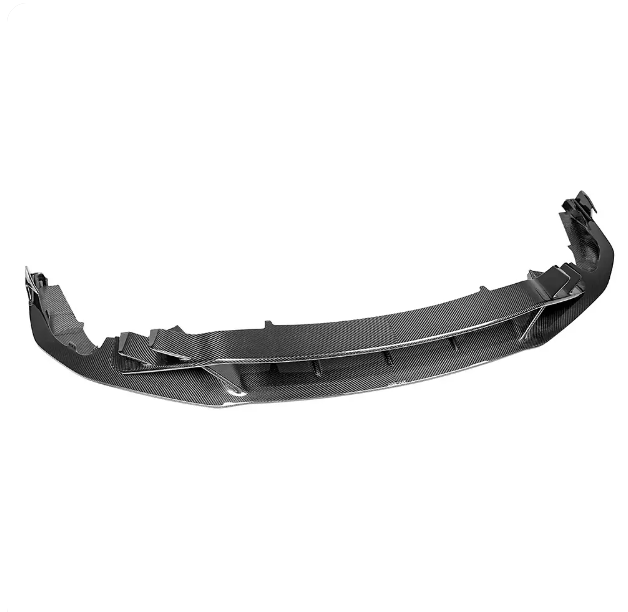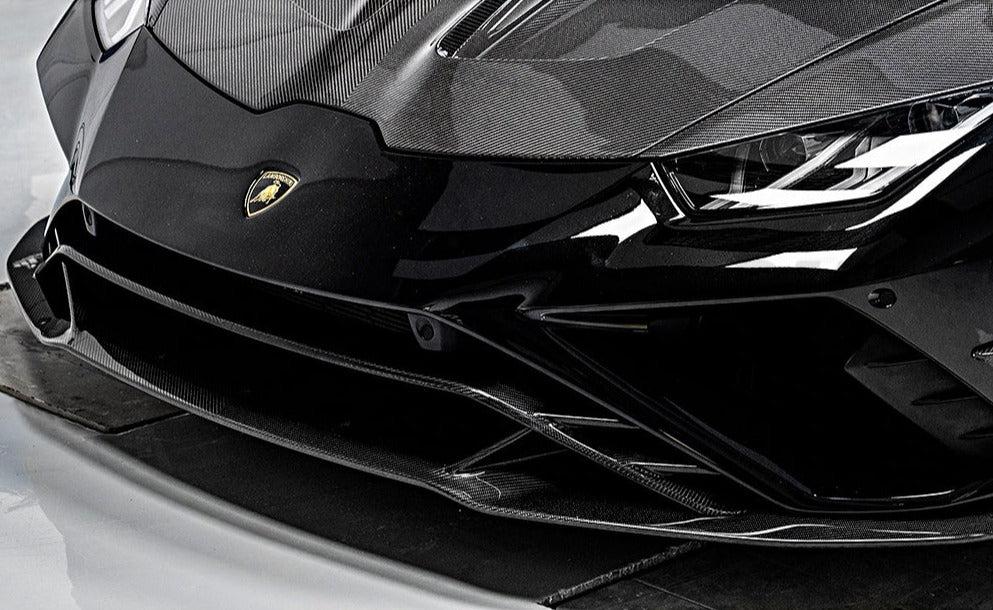 Lamborghini Huracan Evo AP Carbon Fiber Front Lip
---
Fitment Guaranteed
Dry Carbon Fiber with 2x2 weave
UV Protectant Clear Coat
3M Tape & Screws Included

Designed by eurobahndynamics in california
Free Shipping Worldwide
Financing Available
14 day Return
Upgrade your Lamborghini Huracan Evo's aesthetic and performance with the Lamborghini Huracan Evo AP Carbon Fiber Front Lip. Crafted with precision and an unwavering commitment to excellence, this front lip is designed to complement the aggressive nature of the Huracan Evo while enhancing its aerodynamics and overall style.

Key Features:

High-Quality Carbon Fiber: This front lip is meticulously constructed using high-quality carbon fiber materials. Carbon fiber is renowned for its exceptional strength-to-weight ratio, making it the perfect choice for performance enthusiasts who desire both form and function.

Enhanced Aerodynamics: The AP Carbon Fiber Front Lip is intelligently designed to improve the Huracan Evo's aerodynamics. It reduces lift and increases downforce, ensuring superior stability and handling at high speeds. Your Huracan Evo will feel even more planted on the road or track.

Precise Fitment: The front lip is tailor-made to fit the Lamborghini Huracan Evo perfectly. It seamlessly integrates with the car's existing body lines, and its precise fitment ensures easy installation without the need for major modifications.

Stunning Aesthetic: This front lip doesn't just serve a functional purpose; it's also a stunning visual enhancement. Its carbon fiber weave creates a striking visual contrast, adding a touch of luxury and sportiness to your vehicle's appearance. It's a head-turner that commands attention.

Durability and Lightweight: Carbon fiber is known for its incredible durability. This front lip is resistant to corrosion, making it suitable for various weather conditions. Despite its toughness, it's exceptionally lightweight, which helps to maintain the car's performance.

OEM Quality: Crafted to meet or exceed original equipment manufacturer (OEM) standards, you can trust that this product is a reliable and robust addition to your Lamborghini Huracan Evo.

Easy Installation: Designed for ease of installation, this front lip can be professionally fitted without the need for extensive modifications. The included hardware and detailed instructions make the process straightforward.

Complete the Look: The AP Carbon Fiber Front Lip is an ideal component to complete your Lamborghini's visual makeover. When paired with other carbon fiber accessories, such as side skirts, rear diffusers, or a rear wing, it creates a cohesive and striking appearance.

Take your Lamborghini Huracan Evo to the next level with the AP Carbon Fiber Front Lip. Elevate both the performance and appearance of your vehicle with this premium, meticulously crafted accessory. Unleash the full potential of your sports car and make a bold statement on the road or track. Whether you're an automotive enthusiast or a dedicated racer, this front lip will satisfy your desire for style, performance, and precision engineering. Invest in the Lamborghini Huracan Evo AP Carbon Fiber Front Lip and experience the road like never before.