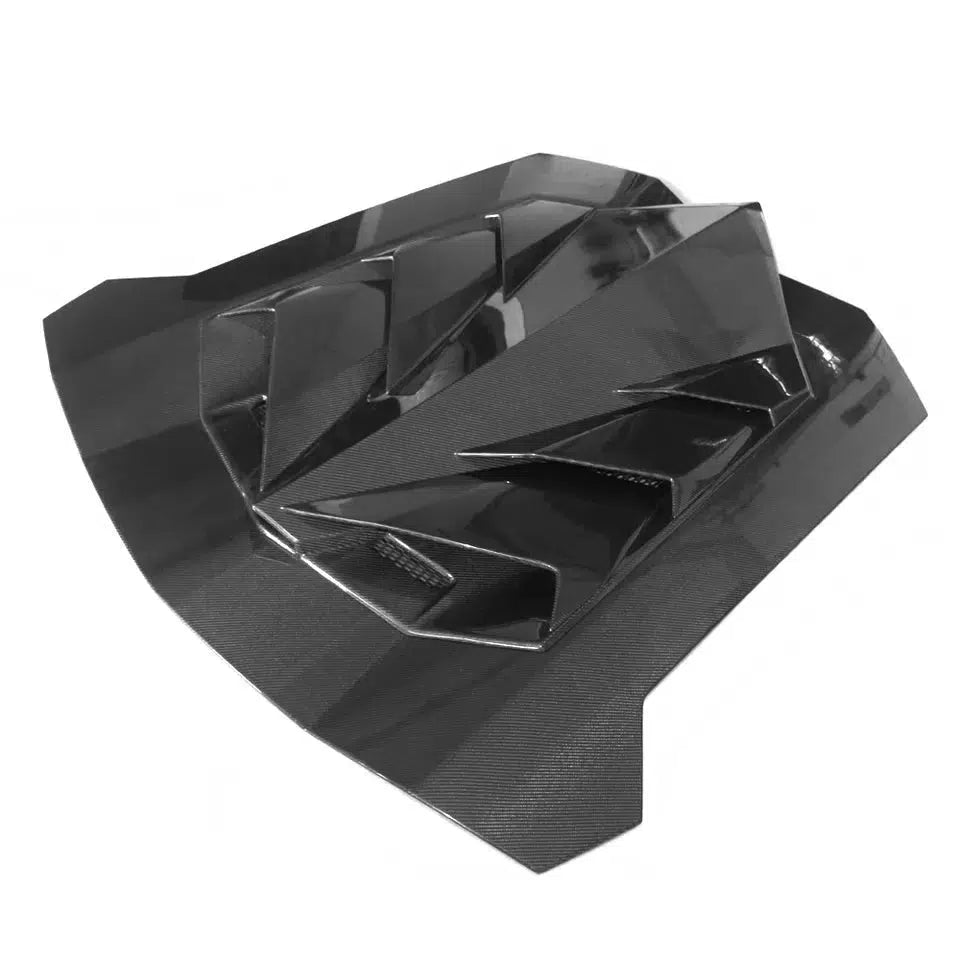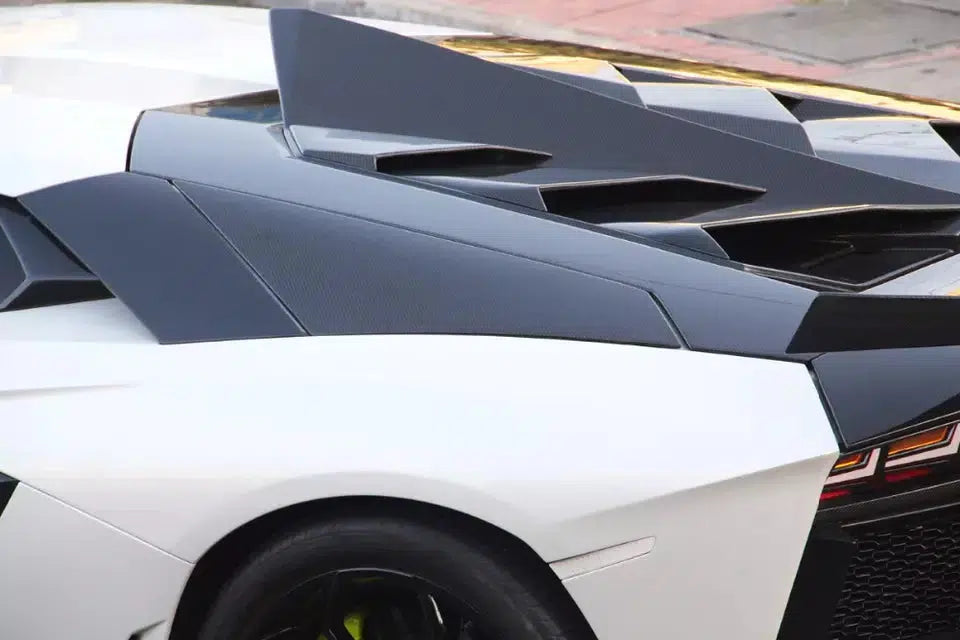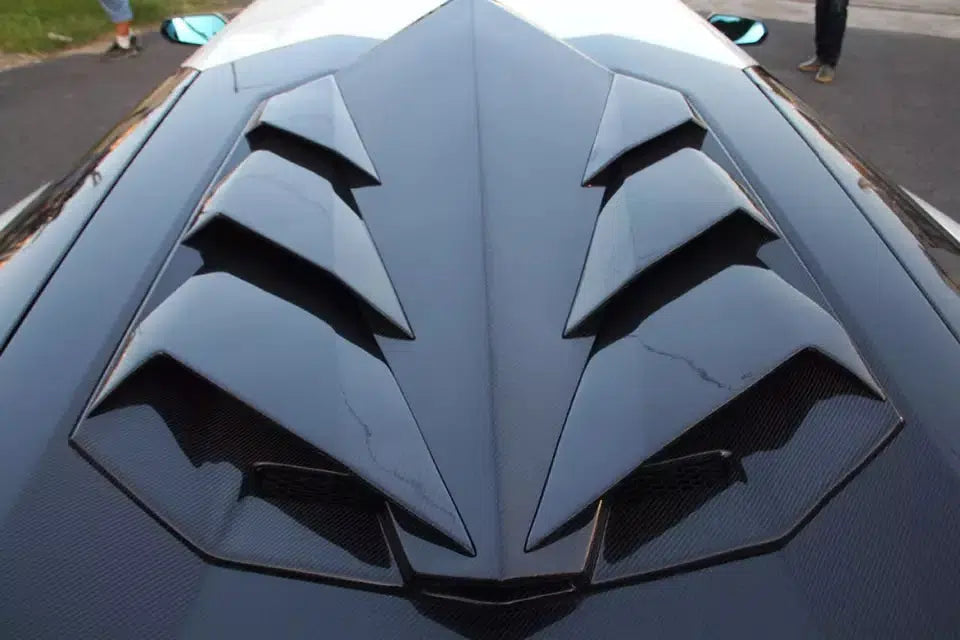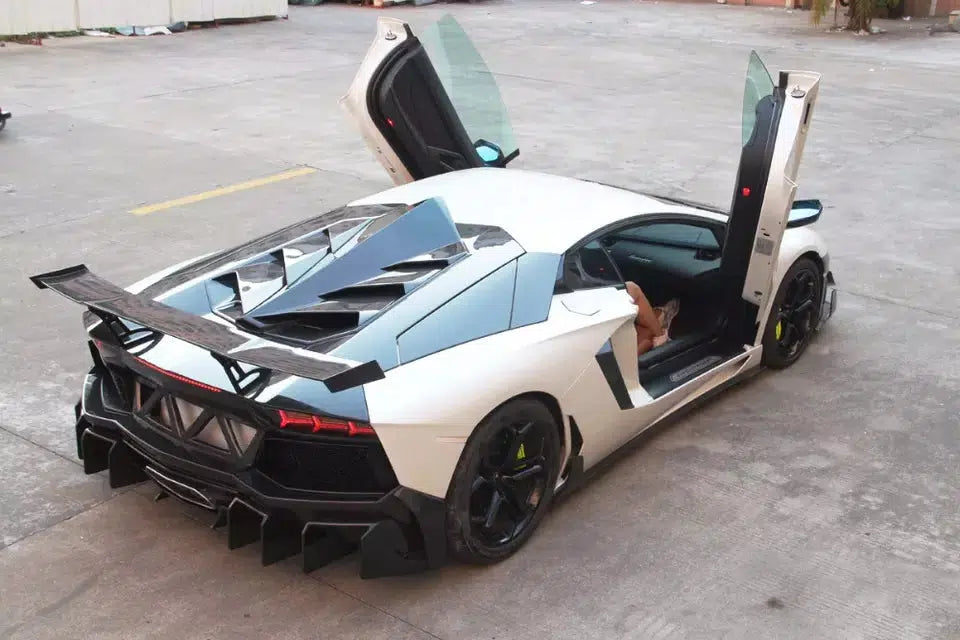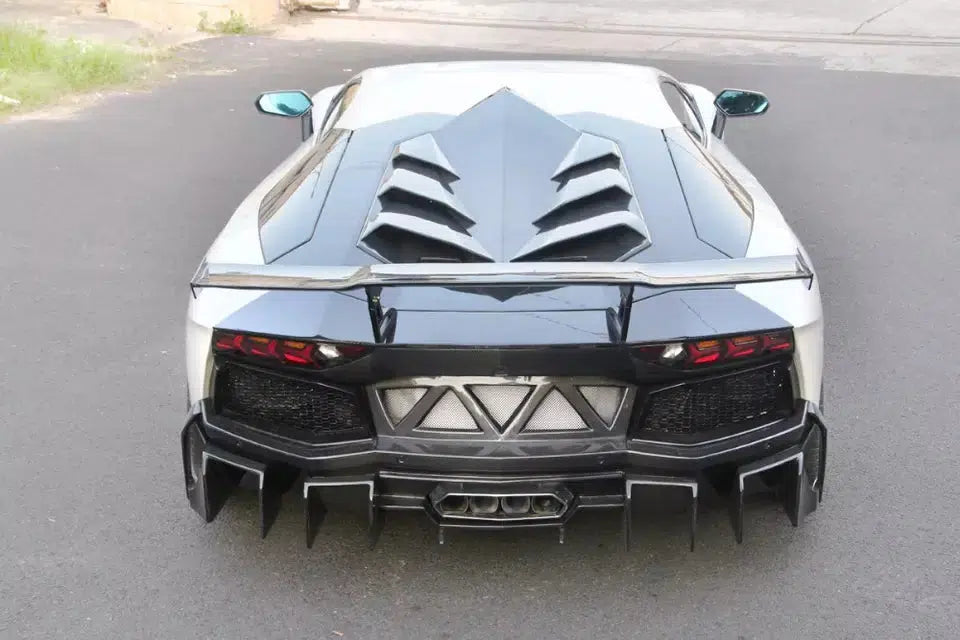 Lamborghini Aventador Artisan Carbon Fiber Engine Vent Cover
---
Fitment Guaranteed
Dry Carbon Fiber with 2x2 weave
UV Protectant Clear Coat
3M Tape & Screws Included

Designed by eurobahndynamics in california
Free Shipping Worldwide
Financing Available
14 day Return
For the Automotive enthusiast looking for a more refined aesthetic and aerodynamic design and discover that beautiful V12.

Elevate the iconic Lamborghini Aventador's aesthetics and performance to an entirely new level with the Lamborghini Aventador Artisan Carbon Fiber Engine Vent Cover. This meticulously crafted masterpiece of automotive artistry is a testament to both form and function, designed to enhance your driving experience and the visual appeal of your prized Lamborghini.

Key Features:

Artisan Craftsmanship: Each Lamborghini Aventador Artisan Carbon Fiber Engine Vent Cover is a result of artisan craftsmanship at its finest. The meticulous attention to detail and hand-crafted precision are evident in every contour and weave of the carbon fiber.

Premium Carbon Fiber Construction: Crafted from the highest quality carbon fiber, this engine vent cover not only showcases a stunning visual pattern but also offers exceptional strength and lightweight performance. The carbon fiber is sourced to meet the highest standards, ensuring it's robust enough to withstand the rigors of the road while contributing to the vehicle's overall performance.

Perfect Fit and Finish: Engineered to meet the exacting standards of Lamborghini, this vent cover seamlessly integrates with the Aventador's engine bay. The precise fit and finish enhance the vehicle's aesthetics while maintaining the manufacturer's high-quality design language.

Enhanced Engine Cooling: Beyond its aesthetic appeal, the vent cover is designed to optimize airflow, contributing to improved engine cooling. This feature is especially valuable for high-performance vehicles like the Lamborghini Aventador, as it helps maintain optimal engine temperatures during spirited driving.

Easy Installation: Installing the Lamborghini Aventador Artisan Carbon Fiber Engine Vent Cover is straightforward. It is designed as a direct replacement for the stock vent cover, requiring no modifications or specialized tools. Detailed installation instructions are included for a hassle-free experience.

Aesthetic Masterpiece: Beyond its functional benefits, this vent cover is a visual masterpiece. The carbon fiber's distinct pattern is a striking complement to the Lamborghini's aggressive design, adding a touch of exclusivity and individuality to your vehicle.

Enhanced Resale Value: Investing in high-quality, Lamborghini-approved accessories like this vent cover not only enhances your driving experience but also adds value to your prized possession. Should you ever decide to part ways with your Aventador, this exquisite upgrade could positively impact its resale value.

Quality Assurance: This Lamborghini Aventador Artisan Carbon Fiber Engine Vent Cover undergoes rigorous quality control checks to ensure it meets the brand's uncompromising standards for excellence. You can trust in its longevity, performance, and stunning aesthetics.

Unleash the full potential of your Lamborghini Aventador while making a bold statement of individuality and refined taste with the Lamborghini Aventador Artisan Carbon Fiber Engine Vent Cover. This accessory transcends mere functionality to become a piece of automotive artistry, elevating your ownership experience to new heights. Order yours today and revel in the perfect fusion of performance and aesthetics that only Lamborghini can deliver.