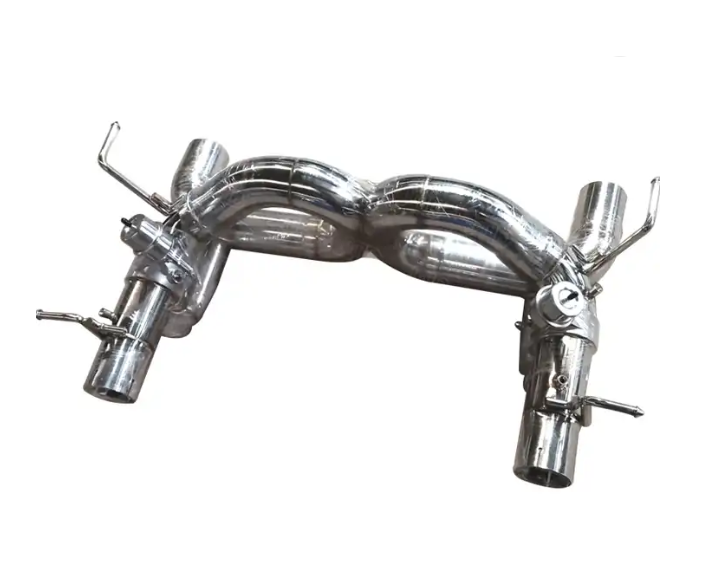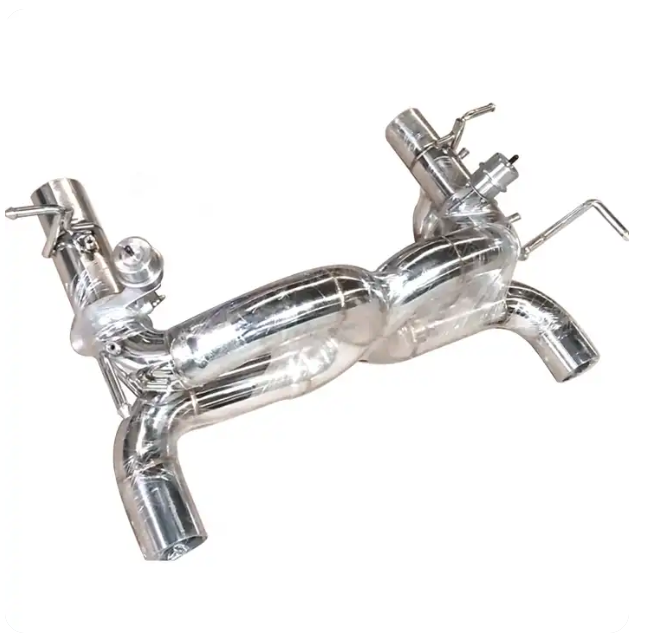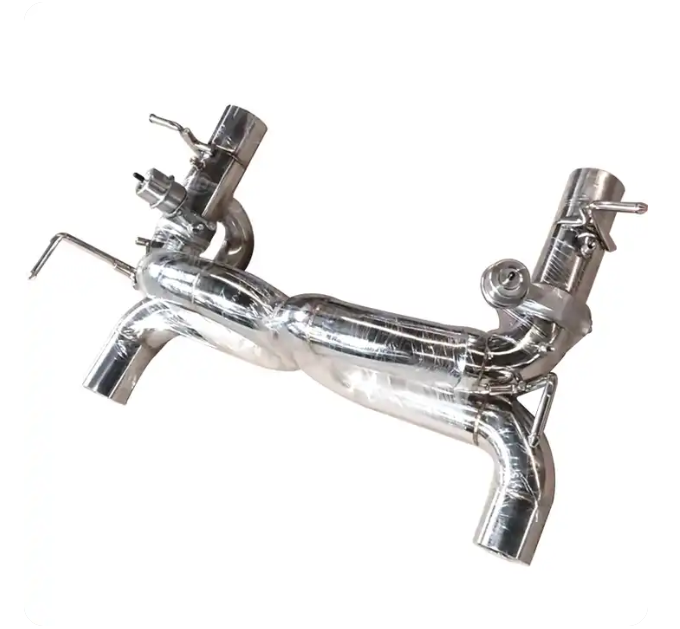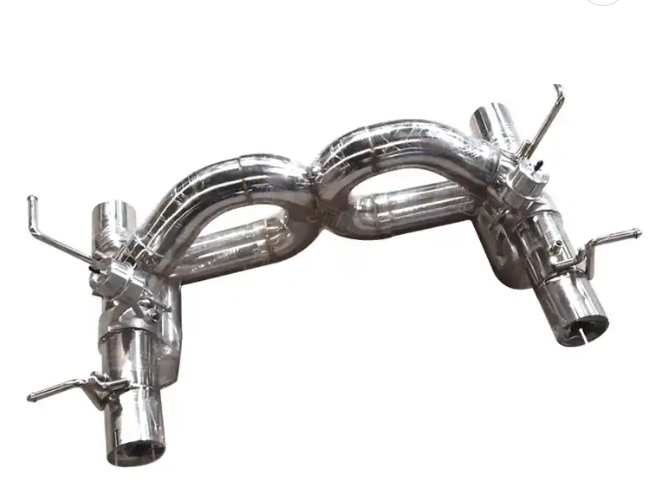 Ferrari F8 Stainless Steel Valved Exhaust System
---
Fitment Guaranteed
Dry Carbon Fiber with 2x2 weave
UV Protectant Clear Coat
3M Tape & Screws Included

Designed by eurobahndynamics in california
Free Shipping Worldwide
Financing Available
14 day Return
Unleash the Thrilling Roar of Your Ferrari F8 with our Stainless Steel Valved Exhaust System

Experience the pinnacle of performance and sound with our Stainless Steel Valved Exhaust System, tailored specifically for the Ferrari F8. This exceptional upgrade is designed for enthusiasts who demand the perfect blend of power, precision, and unparalleled driving pleasure.

Key Features:

Premium Stainless Steel: Our exhaust system is meticulously crafted from high-grade stainless steel, renowned for its durability and resistance to corrosion. This ensures longevity, even in the most demanding driving conditions, while maintaining a polished appearance that complements your Ferrari's iconic design.

Dynamic Valved Technology: This exhaust system features advanced valved technology, allowing you to customize your driving experience. Seamlessly switch between a refined, discreet mode for city driving and an aggressive, thunderous mode for when you want to unleash the full potential of your F8. The choice is yours.

Exhilarating Sound: Our exhaust system has been precisely tuned to create an exhaust note that's both melodic and ferocious. Whether you're cruising through town or pushing your Ferrari F8 to its limits, you'll enjoy an exhaust note that commands attention and admiration.

Enhanced Performance: The expertly engineered design of our exhaust system optimizes exhaust flow, resulting in a substantial boost in horsepower and torque. Feel the exhilaration as your F8 accelerates with newfound intensity and responsiveness.

Seamless Fitment: Designed to seamlessly integrate with your Ferrari F8, our exhaust system ensures a hassle-free installation process, preserving the vehicle's aesthetics and aerodynamics. Drive with confidence knowing your upgrade is tailored to your specific model.

Aesthetic Brilliance: The stainless steel construction not only enhances performance but also adds a touch of sophistication to your Ferrari's rear end. Its polished finish complements the iconic Ferrari design, making a visual statement that's as impressive as its performance.

Quality Assured: Our Stainless Steel Valved Exhaust System is built to meet and exceed the exacting standards of Ferrari enthusiasts. It undergoes rigorous testing to guarantee unmatched quality and reliability.

Transform your Ferrari F8 into an automotive masterpiece with our Stainless Steel Valved Exhaust System. It's the ultimate choice for those who seek the perfect balance of performance and style.

Elevate your driving experience to new heights, one exhilarating ride at a time. Order your Stainless Steel Valved Exhaust System today and immerse yourself in the world of Ferrari excellence. Upgrade, personalize, and experience the thrill of a Ferrari F8 like never before.
304 stainless steel is a popular and widely used material in the construction of exhaust systems for various vehicles, particularly in the automotive and motorcycle industries. Its unique combination of properties makes it an excellent choice for exhaust components. Here are some key features and characteristics of 304 stainless steel exhaust systems:

Corrosion Resistance: One of the standout features of 304 stainless steel is its exceptional resistance to corrosion. This alloy contains a significant amount of chromium (18-20%), which forms a protective oxide layer on the surface, preventing rust and corrosion even in harsh environments.

High Temperature Resistance: 304 stainless steel can withstand high exhaust gas temperatures without deformation or degradation. This makes it suitable for use in exhaust systems where exhaust gases can reach elevated temperatures during operation.

Durability: 304 stainless steel is known for its durability and long-lasting performance. It is less prone to cracking, pitting, or warping compared to some other materials, ensuring a longer lifespan for the exhaust system.

Aesthetic Appeal: 304 stainless steel has a sleek, polished appearance that enhances the visual appeal of the exhaust system. This material retains its luster and finish even after prolonged exposure to the elements, contributing to the overall aesthetic of the vehicle.

Lightweight: While not the lightest option available, 304 stainless steel is relatively lightweight compared to some other materials used in exhaust systems. This can help reduce overall vehicle weight and improve fuel efficiency.

Ease of Fabrication: 304 stainless steel is relatively easy to work with, making it a preferred choice for custom and aftermarket exhaust systems. It can be bent, welded, and machined to create complex shapes and configurations to suit specific vehicle designs.

Sound Quality: The properties of 304 stainless steel can contribute to the sound quality of the exhaust system. Its smooth and polished surface can help reduce turbulence and minimize unwanted noise, allowing for a more refined exhaust note.