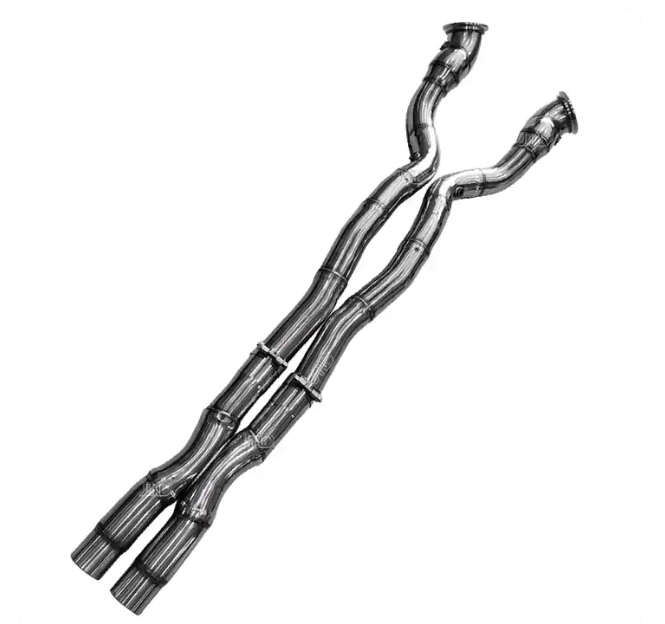 Ferrari F12 Stainless Steel X Mid Pipe
---
Fitment Guaranteed
Dry Carbon Fiber with 2x2 weave
UV Protectant Clear Coat
3M Tape & Screws Included

Designed by eurobahndynamics in california
Free Shipping Worldwide
Financing Available
14 day Return
Introducing the Ferrari F12 Stainless Steel X Mid pipe – a precision-engineered performance upgrade that takes the exhilaration of your driving experience to unprecedented heights. Crafted with meticulous attention to detail, this stainless steel X pipe is more than an enhancement; it's a declaration of power, precision, and the unmistakable sound of a true Ferrari.

Constructed from high-quality stainless steel, this X pipe embodies the spirit of Ferrari's commitment to excellence. The corrosion-resistant material not only ensures durability but also contributes to the acoustically tuned resonance that defines the Ferrari driving experience. The unique X-shaped design optimizes exhaust flow, unlocking additional horsepower and torque while producing a distinctive and authoritative exhaust note.

Seamless integration into the Ferrari F12 exhaust system is a hallmark of this upgrade, ensuring a perfect fit that complements the car's dynamic profile. The X pipe doesn't just enhance performance; it adds a touch of sophistication to the F12's aesthetic, elevating its visual appeal while embodying the legacy of Ferrari's racing heritage.

Installation is a straightforward process, allowing you to effortlessly integrate the stainless steel X pipe into your Ferrari F12. Meticulously inspected to meet the highest standards of quality and craftsmanship, this performance upgrade not only amplifies the F12's capabilities but also provides an auditory experience that resonates with the distinctive spirit of a Ferrari.

Elevate your Ferrari F12 to new heights with the Ferrari F12 Stainless Steel X Pipe – a symbol of precision engineering, performance, and automotive artistry. Immerse yourself in the world of unparalleled driving pleasure and experience the thrill of piloting a Ferrari enhanced with this extraordinary X pipe. Make a distinctive mark on the road with the perfect blend of power and the unmistakable Ferrari sound, courtesy of the Ferrari F12 Stainless Steel X Pipe.