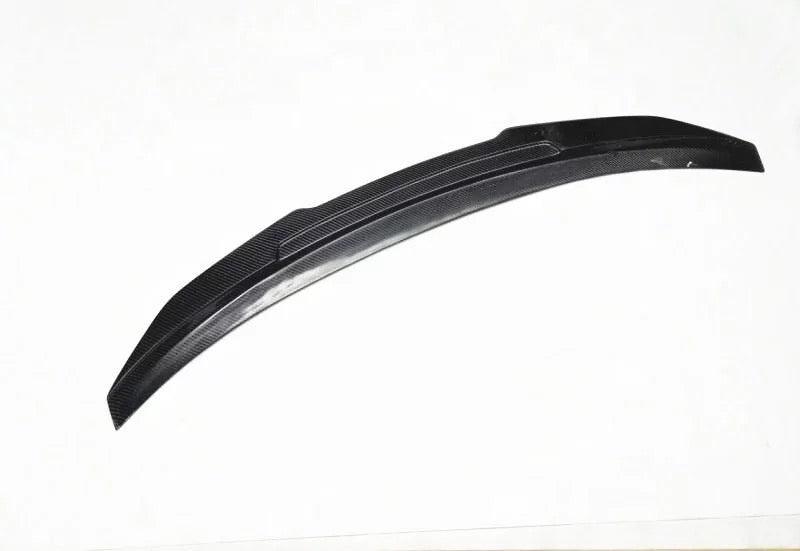 BMW G87 M2/G42 2 Series Carbon Fiber PSM Style Rear Spoiler
---
Fitment Guaranteed
Dry Carbon Fiber with 2x2 weave
UV Protectant Clear Coat
3M Tape & Screws Included

Designed by eurobahndynamics in california
Free Shipping Worldwide
Financing Available
14 day Return
Elevate your BMW G87 M2 or G42 2 Series with our Carbon Fiber PSM Style Rear Spoiler. Crafted to the highest standards, this spoiler doesn't just enhance your vehicle's aesthetics; it's designed to boost aerodynamics and take your driving experience to new heights. Experience the perfect fusion of form and function with this premium carbon fiber accessory.

Key Features:

Premium Carbon Fiber Construction: Our Carbon Fiber PSM Style Rear Spoiler is painstakingly crafted from top-quality carbon fiber material. This not only ensures impressive strength but also guarantees a significant reduction in weight. Carbon fiber's renowned lightweight yet robust characteristics make it the ideal choice for performance-oriented automotive accessories.

Aerodynamic Excellence: This spoiler isn't just about looks; it's engineered to significantly enhance the aerodynamics of your BMW G87 M2 or G42 2 Series. Its meticulously designed shape optimizes airflow over the rear of your vehicle, resulting in increased downforce, improved stability, and better overall handling, especially at higher speeds.

Precise Fit: Tailor-made for your BMW G87 M2 or G42 2 Series, this spoiler seamlessly integrates with the vehicle's original design, enhancing its visual appeal without any compromise in structural integrity. The package includes all necessary hardware and comprehensive installation instructions. For the best results, professional installation is recommended.

Sporty Elegance: The carbon fiber finish adds a modern and sporty touch to your BMW G87 M2 or G42 2 Series, making it a standout on the road. Whether you're a performance enthusiast or simply appreciate outstanding automotive design, this carbon fiber spoiler will make your vehicle uniquely yours.

Finish Options: You can choose between a glossy or matte carbon fiber finish, allowing you to customize the spoiler to match your style, vehicle color, and desired aesthetic.

Increased Resale Value: Enhancing your vehicle with authentic carbon fiber accessories can potentially increase its resale value. Prospective buyers often value the addition of high-quality, performance-oriented components.

Track-Ready Performance: The improved aerodynamics and added downforce generated by this spoiler are particularly beneficial during high-speed or track driving, ensuring your BMW G87 M2 or G42 2 Series maintains stability and control even under the most demanding conditions.

Elevate your BMW G87 M2 or G42 2 Series with the BMW G87 M2/G42 2 Series Carbon Fiber PSM Style Rear Spoiler. It's the perfect marriage of form and function, engineered to enhance your vehicle's performance while making a bold style statement. Elevate your driving experience and make your BMW G87 M2 or G42 2 Series a true masterpiece of automotive design. Order your carbon fiber spoiler today and enjoy the thrill of improved aerodynamics and unparalleled style.