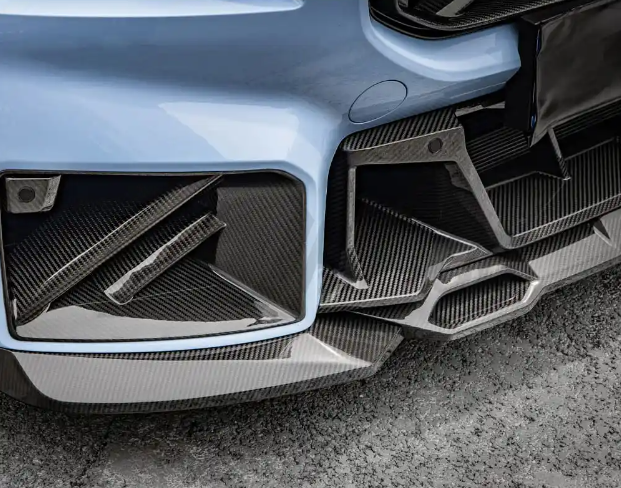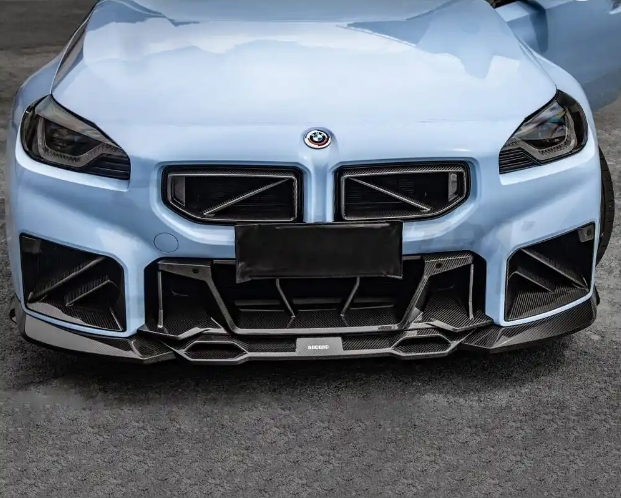 BMW G87 M2 Carbon Fiber SQA Style Front Lip
---
Fitment Guaranteed
Dry Carbon Fiber with 2x2 weave
UV Protectant Clear Coat
3M Tape & Screws Included

Designed by eurobahndynamics in california
Free Shipping Worldwide
Financing Available
14 day Return
Elevate Your BMW G87 M2 with the Carbon Fiber SQA Style Front Lip

Product Overview:

Unveil a new level of performance and style for your BMW G87 M2 with the Carbon Fiber SQA Style Front Lip. Crafted with precision and utilizing high-quality carbon fiber materials, this exceptional front lip not only enhances your M2's aesthetics but also elevates its aerodynamic efficiency. With its distinctive design, lightweight construction, and precise fit, it's the ultimate accessory to make your M2 stand out in the crowd.

Key Features:

High-Quality Carbon Fiber: The Carbon Fiber SQA Style Front Lip is constructed using premium carbon fiber, renowned for its remarkable strength and lightweight properties. This results in weight reduction and added rigidity, contributing to improved overall performance.

Perfect Fit: Designed as a direct replacement for your factory front lip, this carbon fiber upgrade ensures a seamless and precise fit, maintaining the original dimensions of your M2 while adding a custom touch.

Aerodynamic Excellence: The lip's carefully designed shape is engineered to enhance your vehicle's aerodynamic efficiency, reducing lift and improving stability at high speeds. It not only looks striking but also performs brilliantly.

Visual Appeal: The carbon fiber weave, with its glossy finish, adds a distinctive and aggressive look to the front of your BMW G87 M2. This premium finish not only showcases the unique texture of carbon fiber but also offers UV protection to ensure long-lasting beauty.

Functional Design: The SQA Style Front Lip incorporates functional air ducts and vents to enhance airflow to the front brakes and engine, resulting in improved cooling performance.

Easy Installation: The lip is designed for straightforward installation, suitable for both DIY enthusiasts and professional installers. All necessary hardware and detailed instructions are included for a hassle-free setup.

OEM-Level Quality: Crafted to meet or exceed original equipment manufacturer (OEM) standards, this carbon fiber front lip is manufactured with precision and reliability in mind.

Compatibility: The Carbon Fiber SQA Style Front Lip is designed to fit various G87 M2 models, offering versatility for a wide range of BMW enthusiasts.

Benefits:

Striking Aesthetics: Elevate the visual appeal of your BMW G87 M2, commanding attention with its aggressive and unique SQA style. The carbon fiber finish adds a touch of exclusivity and sportiness.

Performance Enhancement: The lip's aerodynamic design and enhanced cooling capabilities contribute to improved vehicle performance, making it the perfect choice for those who demand both style and function.

Durability: Carbon fiber is celebrated for its strength and longevity, ensuring your front lip remains in pristine condition even under demanding driving conditions.

Package Includes:

1 x BMW G87 M2 Carbon Fiber SQA Style Front Lip
Installation Hardware

Installation: Professional installation is recommended for a perfect fit. However, all necessary hardware are included for those who prefer a DIY approach.

Transform Your BMW G87 M2:

The BMW G87 M2 Carbon Fiber SQA Style Front Lip is the ultimate accessory for those seeking a perfect fusion of style and performance. Enhance your driving experience and transform your M2 into a head-turning masterpiece with this striking carbon fiber front lip. Upgrade your vehicle today and experience the difference in style, aerodynamics, and performance. Embrace the future of automotive aesthetics with this SQA-style carbon fiber upgrade for your BMW G87 M2.