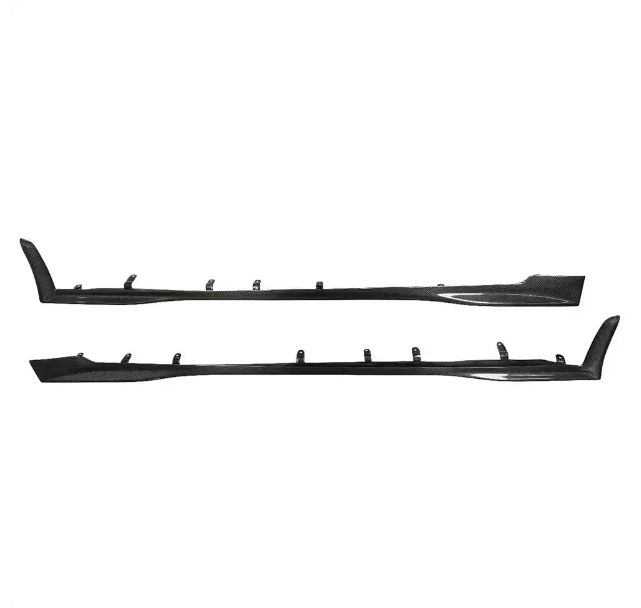 BMW G87 M2 Carbon Fiber Side Skirt Extension
---
Fitment Guaranteed
Dry Carbon Fiber with 2x2 weave
UV Protectant Clear Coat
3M Tape & Screws Included

Designed by eurobahndynamics in california
Free Shipping Worldwide
Financing Available
14 day Return
Introducing the BMW G87 M2 Carbon Fiber Side Skirt Extension

Elevate your BMW G87 M2's aesthetics and performance with the Carbon Fiber Side Skirt Extension. This meticulously crafted accessory is designed to do more than enhance the visual appeal of your vehicle; it's engineered to make a statement and improve your driving experience.

Key Features:

1. Carbon Fiber Craftsmanship: The Carbon Fiber Side Skirt Extension is meticulously constructed from high-quality carbon fiber. Renowned for its exceptional strength-to-weight ratio, this material not only adds a striking visual appeal but also contributes to weight reduction – a key factor in enhancing your car's agility and performance.

2. Sleek and Aggressive Design: This side skirt extension boasts a design that's not just aesthetically pleasing but is also functional. The sleek lines and aggressive contours add a sense of purpose to your BMW G87 M2, emphasizing its dynamic character and sporty profile.

3. Enhanced Aerodynamics: Beyond its visual appeal, the extension improves your car's aerodynamics. It helps manage airflow along the vehicle's sides, reducing turbulence and enhancing stability, which is particularly advantageous during high-speed drives and tight cornering.

4. Precise Fitment: Engineered to integrate seamlessly with the BMW G87 M2, the Side Skirt Extension offers a factory-like fit. The installation process is straightforward, ensuring that your investment is not only visually captivating but also easy to enjoy.

5. Lightweight and Durable: The carbon fiber construction guarantees remarkable durability. It can withstand the rigors of daily driving and the demands of high-performance scenarios, ensuring long-lasting value for your BMW.

6. Improved Performance: By optimizing the side airflow and reducing aerodynamic drag, this extension provides tangible performance benefits. Expect enhanced control, traction, and stability, particularly during spirited driving or track days.

7. Effortless Installation: Installing the Carbon Fiber Side Skirt Extension is a hassle-free process. It comes with all the necessary hardware and a detailed installation guide, making it a practical DIY project. However, professional installation is recommended for the best results.

8. Official BMW M Performance Accessory: As an officially licensed BMW M Performance accessory, this side skirt extension reflects the manufacturer's commitment to quality and performance. You can trust that it meets the high standards expected from a BMW product.

Elevate your BMW G87 M2's aesthetics and performance with the Carbon Fiber Side Skirt Extension. This accessory seamlessly combines a striking design, precise fitment, and improved aerodynamics to offer a product that not only transforms your car's appearance but also elevates its on-road and on-track capabilities. Make a bold statement with your BMW, showcasing your passion for style and performance. Stand out from the crowd, experience a heightened sense of control, and enjoy the exhilaration of a thrilling drive while embracing the iconic BMW heritage.