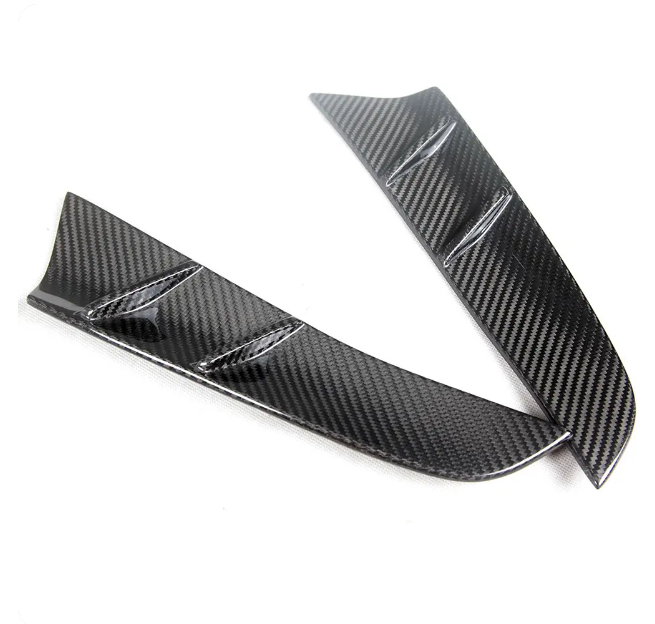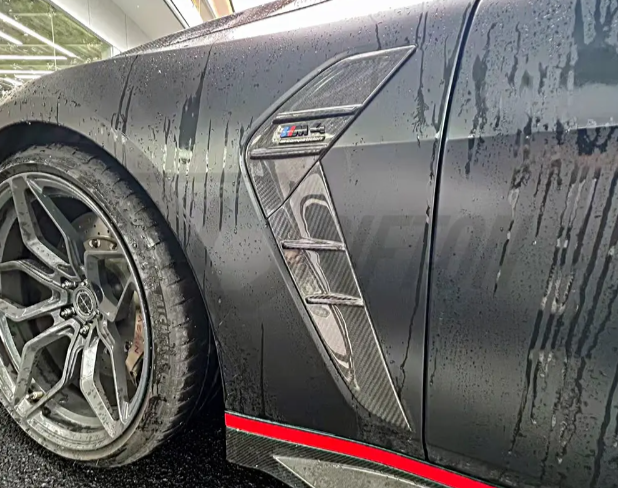 BMW G80 M3/G82 M4 CSL Style Dry Carbon Fiber Fender Trim
---
Fitment Guaranteed
Dry Carbon Fiber with 2x2 weave
UV Protectant Clear Coat
3M Tape & Screws Included

Designed by eurobahndynamics in california
Free Shipping Worldwide
Financing Available
14 day Return
Elevate your BMW G80 M3 or G82 M4 to a new level of automotive artistry with the CSL Style Dry Carbon Fiber Fender Trim. Crafted with precision and an uncompromising attention to detail, this exquisite accessory is designed to give your vehicle a distinct edge in both appearance and performance.

Key Features:

1. Dry Carbon Fiber Mastery: The CSL Style Fender Trim is meticulously constructed from high-quality dry carbon fiber, renowned for its exceptional strength-to-weight ratio. This advanced material not only adds an eye-catching visual appeal but also reduces overall weight, a critical factor in enhancing your car's agility and performance.

2. Aggressive Aesthetics: With a design inspired by BMW's iconic CSL models, this fender trim brings a touch of motorsport heritage to your modern BMW. The sharp, aggressive lines and vented appearance create a compelling visual upgrade that sets your vehicle apart from the rest.

3. Precise Fitment: Designed to integrate seamlessly with the BMW G80 M3 and G82 M4 models, the CSL Style Fender Trim offers an OEM-level fit and finish. Installation is straightforward, ensuring that your investment is not only striking but also easy to enjoy.

4. Lightweight and Durable: Beyond its stunning aesthetics, the dry carbon fiber construction ensures remarkable durability. It can withstand the rigors of daily driving, as well as the demands of high-performance situations, providing long-lasting value for your BMW.

5. Improved Aerodynamics: The vented design of the CSL Style Fender Trim assists in directing airflow around the fender area, reducing turbulence and enhancing aerodynamics. This feature not only adds to your vehicle's visual appeal but also contributes to improved stability and performance.

6. Enhanced Cooling: The vented design serves a dual purpose by aiding in cooling your brakes and wheel wells. This is especially valuable during spirited drives and track days, as it helps maintain optimal operating temperatures for your braking system.

7. Hassle-Free Installation: The CSL Style Dry Carbon Fiber Fender Trim is designed for straightforward installation. It comes with all the necessary hardware and a comprehensive installation guide, making it a practical DIY project. However, professional installation is recommended for the best results.

8. CSL Style Heritage: BMW enthusiasts will recognize the design inspiration from the legendary CSL models, creating a strong connection to the manufacturer's motorsport heritage.

Elevate your BMW G80 M3 or G82 M4's aesthetics and performance with the CSL Style Dry Carbon Fiber Fender Trim. This accessory seamlessly blends bold aesthetics, precise fitment, and enhanced aerodynamics to offer a product that not only transforms your vehicle's appearance but also elevates its on-road and on-track capabilities. Turn your BMW into a work of art with this premium addition to your fender area. Make a statement that combines tradition with modernity and witness the envious glances of fellow enthusiasts as you drive by.