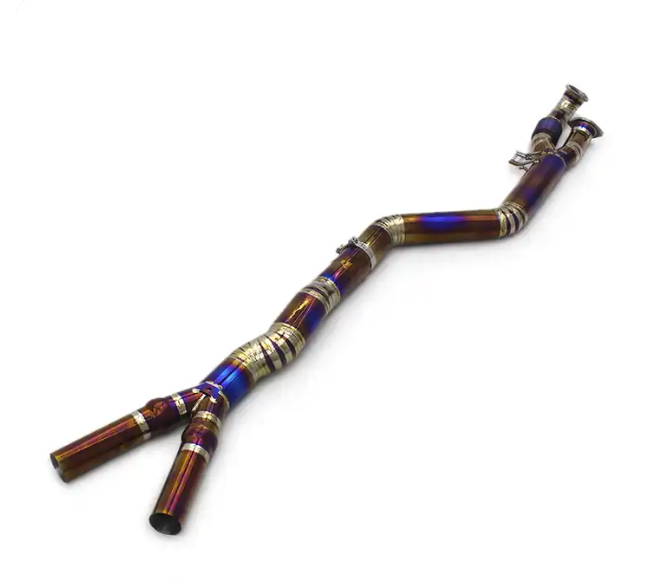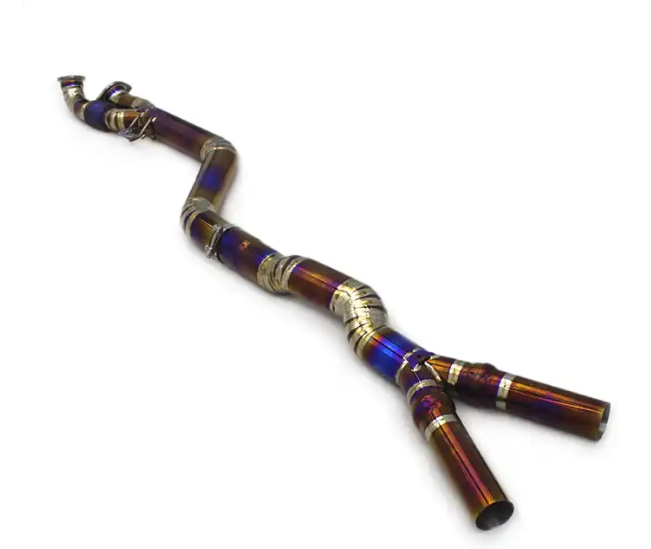 BMW G80 M3/G82/G83/M4 Titanium Single Mid Pipe Exhaust
---
Fitment Guaranteed
Dry Carbon Fiber with 2x2 weave
UV Protectant Clear Coat
3M Tape & Screws Included

Designed by eurobahndynamics in california
Free Shipping Worldwide
Financing Available
14 day Return
Introducing the BMW G80 M3/G82/G83/M4 Titanium Single Mid Pipe Exhaust – the ultimate enhancement for your high-performance BMW. Elevate your driving experience with this meticulously crafted aftermarket exhaust system, designed to deliver unparalleled power, sound, and aesthetics.

Materials and Construction: Crafted from lightweight and high-strength titanium, the single mid pipe exhaust is a testament to BMW's commitment to precision engineering. This premium material not only reduces the overall weight of your vehicle, enhancing its agility and performance but also offers excellent durability and corrosion resistance. The exhaust is expertly welded, ensuring a seamless and precise fit that complements your BMW's sleek design.

Performance Enhancement: This mid pipe exhaust system is engineered to provide a substantial boost in performance. By optimizing exhaust flow and reducing backpressure, it allows your BMW's engine to breathe more freely. The result? A noticeable increase in horsepower and torque throughout the RPM range, translating into improved acceleration and overall driving dynamics. Whether you're on the track or navigating city streets, you'll experience a heightened level of performance that's sure to thrill any driving enthusiast.

Sound Engineering: Experience the unmistakable growl and roar of a BMW with this Titanium Single Mid Pipe Exhaust. Carefully tuned to deliver a sporty and aggressive exhaust note, it strikes the perfect balance between refinement and exhilaration. At idle, it exudes a deep, authoritative rumble that commands attention. Under acceleration, it unleashes an inspiring symphony of exhaust tones, enhancing the overall driving experience. This system ensures that your BMW's sound is both distinctive and captivating.

Easy Installation: Designed with ease of installation in mind, the BMW G80 M3/G82/G83/M4 Titanium Single Mid Pipe Exhaust can be fitted by professionals or experienced DIY enthusiasts. The precise engineering of this exhaust system ensures a seamless integration with your vehicle, and it comes with all the necessary hardware and instructions to facilitate a hassle-free installation process.

Aesthetics and Finish: Enhance the visual appeal of your BMW with the striking appearance of the titanium exhaust. Its brushed or polished finish not only complements the vehicle's exterior but also exudes a sense of exclusivity and performance. The single mid pipe design adds a touch of sophistication to the rear of your BMW, making it clear that this is no ordinary vehicle.

Quality Assurance: Backed by BMW's reputation for excellence and rigorous quality control standards, you can trust that this exhaust system is engineered to the highest specifications. It is designed to withstand the rigors of high-performance driving while providing long-lasting satisfaction.

In conclusion, the BMW G80 M3/G82/G83/M4 Titanium Single Mid Pipe Exhaust is the ultimate upgrade for BMW enthusiasts seeking enhanced performance, a captivating exhaust note, and a distinctive aesthetic touch. Elevate your driving experience to new heights with this meticulously crafted exhaust system, and discover the true potential of your BMW.