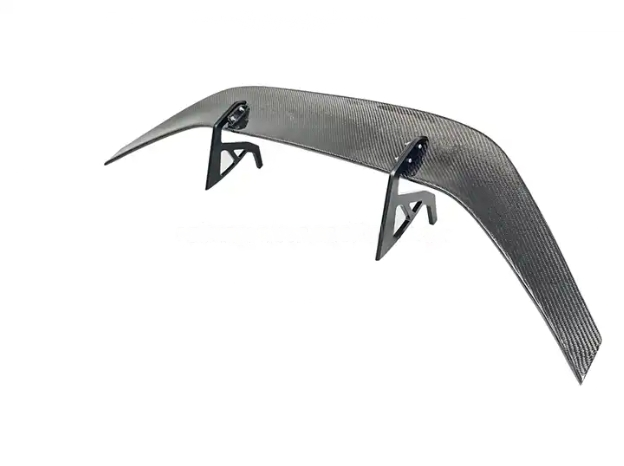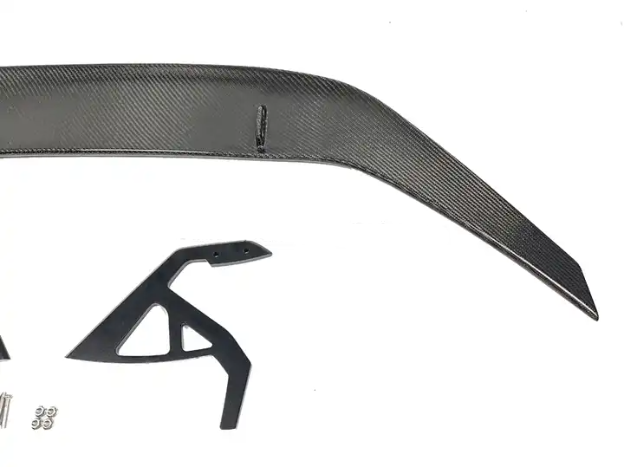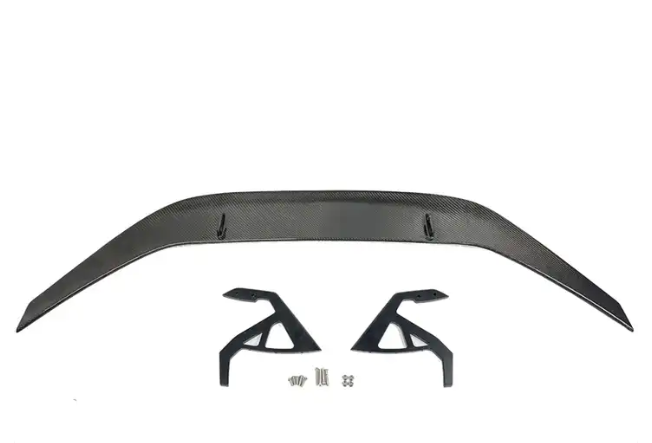 BMW G80 M3/G82/G83 M4 Carbon Fiber Artisan Swan Neck Wing
---
Fitment Guaranteed
Dry Carbon Fiber with 2x2 weave
UV Protectant Clear Coat
3M Tape & Screws Included

Designed by eurobahndynamics in california
Free Shipping Worldwide
Financing Available
14 day Return
Introducing the BMW G80 M3/G82/G83 M4 Carbon Fiber Artisan Swan Neck Wing – the pinnacle of aerodynamic innovation and design for your high-performance BMW. Elevate your driving experience and enhance your vehicle's aesthetics with this exquisite carbon fiber wing from Artisan, designed to meet the demands of discerning automotive enthusiasts.

Key Features:

1. Carbon Fiber Excellence: Crafted from high-quality, lightweight carbon fiber, the Artisan Swan Neck Wing combines strength and style. The carbon fiber construction not only adds a sporty appearance but also contributes to improved aerodynamics and reduced weight, optimizing your vehicle's performance.

2. Precision Engineering: Artisan's commitment to precision engineering shines through in the design of this swan neck wing. It is meticulously crafted to perfectly complement the BMW G80 M3, G82 M4, and G83 M4, ensuring a seamless fit and a factory-like appearance.

3. Swan Neck Design: The swan neck design is not just about aesthetics; it's a performance-driven choice. This unique wing style generates maximum downforce with minimal drag, providing you with improved stability and traction at high speeds, whether you're tearing up the track or cruising down the highway.

4. Adjustable Angle: The Artisan Swan Neck Wing is designed with an adjustable angle feature, allowing you to fine-tune the downforce to suit your driving preferences and conditions. Whether you're looking for more grip on the track or a sportier appearance on the street, you can easily adjust the wing to your liking.

5. Flawless Finish: Artisan takes pride in its attention to detail, ensuring that every wing is finished to perfection. The carbon fiber weave is meticulously aligned, and the clear coat finish provides both protection and a brilliant shine, giving your BMW a premium and distinctive look.

6. Easy Installation: Installing the Artisan Swan Neck Wing is a hassle-free process, thanks to its precise fitment and comprehensive installation instructions. You won't need to make any modifications to your vehicle; simply follow the provided guidelines, and you'll have your wing securely in place.

7. Track-Tested Performance: Designed with performance in mind, this swan neck wing has been track-tested to ensure it delivers the expected results. Experience improved handling, cornering stability, and overall driving confidence as you push your BMW to its limits.

8. Exclusive Style: Elevate your BMW's aesthetics with an exclusive touch. The Artisan Swan Neck Wing adds a bold and aggressive appearance to your vehicle, making it stand out from the crowd while maintaining the sophisticated and unmistakable BMW look.

Upgrade your BMW G80 M3, G82 M4, or G83 M4 with the Artisan Swan Neck Wing, and experience the perfect fusion of form and function. Elevate your driving experience, turn heads wherever you go, and enjoy the thrill of enhanced performance.

This product is custom-made to order. Please allow 1-2 weeks for production and up to 1 week for delivery.